Electrical & Control Technology Certificate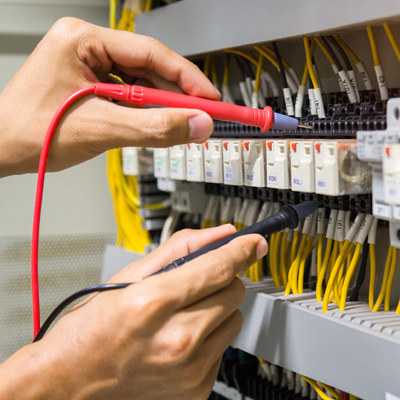 Program Highlights
Time Commitment: Approx. 20-25 hours per week
Length of Program: One year (Fall 2020 and Spring 2021)
Credits Earned: 22
Start Date: August 24, 2020
End Date: May 6, 2021
Program Application
About
The Certificate of Proficiency in Electrical and Control Technology is the first step for employment in the exciting career of electrically automated equipment. The courses in this program will prepare you to become a technician and technologist. You will learn to troubleshoot, wire, repair, adapt, install, and maintain electrical and industrial motor control equipment found in many local industries. Knowledge and experience are gained through theory and engagement in "hands on" labs that prepare graduates to work safely around industrial and commercial electrical equipment. Electrical DC & AC theory, transformers, circuits, wiring, motors, motor controls, relay logic, logic gates, and the National Electrical Code for commercial and industrial systems is emphasized. Skills are developed in troubleshooting, testing, and analyzing electrical circuits.
The interactive classes will be offered two days a week for full days (Friday and Saturday). All labs will be completed at UVU on Fridays or Saturdays. Some take home assignments will also need to be completed each week. For students who start this program in Fall 2020, the certificate will be completed at the end of the Spring 2021 semester.
The electrical math block classes (EART 1050 & EART 1060) will be completed online at your convenience throughout each week but will maintain pace with the Fall semester academic schedule. All other courses include interactive labs and are completed at UVU.
If this sounds like something you want to get into, please apply! Under the Learn and Work in Utah program, your tuition is covered in full if you complete the program in the time allotted. This certificate program offers 22 credits at UVU.
What You Will Learn
Upon completion of the certificate, you will be able to:
Apply electrical theory to safely wire, troubleshoot, analyze, repair, and build electrical systems and control circuits.
Utilize appropriate test equipment and hand tools.
Describe the operation of electrical components, motors, generators, transformers, and digital and relay logic.
Employment Outlook
Graduates will find employment in a variety of industries such as industrial engineering tech, engineering tech, and manufacturing production tech. The manufacturing sector is a major source of employment and includes local companies such as Micron, BD Medical, Dannon Yogurt, and countless others. Other industry sectors that hire these graduates frequently include power & energy, water & wastewater, oil & gas, mining, and maintenance work found within almost all commercial and industrial type facilities. Electrical and Control Technologists find employment in small towns, large cities, or anywhere in between. The job outlook has been solid for years and continues to grow.
Foundational Knowledge
To enter the program, basic high school algebraic skills are desired equivalent to MATH 1010 at UVU. It is even more important to have a desire to work with your hands and take an interest in electrical systems that control amazing machines and processes. This desire will help you be successful as industry experienced UVU instructors help guide you to success.
Further Opportunities
Invest in your future! The Electrical and Control Technology certificate stacks flawlessly into the Electrical Automation Robotic Technology Program at UVU where students continue to learn more about industrial electronics, CNC machines, PLC programming and other key concepts found in an industrial automated system. The EART program then stacks nicely into the mechatronics BS degree or Technology Management BS.