Building Inspection Technology: Residential Building Inspector Certificate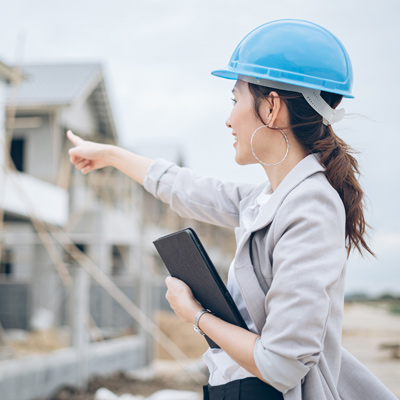 Program Highlights
Time Commitment: 40-hour course
Start Date: Continuous enrollment
Days of the Week: Online, Self-paced
Hours a Week: Self-paced
Length of Program: 40 hours
End Date: 120 Days
Online/Face-to-face: Online
Program Application
About
Prepare for a career as a Residential Building Inspector with this comprehensive, online course. Curriculum will cover an entire compilation of necessary courses: Residential Building Inspector, Residential Mechanical Inspector, Residential Plumbing Inspector, and Residential Electrical Inspector (Parts I and II). Upon completion of these courses, students will be prepared to take the ICC Residential Building, Mechanical, Plumbing, and Electrical Inspector exams.
Tuition for this program is normally $400, but under the Learn & Work in Utah program, your tuition is covered in full so long as you complete the program in the allotted time. Take advantage of this opportunity to excel professionally and apply today!
What You Will Learn
This course prepares you to successfully pass the State Exam to become a licensed Residential Building Inspector. You will learn how to review plans to meet building codes, local ordinances, zoning regulations, and contract and safety specifications with city, state, and federal offices. You'll gain the knowledge needed to inspect every stage of building system elements throughout construction while enforcing all city, state, and federal mandates.
Employment Outlook
Utah's population continues to grow and spread, and as a result, our vibrant construction economy is continuously in need of Residential Building Inspectors. Residential Building Inspectors are counted on to keep homeowners and residents safe, meaning you will find steady and well compensated work in this vital profession. Through this non-credit program, you will be prepared to step into these high demand jobs with a work-ready Residential Building Inspector Certificate.
Foundational Knowledge
To be successful in this program, no special knowledge or experience is required.
Further Opportunities
On completion of the courses and successfully completing corresponding exams, participants can apply for experiential credit through UVU Construction Management.
Invest in your future and continue your education at UVU! As part of this program, you will have the opportunity to meet with UVU advisors and financial aid experts who can explain future options if you choose to continue past the end of your certification program.