Business Data Analytics Professional Certificate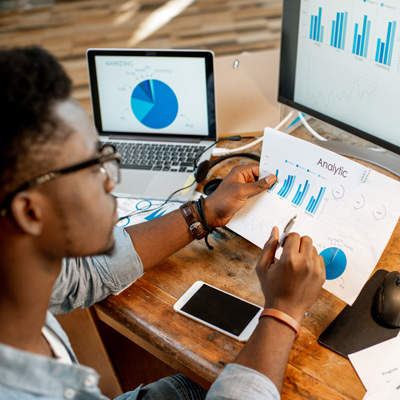 Program Highlights
Time Commitment: 30-hour course
Start Date: September 10, 2020
End Date: November 12, 2020
Days of the Week: Thursdays, 6 - 9 pm
Length of Program: 10 Weeks
Online/Face-to-face: Interactive Online
Program Application
About
The Business Data Analytics Professional Certificate program will help students acquire the knowledge and skills required for a rewarding career in data analytics. Curriculum will cover the analytic methodologies that provide accurate, actionable insights to guide data-driven decision making. Students will discover and comprehend methodologies of extracting, organizing, interpreting, visualizing, and publishing data. Curriculum will be covered over the course of 30 hours of online, interactive sessions. Course content provides access to downloadable resources, and hands-on, practical experience with powerful data analysis tools like SQL, Excel, and Tableau.
Tuition for this program is normally $3,000, but under the Learn & Work in Utah program, your tuition is covered in full so long as you complete the program in the allotted time. Take advantage of this opportunity to excel professionally and apply today.
What You Will Learn
Upon completion of the Business Data Analytics Professional Certificate program, you will have the ability to successfully find, model, and analyze data. You will learn how to leverage analytical techniques and best practices, align business initiatives with strategic goals, and visualize and communicate insights for better informed decision making.
Employment Outlook
Business Data Analytics professionals are in high demand within Utah's job market as almost every industry requires the key insights that Data Analysts uniquely provide. Prospective employers who recruit for these positions in Utah include Vivint, SGI Global, Overstock, ICON Health & Fitness, Nu Skin, Hill Air Force Base, ConsultNet, Amazon, Thermo Fisher Scientific, Qualtrics, Progressive Leasing, Oracle, Control4, United Healthcare, Goldman Sachs, MasterControl, BAE Systems, SAP, jane.com, Humana, Finicity, and C.R. England, among many others.
The Utah Department of Workforce Service is currently reporting 380 annual open jobs for Data Analyst related positions, and further reports that the occupation is projected to experience faster than average growth with high earning potential. According to the World Economic Forum, LinkedIn, and IBM, demand for these jobs has grown six-fold over the last 5 years and will continue to be one of the most sought-after profiles over the next 5 years.
Foundational Knowledge
Some experience with Excel is helpful, but no prior experience or pre-requisites are required for this program.
Further Opportunities
The Business Data Analytics Professional Certificate Program provides students with the skills recruiters are looking for when hiring entry to mid-level Business Analysts, Data Scientists, Systems Analysts, Financial Analysts, Project Managers, Marketing Analysts, Product Managers, IT Professionals, Researchers and Educators, among many others. Mid to senior level managers and executives will also be better prepared to engage in meaningful and effective data analysis practices upon completing this course.
Invest in your future and continue your education at UVU! As part of this program, you will have the opportunity to meet with UVU advisors and financial aid experts who can explain future options if you choose to continue past the end of your certification program. Participants can apply for experiential credit towards Business Management (AAS, BS, & MBA) degrees.