COVID-19 Update: CET Event Information
CET EVENT UPDATES
Following the guidance of UVU leadership, The College of Engineering & Technology has cancelled in-person events and gatherings until May 1, 2020. Here is a list of the most up-to-date information about upcoming events and how they are affected by COVID-19 related safety precautions. 
Please note that some College events are moving to online and digital platforms. You will receive further information if you are directly affected by these changes.
Questions about an event?

Send us an email at CETinfo@uvu.edu
Please Note: Event organizers are responsible for updating the status of events by contacting CETinfo@uvu.edu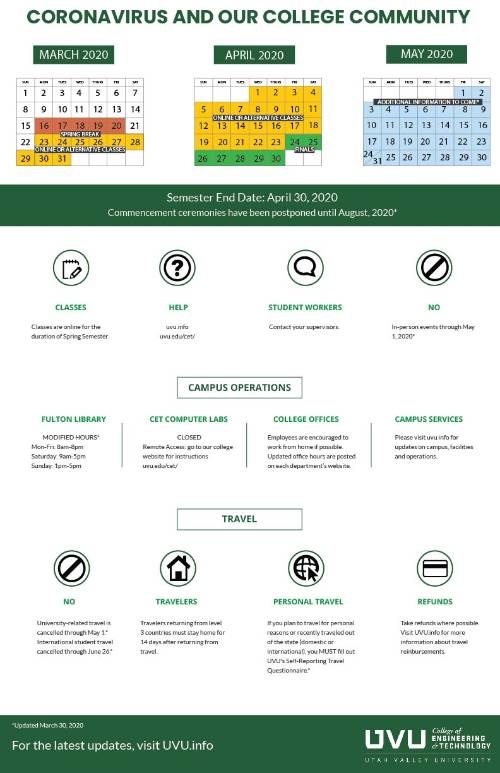 Cancelled Events:
Architucture Lecture Series (3/25)
Donor and Scholarship Luncheon (3/26)
CET Recognition Dinner (4/2)
Digital Media Showcase (4/8)
Architucture Lecture Series (4/8)
Engineering Graduation Reception (4/14)
SAE Baja (4/16)
Engineering Technology Fair (4/16)
CET Student Excellence Luncheon (4/22)
Architucture Lecture Series (4/22)
Architecture Students Design Presentations (4/23)
Culinary Arts Gala (4/24)
CET Master's Programs Graduation Dinner (4/25)
Postponed Events:
Spring Into Action with the Dean (3/30)
I-ETC Conference (5/4 - 5/5)
Hosting an Event online: Instructions for Event Organizers
STEP 1: COMMUNICATION
Effective communication is critical to minimize confusion and misinformation. Before informing participants of your decision to move an event online, you will need to follow these steps:
Contact our communication specialist, Rachael Freeman (rachael.freeman@uvu.edu)
Discuss the logistics of a virtual event within a limited time frame
Get approval from Dean's office to host the event online
Communication with event participants should be clear and concise. Please avoid sending multiple emails.
STEP 2: TECHNICAL SUPPORT
There are many possibilities for showcasing your department and hosting events online. Once you have completed Step 1: Communication, you will be provided with technical support from our College IT services and communication Specialists.
If you need assistance updating the website, please submit a ticket request.
UVU encourages the use of Microsoft Teams for conference calls, meetings and remote attendance of events. 
The College of Engineering & Technology will provide assistance and support for event organizers. We understand that moving online may look different for each event, and we will work with you to make it happen. Thank you for your hard work and flexibility as we navigate these changes.