Cloud Storage Migration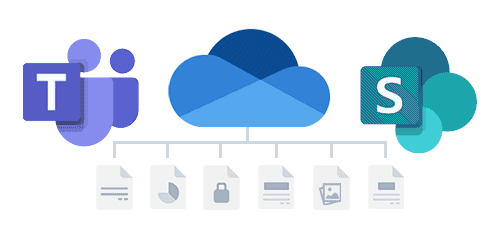 Utilizing Microsoft OneDrive and SharePoint, our faculty, staff, and students will enjoy the streamlined efficiency of a unified platform for file storage and sharing across the University. We will walk you through every step of the migration to make sure nothing is missed or lost.

Consolidation of multiple storage platforms to a single platform is both financially beneficial and will support our legal requirements to keep UVU's data properly protected. 
NOTE:We are working on finalizing our plan for this migration and will post updates about the project on this page as we release them.
Learn More
Training Guides and Videos
Department Training
Rollout Schedule
The schedule is undergoing revisions and a new updated schedule will be posted soon.
Frequently Asked Questions
When do my files need to be moved?

There is no set deadline for moving files. We will work with departments to prepare them for migration and then set different dates for when each department will migrate their data. The expected completion of the migration is in 2023.

What is the University going to do with my files?

All files will be moved to OneDrive and SharePoint. The method of how we will move these files is still being worked on.

Why are we making the move?

The university is consolidating its solution for cloud storage to increase security and reduce the costs of supporting multiple cloud storage platforms.

What is my storage quota?

Storage capacity is unlimited, but there is a 1TB starting quota that can be increased by submitting this Request.

What is the limit for individual files?
The individual file size limit is currently 250 GB.

Who can see/access my OneDrive Files?

By default, all files are only accessible by you (the owner) until you share them. It is a good idea to review any sharing or permissions you have given on your OneDrive files at the beginning of each semester.

How do I share a file with someone outside of UVU?

This feature will be added soon with instructions on how to share files outside of UVU.

Are all files in OneDrive automatically backed up?

OneDrive has an auto-sync feature that will back up your files to Microsoft cloud servers.

What do the different icons in OneDrive mean?

Visit this OneDrive guide for more information regarding OneDrive symbols.
Getting Help