Electrical & Control Technology Certificate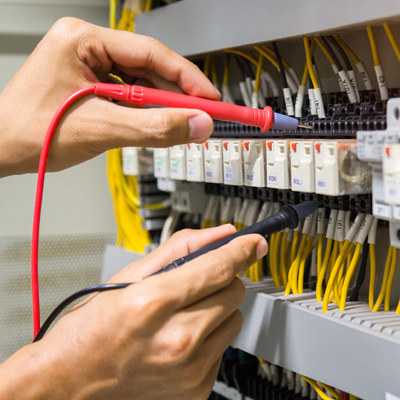 What Students Learn
Upon successful completion of this certificate, students can:
Apply electrical theory to safely wire, troubleshoot, analyze, repair, and build electrical systems and control circuits.
Utilize appropriate test equipment and hand tools.
Describe the operation of electrical components, motors, generators, transformers, and digital and relay logic.
Program Highlights
Length of Program: One year, 20-25 hours per week
Credits Earned: 22
Stacks into the Electrical Automation Robotic Technology Program at UVU
About
The Certificate of Proficiency in Electrical and Control Technology prepares students to become a technician and technologist. Students learn to troubleshoot, wire, repair, adapt, install, and maintain electrical and industrial motor control equipment. Knowledge and experience are gained through theory and engagement in "hands on" labs that prepare graduates to work safely around industrial and commercial electrical equipment. Electrical DC & AC theory, transformers, circuits, wiring, motors, motor controls, relay logic, logic gates, and the National Electrical Code for commercial and industrial systems is emphasized. Skills are developed in troubleshooting, testing, and analyzing electrical circuits.