Freshman Reading Program
Share a common experience with other new students.
Learn about UVU's intellectual culture.
Make new friends.
This book is a required text for SLSS 1000 and ENGH 1000.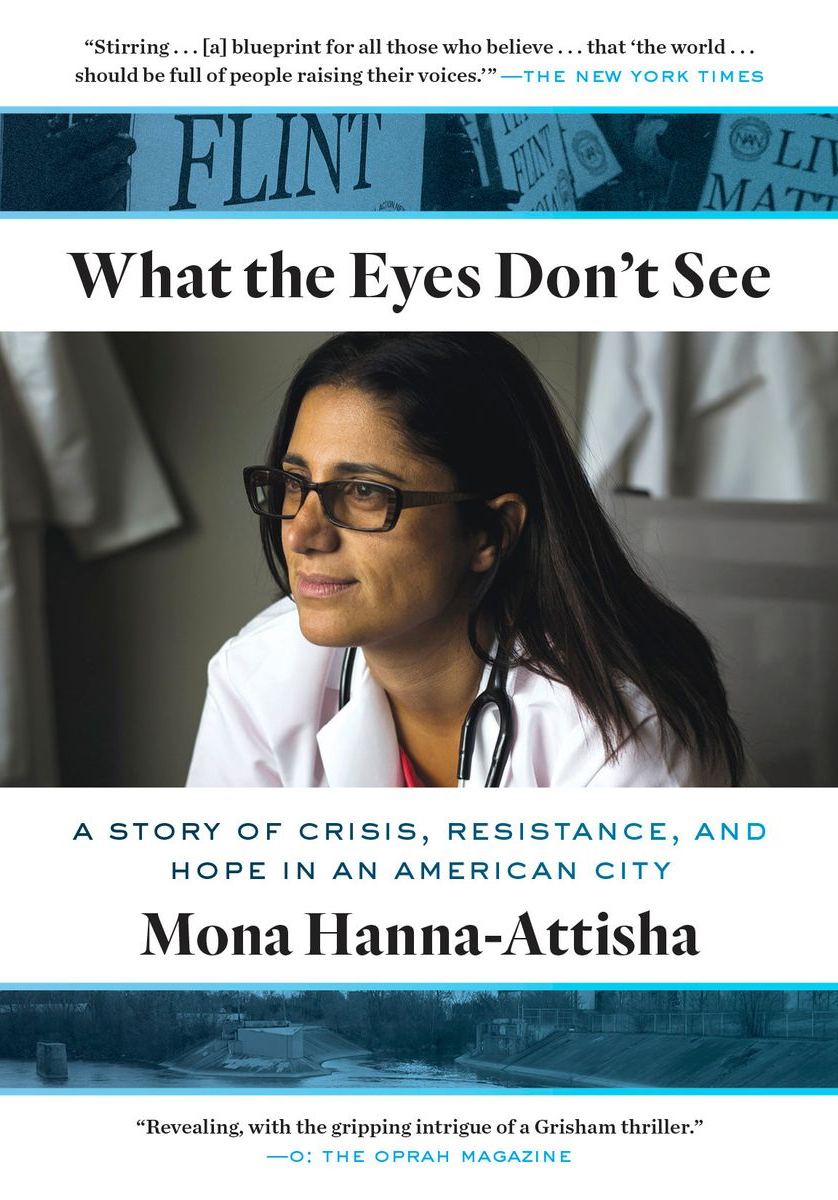 What the Eyes Don't See
About The Book
This is the story of how pediatrician, Dr. Mona Hanna-Attisha and a team of researchers, parents, friends, and community leaders, discovered that in Flint, Michigan, children were being exposed to lead in their tap water. The book illustrates the battle with their own government to expose that truth to the community and the world.
"Paced like a scientific thriller, What the Eyes Don't See reveals how misguided austerity policies, broken democracy, and callous bureaucratic indifference placed an entire city at risk. And at the center of the story is Dr. Mona herself—an immigrant, doctor, scientist, and mother whose family's activist roots inspired her pursuit of justice.
What the Eyes Don't See is a riveting account of a shameful disaster that became a tale of hope, the story of a city on the ropes that came together to fight for justice, self-determination, and the right to build a better world for their—and all of our—children."
— Random House, Inc.
Book Discussion
UVU President: Dr. Astrid S. Tuminez
When: TBD
Where: TBD
Authors Visit
Author: Mona Hanna-Attisha
When: TBD
Where: TBD
Goal/Purpose
Aims to provide a common academic experience, to introduce students to intellectual life at the university, to create a greater sense of community among students, faculty, and staff, emphasize the value of reading, and establish the connection between reading, intellectual development, and other cultural events on campus.
Participation Credit
Required text for SLSS 1000, ENGH 0890, and some ENGL 1010 courses. Students not enrolled in these courses are encouraged to participate in this unique opportunity to exchange your ideas about the book with the university president, faculty members, and your peers. Participation does not count for course credit.
How to Get a Copy
All new freshmen for the 2021-2022 academic year will receive a free UVU-custom (printed) copy of What the Eyes Don't See when they attend Jumpstart Orientation or will be able to pick up a copy at the UVU Orientation Office in Losee Center 405q if they attend a virtual Jumpstart Orientation beginning June 2021.
Events
The program begins with a book discussion with the university president. Throughout the year, there will be many other events and activities on campus related to the themes of the book.
Why this book
A faculty committee recommends five books to the University President, who then makes the final selection.
Questions
Please send an email to success@uvu.edu for answers to any other questions not listed above.
Faculty
When faculty from diverse academic disciplines integrate a common text into their freshmen level courses, we achieve the following objectives:
Objective 1
Facilitate a universal academic experience that enables dialogue and learning around a common point of reference.
Our incoming freshman body is diverse and non-residential. The freshman reading book provides a common academic experience that can help students of varying backgrounds and academic preparedness to connect with one another in an educationally purposeful way.
Objective 2
Initiate a universal academic experience that introduces reading as a gateway to meaningful exploration of a topic via a variety of academic disciplines.
Freshman students benefit from observing how a central topic can be applied and explored from a variety of methods and points of view. i.e., how might a sociologist apply this topic? Mathematician? Biologist? Etc. This process helps to reinforce the benefits of a solid general educational core, enhances critical thinking skills, and possibly assists students with their major and career choices.
Outcome
When new freshmen encounter the freshman reading book in multiple academic and social settings, they experience a learning model that provides "environments and experiences that bring students to discover and construct knowledge for themselves" (Barr and Tagg, 1995, p. 12), moving them beyond the traditional instructional model of simply receiving information. This process more effectively enables students to become "members of communities of learners that make discoveries and solve problems" (Barr and Tagg, 1995).
Resources
Faculty ideas for incorporating the freshman reading book into your classroom
Discussion guide for faculty
About the author, Mona Hanna-Attisha
Attend events to strengthen peer connections within your class and reinforce the concept of reading as a gateway to the academic culture of UVU.
If you have any ideas on how UVU can more dynamically integrate the freshman book into course curriculum and campus events, we'd love to hear them!