Ceremony Registration & Graduation Attire/Regalia
Ceremony registration will be available May 1 – August 14, 2020 at 10:59pm through the Alumni Association.
A Graduate's Checklist, including purchase options for graduation attire/regalia, honors medallions, and distinction cords, can be viewed at https://www.uvualumni.org/grad.
Cap, Gown, and Other Regalia Info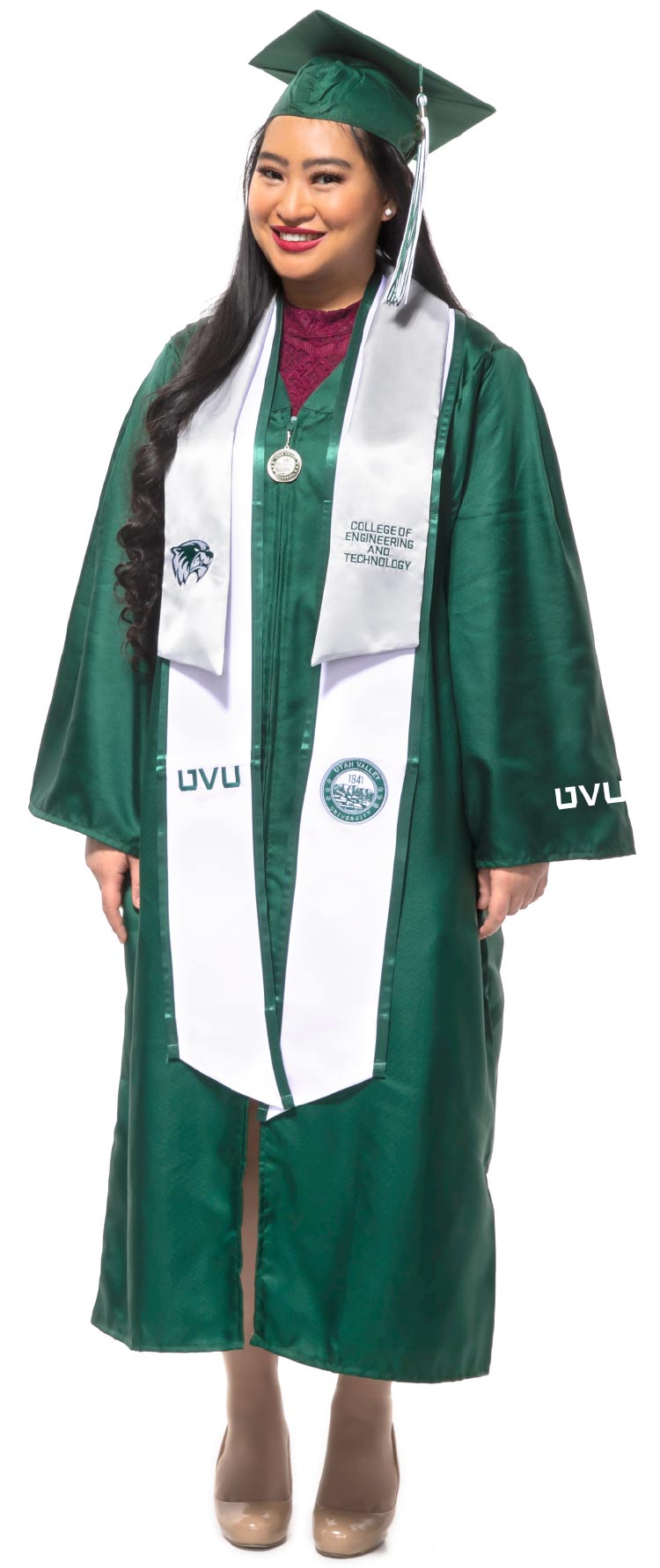 Announcements
Announcements can be ordered through Jostens or right from the UVU Bookstore. Graduates may also find other graduation related items such as diploma frames, license plate frames, and UVU swag.
Regalia Descriptions
CAP: The mortarboard (the square part of the cap) should be worn flat on the head. Caps should not be worn on the back of the head.  The front of the cap is indicated on the inside of the crown.
TASSEL: Before commencement, your tassel should be worn on the right side of your cap. During commencement, you will be instructed to move your tassel to the left side.  For convocation your tassel should be worn on the left side, unless otherwise instructed by your convocation representative.
COLLEGE / SCHOOL STOLE (optional): Your college/school stole should be draped over the shoulders, on top of the UVU sash.
UVU SASH: The UVU sash is required to be worn at commencement and convocation ceremonies. The UVU sash should be evenly draped over the shoulders, underneath the college/school stole.
GOWN: (Caring for your Gown) For the best appearance, the gown should be removed from the package immediately after purchase and placed on a hanger to allow the folds to fall out. Steaming the gown or hanging the gown in a high humidity area, will accelerate the process.  Ironing is not recommended.
MASTER GOWN & HOOD (Not pictured): Master gowns are black and differ slightly from the undergraduate gown shown here.  Hoods are for master graduates only. Please refer to the directions on the packaging, for how to appropriately wear the hood.