Dr. Rodger Broomé is an academic psychologist specializing in the descriptive phenomenological method of research as developed by Amedeo Giorgi. His research topic areas of interest are in the emergency services, particularly, the lived-experiences of police, fire, emergency medical and other crisis workers. He is also interested in pursuing victimological studies using the phenomenological approach. His professional background includes 29 years of emergency work in law enforcement, fire, emergency medical, and hazardous materials response. (He graduated from the SLCC police academy session #5 in 1989.) His theoretical approach to emergency management and leadership are based on Existential-Humanistic perspectives of the human person. He has a Doctor of Philosophy in Psychology (2012) from Saybrook University in San Francisco, California.
Andy Byrnesis an Associate Professor for Utah Valley University (UVU), Emergency Services Department and coordinator of the Firefighter Recruit Candidate Academy in Provo, Utah. He retired after 21 years of service as a Special Operations Battalion Chief from the Orem, Utah Fire Department. He was also a sworn Law Enforcement Officer for 18 years and a certified Paramedic for 16 years. He has led development teams in the reorganization and rewriting of Apparatus Driver Operator – Pumper and Aerial courses for the Utah Fire and Rescue Academy. He has also led the development of the Hazardous Materials Awareness, Basic Operations, WMD Operations, Hazmat Technician, Building Construction, and Fire Officer I & II courses. He has taught Hazardous Materials Operations courses in Singapore and has been a keynote speaker at the Saudi Arabian Fire Protection Engineering conference in Dhahran, Saudi Arabia. He has reviewed and contributed to several textbooks related to Hazardous Materials/WMD response; Firefighting and Management and he is a frequent course reviewer and subject matter expert in the areas of Hazmat Chemistry and Firefighting Leadership and Management. He was significantly involved in the DHS Jack Rabbit Project studying the consequences and tactics involved in catastrophic releases of Toxic Inhalation Hazardous Materials, specifically Chlorine as a dense liquefied compressed gas. 
Dr. John R. Fisher is an associate professor of Emergency Services at Utah Valley University and coordinator of the Emergency Management and Disaster Assistance program. Before coming to UVU, he taught management and communications at Northwest Missouri State University, Boise State, Athabasca University, and the University of Alberta. John began his career as a newspaper reporter/photographer, reporting the court and police beats and covering emergency services. For eight years he was a public administrator in the Alberta government, working in policy analysis, public information, and legislative affairs. He has a BA and an MA from Brigham Young University and a PhD from the University of Alberta. His principal areas of research are mass media coverage of disaster public policy, community emergency preparedness, and applied learning among adult learners.
Holley, Steve
Steve K. Holley is an assistant professor in the Emergency Services Department at Utah Valley University with a concentration in Emergency Medical Services.  Prior to coming to UVU, Holley was a full-time faculty member of the Health Science department at Brigham Young University-Idaho for nine years where he mostly taught Paramedic courses. He recently served as the E.M.S. Director of a hospital-based, A.L.S. ambulance service in a rural resort area. Prior to that, he was a Flight Paramedic at a rotor-wing base.  Steve's fire experience includes a combination of U.S. Navy Damage Control training and then, Paid-call and career service as a paramedic/firefighter for substantially over 20 years. Holley served as a Navy Seabee and is a member of the Navy Reserve. Steve is working on a Doctor of Arts in Political Science, with cognates in Economics and Sociology at Idaho State University.  He holds a Master's of Pubic Administration degree, with an emphasis in Public Finance and Budgeting from Idaho State University and a Bachelor's from Idaho State University and Associate of Arts degree from Ricks College, both in Economics.
Lindquist, Chris
Dr. Chris Lindquist is a lecturer in the Emergency Services Department at UVU where he instructs in the EMT, AEMT and ESMG courses. Before coming to UVU, he spent 10 years in the private sector as an administrator and consultant for various healthcare organizations in strategic planning. He is a volunteer firefighter/A-EMT, Community Emergency Response Team (CERT) Instructor, and serves as part of the Emergency Response Management Team and Public Information Officer for Santaquin City. He has a Master of Business Administration degree from Westminster College of Salt Lake City and a Bachelor of Science-Behavioral Science and Health degree from the University of Utah. In 2018 he completed a Doctor of Education in Organizational Leadership with an Emphasis in Organizational Development at Grand Canyon University. His dissertation correlates servant leadership, firefighters, and job satisfaction.
Dr. R. Jeffery (Jeff) Maxfield has consulted for billion dollar corporations and various government agencies throughout North America and Europe. He is a retired Chief Operations Officer/Assistant Chief for a metropolitan fire department, with approximately 25 years of service. Jeff served for four years as Associate Dean over the School of Public Services (Criminal Justice, Emergency Services, Forensic Science, and Peace Officer Standards and Training (POST), the Utah Fire and Rescue Academy, and the Institute of Emergency Services and Homeland Security). He currently is enjoying teaching and researching in the disciplines of public leadership and adult education.
McEntire, David
Dr. David McEntire is the Dean of the College of Health and Public Service at Utah Valley University in Orem, Utah. Prior to his arrival at UVU, Dr. McEntire was a professor in the Emergency Administration and Planning Program (EADP) at the University of North Texas.  During his tenure at UNT, he served as the Coordinator for the undergraduate and PhD programs, as the Associate Dean in the College of Public Affairs and Community Service, and as the Director of Summer Session. Dr. McEntire's academic interests include emergency management theory, international disasters, community preparedness, response coordination, and vulnerability reduction. He has received several grants—funded by the Natural Hazards Center, the National Science Foundation, and other sources—that allowed him to conduct research in Peru, the Dominican Republic, Texas, New York, California, and Haiti.  Dr. McEntire is the author or editor of several books including Disaster Response and Recovery (Wiley), Introduction to Homeland Security (Wiley), Disciplines, Disasters and Emergency Management (Charles C. Thomas), and Comparative Emergency Management (FEMA).  He has published more than 100 articles. 
Noll, Gary
Gary Noll has been at Utah Valley University since 1997 and is a Professor of Emergency Services and Department Chair. Noll began his fire service career with the United States Air Force in 1986 and has worked with Department of Defense (DoD) fire departments nationally and internationally. Over a 22 year career he worked as a Firefighter, Crew Chief, Assistant Chief, and Fire Chief for eight different departments. His academic credentials include an Associates of Applied Science-Fire Science, Bachelor of Science in Technology Management with an emphasis in Fire Science, and a Masters of Education.
Noll is a certified Fire Officer IV, Fire Inspector, Hazmat Technician, and Fire Instructor. He has been at Utah Valley University since 1997. He teaches courses related to all aspects of emergency services and specializes in recruit training, protection and detection systems, and leadership concepts. He has served on state-wide and national committees, as well as most areas of university governance.
Russell, Eric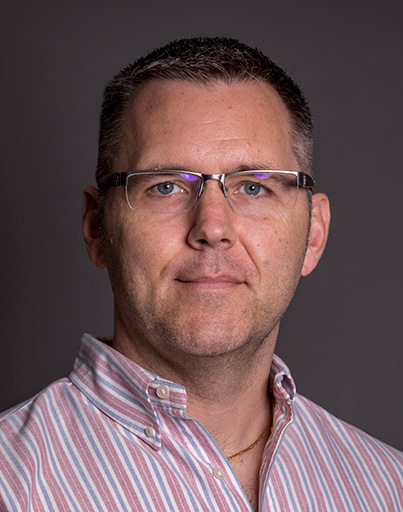 Dr. Eric J. Russell is an Associate Professor with Utah Valley University's Department of Emergency Services. His writings and research involve the influence of homeland security education on responders as well as the impact of servant leadership on organizations and individuals. He is the author of more than 60 peer reviewed and trade publications as well as two books: The Desire to Serve: Servant Leadership for the Fire and Emergency Services (Greenleaf Center for Servant Leadership) and In Command of Guardians: Executive Servant Leadership for the Community of Responders (Springer).  In addition, Eric speaks nationally on the subjects of servant leadership and homeland security education. Dr. Russell retired early from the Department of Defense/USAF Fire and Emergency Services with combined active duty military and DoD service. Dr. Russell's education consists of a Doctor of Education in Organizational Leadership-Grand Canyon University & a Master of Science in Executive Fire Science Leadership-Grand Canyon University.
Vyshnevska-Cherkas, Iryna 
Dr. Iryna Vyshnevska-Cherkas serves as a diplomat at the Ukrainian Embassy in Norway. She has a PhD (2015) from the Institute of International Relations, Kyiv National Taras Shevchenko University. She authored the book "USA-China: congagement strategy" (Kyiv, 2016), and was co-author of the book "The foreign policy of the Russian Federation: Selected aspects of relations with Poland, Ukraine and Belarus" (Krakow, 2010) and has written more than 80 scientific publications in Ukrainian and foreign editions. She previously worked as a diplomat in the NATO division of the Directorate General for International Security, Ministry of Foreign Affairs of Ukraine. She has her bachelor's and master's degrees from the Institute of International Relations, Kyiv National Taras Shevchenko University in Diplomacy and International Relations and Political Sciences, respectively. Advancing her knowledge and skills, Iryna studied at the Swedish National Defence College (Stockholm), NATO School in Oberammergau (Germany), Royal Military Academy in Brussels (Belgium), and Peace Support Operations Training Centre – Partnership Training and Education Centre in Sarajevo (Bosnia and Herzegovina).