27th Annual Martin Luther King, Jr. Commemoration
27th Annual Martin Luther King, Jr. Commemoration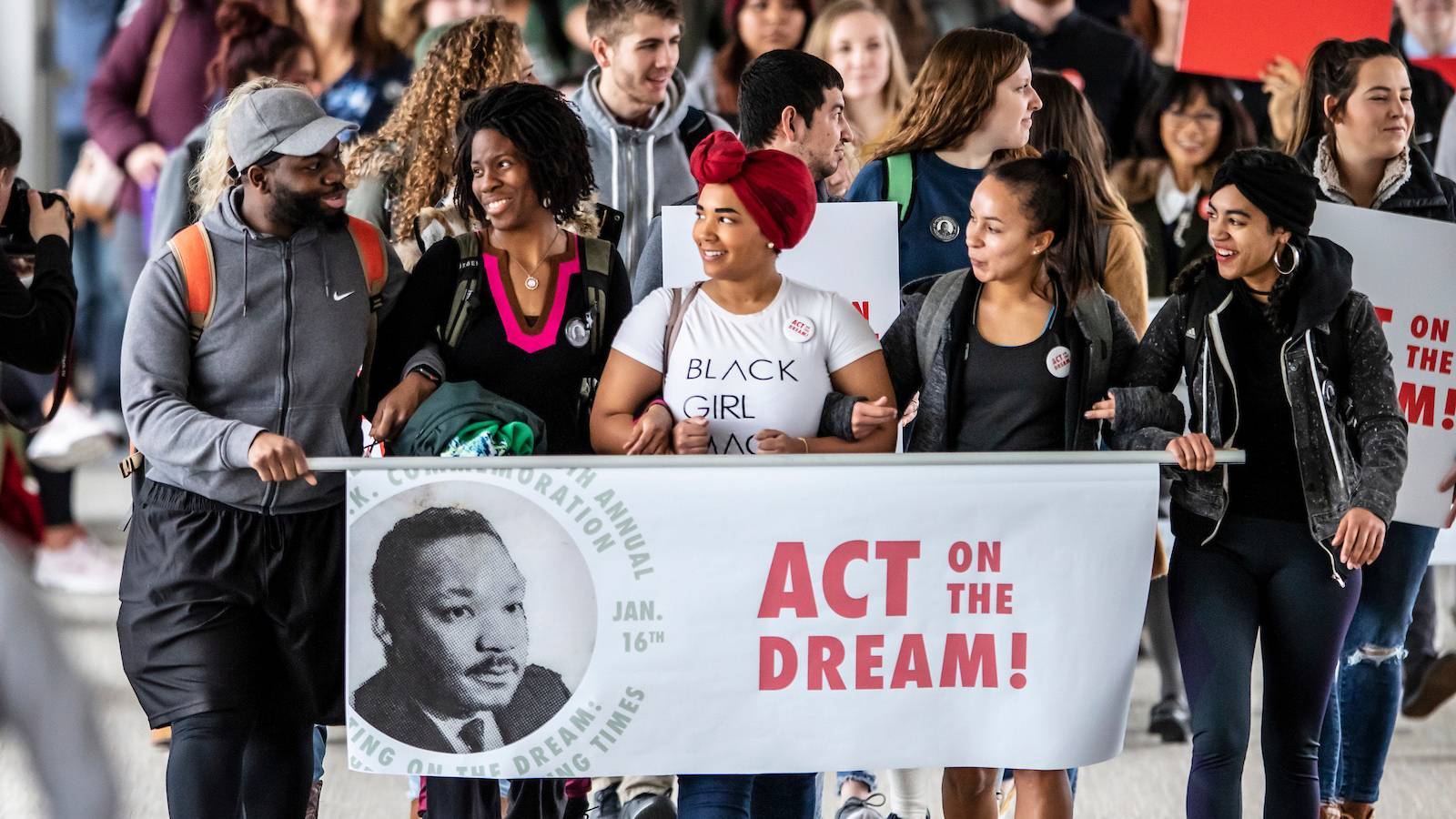 Realizing the Dream: Renewing our Commitment to Freedom
January 11 – January 15, 2021
Join us for UVU's 27th annual Martin Luther King, Jr. Commemoration Week. This year's virtual event will include a digital art gallery, six informative workshops, and a keynote speech delivered by Anthony Ray Hinton of the Equal Justice Initiative on January 13.
In a time where calls for racial justice and a demand to reckon with systemic racism are on the rise, we focus on questions of freedom and responsibility. What is the meaning of freedom? How has freedom aligned with or contradicted some of the "inalienable rights" in the U.S. to pursue life, liberty, and happiness? What role and responsibility does higher education have in the movement for a more just and equitable world? How will we, as UVU Wolverines, participate in the call to action, and more meaningfully contribute to making progress in the realization of Dr. King's dream? What does freedom mean in our world today? How do we want to impact tomorrow?
Monday, January 11 – Friday, January 15, 2021
Digital Art Installation
Black Visions: Healing and Ascending through Afrofuturism
Curated by Black Student Union (BSU) and the Center for Social Impact
This two-part online art installation first highlights the often painful experiences of Black community members who face individual and systemic discrimination. As viewers gain insight into the experiences of their fellow Utahans, we hope they will be moved to make a commitment to freedom through action. The second installation features Black UVU students' ideas about how to heal through expressing Black joy, redesigning inequitable systems creatively, and listening to the Black community. These expressions are accompanied by stylized photography representing the bold innovation of Afrofuturism
Monday, January 11 – Friday, January 15, 2021
Afrofuturism Media Resources
In lieu of our film viewing for this year's UVU MLK commemoration members of the planning committee have assembled a list of suggested resources to explore. Learn more about Afrofuturism embodied in the following books, TV & film, music and media suggestions.
Wednesday, January 13
Timezone GMT-6

Title

Link

Noon–1:30 p.m.

Featured Keynote Speaker, Anthony Ray Hinton

Welcome, Jerome Currelley, Director of African Diaspora Initiative
President Tuminez
Introduction of speaker, Dr. Erika Johnson, Assistant Professor in Literacies and Composition
Keynote, Mr. Anthony Ray Hinton
Speaker interview, Dr. Erika Johnson
Closing remarks, Mohamed Eftin, Black Student Union (BSU) Secretary

1:35–2:30 p.m.

Workshops

Workshop 1: Dialogue and Q&A with Anthony Ray Hinton

Presenters: Mr. Anthony Ray Hinton (facilitated by Dr. Erika Johnson) Join us for Mr. Anthony Ray Hinton's keynote at noon, then participate in a Q&A, sponsored by the First Year Experience & Student Retention. Mr. Hinton was sentenced to death row for crimes he did not commit and was exonerated in 2015.

Workshop 2: MLK's Dream and its Relation to Freedom and Justice for All

MLK's Dream and its Relation to Freedom and Justice for All Multicultural Student Council (MSC) Presenters: Jorge Garcia, Keilani Applegate, Natalia Frezzia, Ann Lee, and Sara Butler This workshop will focus on how Martin Luther King, Jr.'s legacy impacted more than members of the Black community. His fight for freedom and justice for all influenced equity pursuits for marginalized communities.

Workshop 3: Affecting Change at a Local Level

Presenters: Karen Magana-Aguado and Chase Schetselaar
Join UVUSA's workshop to understand local efforts to fight for freedom. We can change the world, but we must remember the impact we have on local avenues. We will be discussing the importance of taking care of our communities and how we are not so far removed from national issues. We will be providing information about nearby organizations that facilitate civic engagement, as well as the intersectionality of the work within those cohorts.

2:30–4:00 p.m.

Workshops

Workshop 1: Problematizing "Freedom"

Presenters: Justin Marks, Tino Diaz, and Juliana Figueroa
The concept of freedom, as it exists in the United States, serves to further marginalize individuals and communities inside and outside of the United States. Join us as we discuss how to rethink the concept of freedom as a liberatory practice.

Workshop 2: Self-Care with BSU

Presenters: Melanie Griffin and Mohamed Eftin
Join the BSU Presidency for a conversation about mental, physical, and emotional health and well-being.

Workshop 3: Designing for Freedom: An Introduction to Equity-Centered Design Thinking

Presenters: Cassie Bingham, Summer Valente, and Amber Hendrickson
This workshop invites participation from individuals who want to learn how to strategize for innovative, inclusive, and equitable solutions to the social challenges and disparities facing Black communities today. Participants will be introduced to Equity-Centered Design Thinking, a problem-solving framework that is guided by community-identified needs, seeks collaboration with diverse co-creators, and acknowledges historical context, power constructs, and the facilitation of healing. This introduction will be followed by an interactive portion where participants will practice redesigning systems in order to create equity and inclusion.