Branding & Logos
The Utah Valley University Style Guide has been created to give you the tools you need to be an effective ambassador of the UVU identity in all your communication efforts. Consistent use of logos, colors, and typography is key in managing and maintaining the integrity of the institution's overall brand.
We encourage you to use the guidelines here as you consider what you might do in your area to reinforce the UVU brand and strengthen your subsidiary brand as part of the University. A pdf version of the Style Guides can be downloaded below:
Secondary logos:
A uniform system for secondary logos including departments and extensions of the University, has been developed. The consistent use and application of this system will help identify and add credibility to the University. Campus entities are not permitted to create their own logos.
Secondary logos can be ordered here. University Marketing & Communications will deliver secondary symbols via e-mail within five working days from the date the order was submitted. Orders must be approved at the AVP or Associate Dean level or higher and by University Marketing & Communications before they are created and released.
To request a department secondary logo, please fill out and submit the following form:
If you have questions about how and when you can use the logo, contact Matthew Chambers:
Official UVU logos:
All logo use must follow the specifications in the University Style Guide. Only vendors who are licensed with Leerfield and who abide by the set Guide standards may use the UVU logos and name. Logos are available for download below. Official University marks should only be printed in the official green (Pantone 7483), black or reversed to white.
SQUARE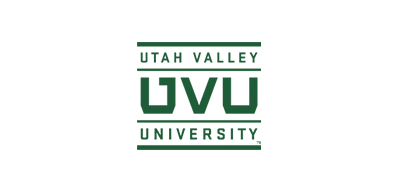 The square version of the institutional mark is the primary representation of the University. Please choose this mark in all situations where size, placement and usage make it the best choice.
Download
HORIZONTAL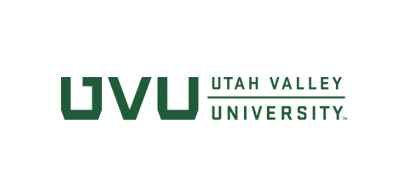 There are limited situations where the square mark is not the most logical choice. The horizontal mark is provided for these situations, such as on a pen, a shirt, or in placement next to other horizontal marks.
Download
MONOGRAM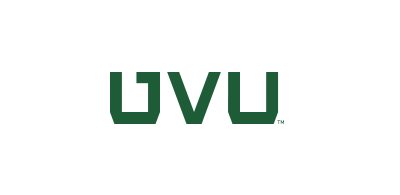 The simpler UVU monogram is for situations where you are confident your audience will know it represents Utah Valley University. In some broader markets, we encourage the square mark usage.
Download
ATHLETIC MASCOT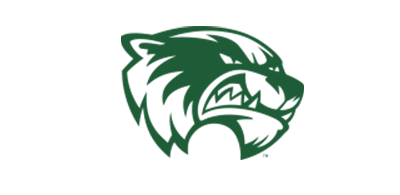 The wolverine mascot is the primary athletic mark of UVU. The wolverine can be a stand-alone element such as on the left breast of a sport shirt, but we would encourage additional branding (such as on the sleeve or back) of university marks or the new athletic wordmark provided here.
Download
ATHLETIC WORDMARK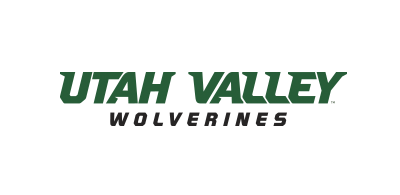 New university athletic wordmarks have been designed to stand alone or be combined with the wolverine. It is a trademarked logo and should not be added to or manipulated in any way. Combination options with the wolverine are provided in the University Style Guide.
Download
ATHLETIC COMBINATIONS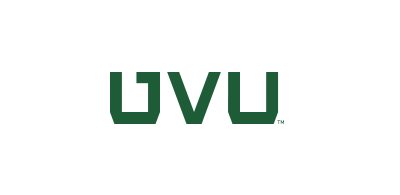 The mascot and wordmark can be combined in the configuration shown here as well as additional options shown in the style guide. Consider your audience when deciding which version to use. If you have questions about the most appropriate usage, contact Marketing to help you.
Download
UNIVERSITY SEAL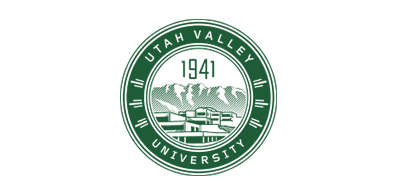 The seal has been created to be used on official University documents, such as diplomas and certificates, that are more formal in nature. The seal should be used with discretion. This mark is not available for download and is reserved, if you feel you have a need for use please contact us.
 Request Seal Usage
REQUIRED STATEMENT GRAPHIC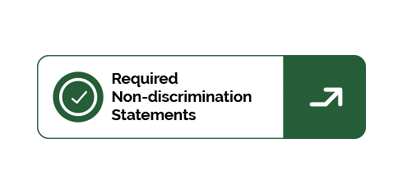 In accordance with federal law, Utah Valley University requires that all application and recruitment materials include a statement of nondiscrimination. For web applications, the graphic below may be used and linked to the statement web page FOUND HERE.
Download Graphic
UNIVERSITY COLOR PALETTE: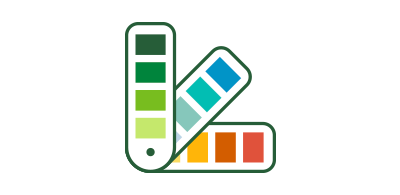 Our primary University color palette is green, black, white and silver. The primary green to be used with all institutional and athletic marks is Pantone 7483. Additional color guidelines can be found in the University Style Guide. All official University marks can only be printed in these colors.
UVU Swatches & Color Palette