Social Media
Make your social media efforts work to your advantage. You'll find resources and tools here to help you create a more strategic social media presence and a better user experience.
If you find yourself stuck in social media mud, set up a consultation for some help and strategic guidance to keep your efforts moving forward.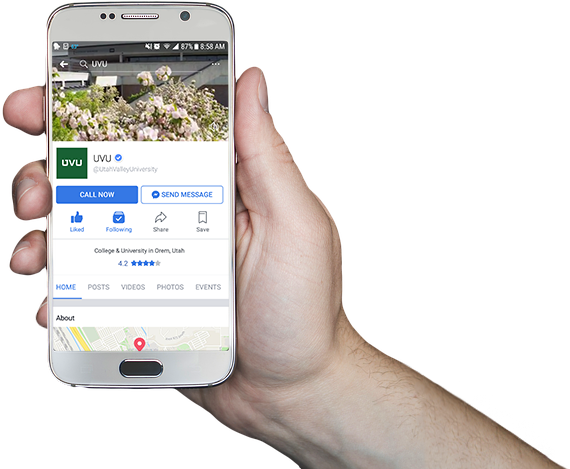 Social media protocol.
Just getting started on social media? Make sure you register your account with UVU. Review this official protocol document before creating any pages.
University Hashtags.
Hashtags are words or phrases that, when preceded by a # symbol, become searchable terms on many forms of social media. UVU has established several official hashtags for use in organizing, promoting and searching content on social media. These include:
#UVU
#UVUlife
#WolverineGreen
Social media branding resources.
For a more professional social media presence, UVU encourages social media managers across campus to take advantage of a custom-made profile picture and specially commissioned cover photos for your UVU-related social media accounts.
Cover Photos
Visit UVU's repository of campus photos. It is available for you to use as cover photos for your area's social media accounts. To request a custom photo that is specific to your area, please submit a request using the marketing services request form.
Profile Photos
To request a social media profile picture for your area's social media accounts, submit a request to Frank Young in marketing services. Have in mind a word or acronym that people will recognize to represent your area. According to the branding style guide, these images are only to be used for social media profile branding.