Web Marketing
Exciting things are happening for UVU's Web presence. We can point you to all the official UVU sites and social media channels as well as provide best practices and guidelines for web strategies.

Web Design.
With our online services, everyone can see your message instantly. We can help you redesign your website into our new responsive templates, get started on social media, meet accessibility guidelines, use SEO and meta data to drive traffic, and more.
Photo usage on the web.
We require appropriate use of images including background images, copyrighted images, images of students, stock images, etc. All external images used on UVU sites require proper copyright.
Getting digital signage.
If you would like to get you digital signage displayed on the hallway digital displays or in myUVU, you will need to submit a request. Requirements are in place to help maintain and support the UVU identity, as well as staying in line with responsive design requirements.
Web training.
Whether you are brand new to OU Campus, or just need a refresher in how to make a quick change to your site, we want you to find the help you are looking for.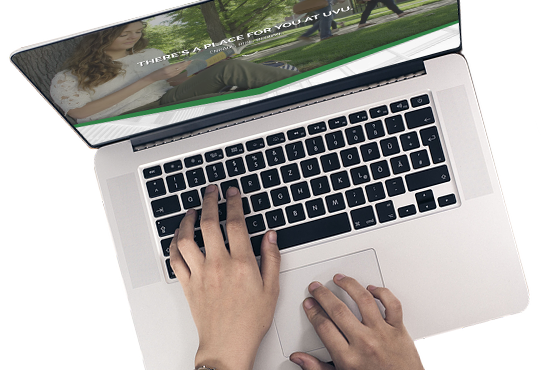 What we can do for you.
Streamline your user experience (UX)
Incorporate responsive templates for seamless mobile interaction
Meet accessibility guidelines
Use SEO and meta data to drive traffic and increase findability
Get started with social media and targeted campaigns
and more!