Testing Policies & Procedures
In order to test in the Classroom Testing Center you must agree to abide by our Testing Policies and Procedures.
Testing Policies & Procedures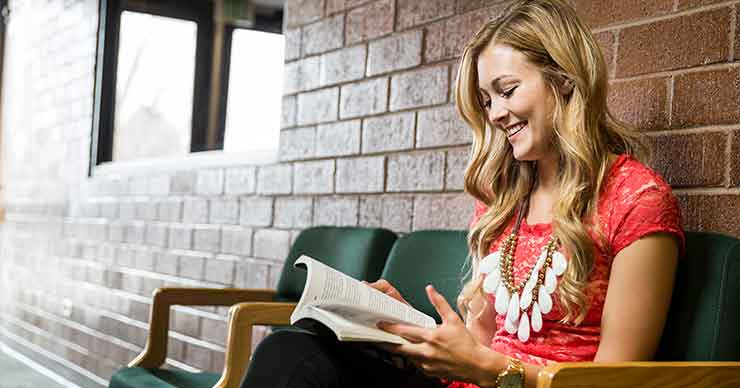 Do's & Don'ts of the Testing Center
Prohibited Behavior & Exceptions
Cell Phones and Electronics
All electronic devices, including but not limited to, cell phones, tablets, laptops, and pagers, must be powered off before entering the Testing Center and placed into a bag. There are no electronic dictionaries allowed, only paperback dictionaries are permitted if authorized by the instructor.
All other electronic devices must be completely powered off and put away (e.g. laptops, tablets, smart watches). Smartwatches must be powered off, taken off and put away.
Alarms will turn your electronics back on and go off. If your phone goes off or is used a $10 fee may be charged for disrupting the test room. If found using phones or electronics while testing, your test will be terminated.
If you need to keep your device powered on for medical purposes (e.g. the device functions as a heart or glucose monitor), you will need to contact the Office of Accessibility Services for a letter of accommodations.  Please see our Accommodative Testing page for more information regarding scheduling and testing with accommodations.
Do not sit next to any classmates
Raise your hand to ask the proctor a question
Only use test aids and materials that were cleared at check-in
Hats must be worn backward or put under the desk. Sunglasses may not be worn. 
If you need to use the restroom while testing, raise your hand and the proctor will escort you out of the room. All testing/personal items must be left in the room
No food or drink may be consumed in the testing rooms. Food and drinks must be stored under the testing desk. Drinks without a twist on lid are not allowed in the testing rooms. If you need to get a drink or eat a snack, raise your hand and the proctor will escort you out of the room.
Any suspicious behavior will be investigated. Your test may be stopped and instructor notified pending the results of the investigation. If you have any writing on yourself, try to remove it prior to testing
Children in the Testing Center
The Student Rights and Responsibilities states: "The institution expects all students to obey the law, to show respect for properly constituted authority...observe a high standard of conduct for the academic environment….a student enrolled in the College accepts the obligation to conduct himself/herself in an adult manner acceptable at an institution of higher education". For more on Student Rights and Responsibilities please refer to the current catalog.
The Classroom Testing Center understands the stress students go through leading up to, and during testing. We strive to provide the best service to all of our clientele at all times. If you have any issues or concerns about our service, please email our office at testingservices@uvu.edu.
For students using UVU Testing Services, we consider the following behaviors to be academically dishonest:
Copying from another person's work during an examination.
Allowing someone to copy from you during an examination.
Using unauthorized materials during an examination.
Taking an examination for another or permitting another to take an exam for you.
Obtaining or providing answers to an administered test.
Removing or attempting to remove a test, its answers, or any portion thereof, from Testing Services
Discussing the contents/answers of an examination already taken with a student who has not entered to take the exam.
Consistent with the expectations of Utah Valley University, individuals caught engaging in any of the above-described behaviors will receive a zero on their exam and be referred to Campus Police and their instructor for appropriate disciplinary action.
If you are Dismissed from a Test
If you are caught engaging in prohibited behavior please follow the instruction given by the proctor. An incident report, as well as any other evidence of the prohibited behavior, will be sent to your instructor describing what we observed. You are encouraged to contact your instructor with any questions or concerns you may have.
Acceptable Test Aids
All scratch paper will be collected after testing. If you want to be guaranteed scratch paper you can bring your own. We run out! Our scratch paper comes from students that do not use the scratch paper they bring for their test. We can only provide 2 pieces out of our supply
Only CTC issued blue books can be used for testing. Although the UVU Bookstore sells green books, they are not permitted for use in the Testing Center.
Blue books may be purchased for:
Large book- 50¢
Small book- 25¢
You must purchase blue books at the time of testing, we are only able to accept cash payments for blue books.
CTC employees cannot teach you how to use the calculator.
Types of Calculators:
Four Function- can multiply, divide, add, and subtract

Scientific- scientific notation, floating point arithmetic, logarithmic functions, trigonometric functions, exponents, pi, and complex numbers.

Financial- financial functions commonly needed in business and commerce.

Graphing- capable of plotting graphs, solving simultaneous equations, and performing many tasks with variables.

CTC Calculators
We have a limited selection of calculators to borrow at no cost. CTC Calculators and Calculator cards must be returned after your test
Notes must be contained in a 3 ring binder. Please bring your own 3 ring binder for your notes. We have a limited amount of binders on hand for students to borrow
As of July 1, 2017, cue sheets that are folded, ripped, torn, taped, stapled, glued or otherwise adapted in an attempt to come close to the size requirements or fit more content onto the cue sheet will not be accepted.
Students may use the size of cue sheet their instructor allowed, it must be cut down to the indicated size so that it is only one single sheet of paper/card without any of the aforementioned adaptations.
Cue sheets that do not meet this standard will not be accepted and students will be given the option to leave and come back with a cue sheet that meets the requirements without extra adaptations or to test without their cue sheet. 
All cue sheets will be stamped and collected. Try to leave space for a stamp.
Cue sheet size can be up to a half sheet size depending on instructor specification.
Cue sheets will be collected and destroyed after testing. 
We cannot attach cue sheets to the exam and they will not be returned.
If students want to retain information on a cue sheet we recommend they take a picture or making a copy of the cue sheet prior to using it for testing.
Textbooks will be inspected before check-in. Please remove all loose papers or notes from the textbook before check-in. Electronic textbooks may be printed out beforehand but should be hole-punched and in a binder.
Things to Know Before Testing
Top 5 Things to Know
Know your class name, course number, and instructor's name
Bring a current Government issued picture ID to test (UVU ID, driver's license, military, CCW or passport). The name on the ID must match the name UVU has on record.
Bring a #2 pencil
No food or drink allowed
Know if there is a fee for your test
General Info
We Accept
We DO NOT Accept
Checks
Green Bucks (Coming back soon)
All personal items must be stored under desk (Sunglasses, keys, backpacks, gloves, etc.). If an item will not fit under a desk, it will not be allowed in the testing room (Instruments, longboards, surfboards etc.). Black bags will be issued for any loose items.
While testing, items should never be taken out of your bag without checking with a Testing Center employee first. It could be interpreted as cheating.
You can see specifically when your tests are running in the CTC by logging into to your Chi Tester. Once logged in to Chi Tester click on the 'Testing Tab,' selecting the test and viewing the 'Test information' to the right of the screen. You may also view all available tests for the day by checking our available tests page on Chi Tester.
This depends on the type of test taken. You can see scores for paper/pencil or Chi Tester exams at home. Go to https://virtuallabex.uvu.edu, you will be required to download some Citrix software to your computer the first time you access Chi Tester. Once the Citrix software is downloaded log in to Chi Tester with your UV ID and password, click on the course name, and then find the test you took.
Students who take a test using Canvas, MyITLab, McGraw Hill Connect, or other testing platforms may see their scores by checking the course gradebooks. Keep in mind, some professors may choose not to release exam results until the testing period is closed.
Prior to closing, warnings will be given at:
15 minutes until closing
5 minutes until closing
1 minute until closing
When You Are Finished Testing
The removal of tests or testing materials from the Testing Center is viewed as cheating and will be reported to the instructor, the Dean of Student Life and Campus Police.
Please exit the room
Proceed to check out at the back counter
Return all test materials
Remember not to discuss any part of your test with other students after testing. This could be considered as a form of cheating.
Turning in a Finished Test
Students should leave their backpack/black bag closed until they have turned in the test.
ALL testing materials (including scratch paper) must be turned in to the employee at the counter. Scratch paper will be discarded.
After the exam has been scored the student will not be able to review the test or see answers from their scantron. Any questions regarding answers or test questions should be directed to the instructor, not a Testing Center employee.
Fee Structure
Testing fees are set up on a scale to allow YOU the student to manage your own testing situation. Gives you the option to test for free, during a specified timeframe
After the first third of the testing period the $4.00 fee will begin. Your instructor will decide how long a test is offered in the CTC and that determines when a fee will occur.
Traditional Course Exam Schedule
| | | | |
| --- | --- | --- | --- |
| Instructor Scheduling Option | Option 1 | Option 2 | Option 3 |
| Days in CTC | 2 days total | 3 days total | 5 days total |
| Free Day | 1st day | 1st day | 1st & 2nd day |
| Fee Day | 2nd day | 2nd & 3rd day | 3rd, 4th, &5th day |
Online Course Exam Schedule
| | | | |
| --- | --- | --- | --- |
| Instructor Scheduling Option | Option 1 | Option 2 | Option 3 |
| Days in CTC | 3 days total | 5 days total | 12 days total |
| Free Day | 1st day | 1st & 2nd day | 1st, 2nd, 3rd, 4th, & 5th day |
| Fee Day | 2nd & 3rd day | 3rd, 4th, & 5th day | 7th, 8th, 9th, 10th, 11th, & 12th day |
Pencils and blue books are sold in the Classroom Testing Center. Pencils are $0.25 and blue books are $0.50 for the large size and $0.25 for the small size.
Taking the test on the "fee day" will result in a $4.00 fee. (Students can check online to look up their tests schedule and scores online). Log in to your Chi Account (using your UVID and password) for this information.
All charges must be paid in either cash or card. There is an ATM available in the building that dispenses $1's, $5's, and $10's for your convenience.
Accuplacer
The Accuplacer is given on a walk-in basis anytime we are open. We do recommend students come in at least two hours before we close our doors. You can take the Accuplacer up to 3 times in a 2 week period, with 24 hours within each retake.
English Placement
The Accuplacer exams consist of two sections at UVU; Next-Generation Reading and Next-Generation Writing.
The Accuplacer is given on a walk-in basis in WS 112. Please see our testing hours for availability and office closures. Although not timed, taking the English subjects of the Accuplacer takes about 1 hour. Testing Services hands the last exam out 1 hour before we close, and so plan accordingly. UVU students can take either the entire Accuplacer exam in one sitting or in parts. The test costs $10 for newly admitted students testing for the first time. Retakes are issued at a cost of $10 per section. A non-expired photo ID is required to test.
The cost to retake the Accuplacer is $10 per subject. Effective as of January 6th, 2019, testers are permitted three retakes in a two week period, with those retakes being at least one day apart.
The cost for non-UVU students is $50. We have the ability to issue the 'Next-Generation Reading' and 'Next-Generation Writing' sections for English placement, and the 'Next-Generation Arithmetic', 'Next-Generation Advanced Algebra and Functions', and 'Next-Generation Quantitative Reasoning, Algebra, and Statistics' sections for math placement. Although not timed, taking all three subjects of the Accuplacer takes about 2 hours.
If you are an administrator needing to arrange for large testing volumes for your high school please contact our office to coordinate when we would best be able to serve you by emailing testingservices@uvu.edu.
In the past, ACCUPLACER was offered to K–12 institutions, but with the assessment redesign, K–12 institutions have a more robust set of diagnostic tools available through the SAT Suite of Assessments. As of January 2019, Accuplacer is now offered exclusively to higher education institutions. High schools are not eligible to purchase units or run an account independently of a higher education institution. 
Accuplacer Study Materials
ALEKS PPL (Preparation Placement and Learning)
ALEKS PPL is the math placement tool utilized at UVU to help students learn what course aligns with their current math knowledge.  It is also a valuable tool for students to brush up on previous knowledge through assessment and study to regain their math skills leading up to registering for a math course. 
Math Placement

ALEKS® allows students to take an online, practice math placement assessment on their own to determine their current level of readiness.  After the initial practice assessment, the ALEKS system will map out which areas you need to Improve in to place into your targeted math course. Students can continue to learn and refresh on math topics in the ALEKS learning modules in between both their practice and official placement assessments.  ALEKS® can be accessed anywhere the internet is available. Find more information about ALEKS and math success at UVU.
A subscription fee may be required for some students while setting up an account based on their student attributes, the account is part of a 6-month subscription to the ALEKS learning and placement system through their myUVU account.  For help setting up an account follow our step by step ALEKS Account Set Up Guide.  Each official placement attempt taken in the testing center will cost $5.
Math placement is no longer a required step as part of the UVU admissions process.  Students are encouraged to work in the ALEKS PPL system and take their math placement assessments in the semester before they plan on taking math courses.
Remote Placement Testing for Accuplacer and ALEKS PPL
Remote Placement Testing for Accuplacer and ALEKS PPL
For students who are not located close to UVU's main campus, a process has been set up for students to find a proctor in their local area (preferably another college or university) who can issue these placement exams on UVU's behalf.
If you find a location near you that already gives the Accuplacer, you can take the exam and fax an official score report to us. Our fax number is (801) 863-7076. Make sure you take the Next-Generation Reading and Next-Generation Writing.
If you cannot find a location that offers the English Accuplacer or you are needing to take the ALEKS PPL for math placement, you will need to locate a college or a university in your area that is willing to proctor a computer-based exam. They must be able to monitor the administration at all times. Also, they cannot be someone you know personally or professionally. When you find a location, contact our call center at (801) 863-8544 with the testing location's name, contact person's name who will be administering the exam, their phone, and fax number to get the process started. 
In the case that you find it difficult to locate a proctor, we have a list of proctor sites we have previously worked with from all around the world and in most states.  There is no guarantee that the sites on the list will be close to your location or that they are still active, willing, or able to proctor your assessment.  It's just a good starting point if you are struggling to locate a proctor in your area.  Most proctor sites have their own fees and policies that you will need to adhere to in addition to fees paid to UVU Testing Services.
Other Placement Exams
The ACT Residual is administered on some Mondays at 4 pm in Fall and Spring Semesters and on some Tuesdays at 9 am in the Summer semester by appointment only. For specific dates and times, call our office at (801) 863-8269. Effective as of October 9, 2019, the cost is $75.00 (cash or credit). All candidates must come into our office at least 24 hours in advance to register. Please bring valid government-issued photo identification and your payment (cash or credit) at the time of registration. Scores for this test are only valid at UVU. A sixty day waiting period is required before retaking the ACT Residual. No writing is permitted in test booklets. For more details, please call (801) 863-8269.
More information on UVU admission requirements and the ACT.
ACT-Residual October Dead Period
Every October, the current supplies of testing for this program are returned to the national testing company before new materials are sent out. In years past, this has required a delay in testing for a week or two while this house-cleaning project takes place. ACT has decided that the entire month of October is considered a dead period (meaning no testing) for this change out project. We are so sorry for any inconvenience that this causes. Should you be in need of assistance for testing during this window of time, please contact our office via email at testingservices@uvu.edu for consultation.
ACT Study Material
There are a vast array of study materials available for the ACT.  UVU's Admissions office has identified the following as a free quality source:   Mometrix - ACT Test Preparation.
The ESL Michigan is given in pre-scheduled group administrations at the beginning and end of the semester.  For registration dates and availabilities, contact the ELL Department directly.  If you are unable to test on the group administration dates, contact our office at 801-863-8544 and we may be able to set up an individualized administration for an additional fee.
The COMPASS ESL (English Second Language) test is no longer available.  The COMPASS platform that was used to issue the test was retired nationwide on December 1, 2016.