Plan Your Trip
NOTICE:
All flights in CONCUR need  24 hours (1 business day) to be TICKETED by Christopherson Travel before it will expire. If a flight is reserved (booked) on Concur on Friday after 4pm and before 2pm on Sunday it will expire due to those offices being closed. The traveler would then need to BOOK the flight again during normal business hours (within the business week) to have this flight TICKETED.
Fares may therefore fluctuate between the time when a traveler BOOKS the flight on Concur and the time that the agent is able to TICKET them at the agency.
Take the CONCUR training.  You can find the training on line at UVULearn (Click  "Learning Library"  and then  search Travel CONCUR training. Once you have completed training you are eligible for a travel card (VISA) *travel card is not mandated

If you choose to apply for a travel card you must fill out the application, obtain all required signatures, take the training and return the applicationt to the travel office.

Fill out a request within the CONCUR system and be approved to travel on behalf of the unviersity.

Travel advances are no longer available

Once your Request been approved you can book within the CONCUR system. 

You can book airfare, rental car, and  hotel all within CONCUR or outside the system

Upon return your trip must be reconciled/expensed  within the CONCUR system 

Payment is made to employee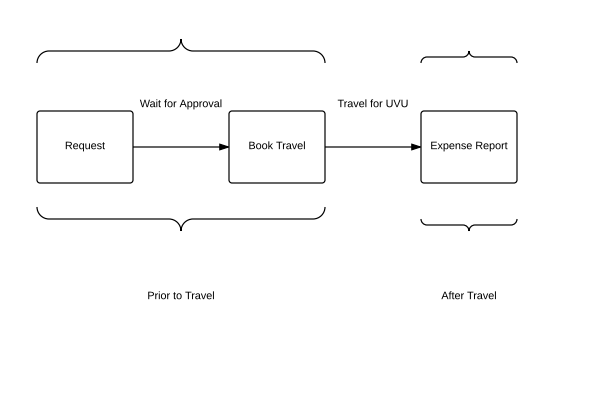 The Basics
Travel Request must be completed and approved by an appropriate supervisor for all travel. It must be sent to the Travel Office (MS 109) before any travel arrangements are made or any travel advance or reimbursements given.
Conference registration You can use your travel card for Conference registration  or forms should be completed and sent to Purchasing with the Banner requisition number listed on the form. The registration form and check will be mailed by Accounts Payable unless other arrangements are made. Please allow sufficient processing time to meet deadlines and "early-bird" discounts. A procurement card may also be used for conference registration.
Travel advances are available NO longer available
Airline Tickets can be purchased within CONCUR or Outside the system using travel card or personal card.
Out-of-state travel via private automobile is reimbursed at the mileage rate multiplied by the miles driven or the lowest available airfare (through the Travel Office) plus airport transportation and reasonable parking fees, whichever is less. No additional expenses are reimbursed for travel en route. The University will reimburse only those expenses incurred had the traveler used a commercial airline.
Rental cars,can be booked through the CONCUR system the system will drop in government contracted rates including insurance. If you choose to book your own rental car, UVU is not responsible to reimburse any damage and collision waiver expenses. The CONCUR booking will only make the reservation. 
Lodging arrangements are made by the traveler. No hotel deposits are paid by the University. Please use a travel card to guarantee the room reservation. Travelers staying with friends or relatives are reimbursed $35 per night - please provide the name, address, and phone number of the person with whom the traveler stayed. An itemized lodging receipt is required for reimbursement - a credit card receipt is not sufficient documentation.
CONCUR is mandated the travel card is not.   All travel needs to have a travel request and be reconciled within the CONCUR system.
If a traveler has any questions or concerns please ask BEFORE the trip. This will avoid reimbursement problems after travel has been completed.