A rendering by Hunter Huffman, Utah Valley University architecture student, for a class project on a proposed administration building and library for Spanish Fork.
By Jay Wamsley
Students in the newly approved Bachelor of Architecture program at UVU recently completed designs for a proposed administration building and library for Spanish Fork. The group managed to do so amid isolation and while practicing pandemic safety measures. 
Led by professor Brandon Ro, AIA, 12 students participated in the course —Architecture Studio with Program and Client, ARC 3210 — which occurs in the third year of the five-year course of study for the new major, set in motion in late 2018.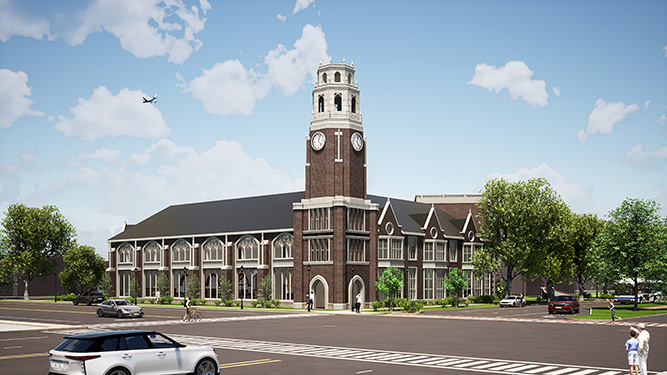 "The students were able to gain real-world experience from this library project by engaging with a real client, site and program," Ro said. "Tackling such a complex building typology, such as a library and city administration office, enabled the students to understand the complexities of architectural practice."
Hunter Huffman, one of the students on the participating course, said he enjoyed working with representatives from Spanish Fork to learn their needs and desires to improve the community. "Being able to analyze and use the information and studies done previously for the city really helped me learn different practices and ways to view communities, as architectural professionals do when practicing in the industry," Huffman said. 
"The best part of this, and any project, really, for me, is the design aspect. Taking certain requirements, puzzle pieces and inspiration and combining them into something that people will admire was a highlight for me."
Ro said prior to COVID-19 restrictions, the class was able to meet with city officials and take walking tours of the proposed site. The class identified opportunities and challenges that would need to be addressed in their site designs. Historic buildings on Main Street were reviewed, and the class met with current library staff to assess the existing conditions and identify the end-user needs.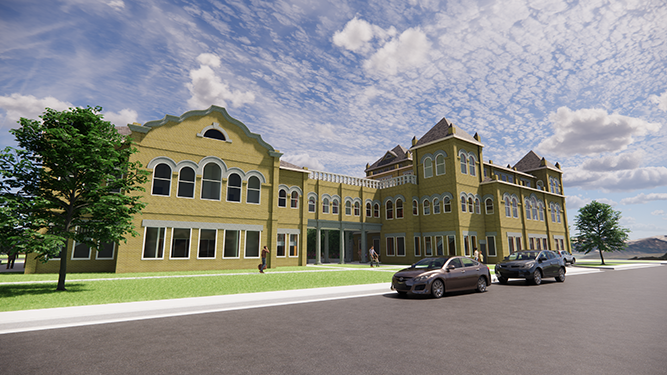 At the semester's end, Ro said students presented their projects — often done in teams as the semester progressed — to a panel of design professionals and city representatives. Ro said, "Some students even felt that if they produced their best work, that there might be a chance that the client might want to build one of their designs."
"On several occasions, the city informed me that they were blown away by how professional some of the student proposals came across. They also told the students that their design proposals had significantly influenced the city's discussions during their library design meetings for the better," Ro said. "Overall, the city was very impressed with the fruits of our architecture program at UVU and the quality of work the students were producing. The city has already expressed some interest in having our UVU students work on future projects."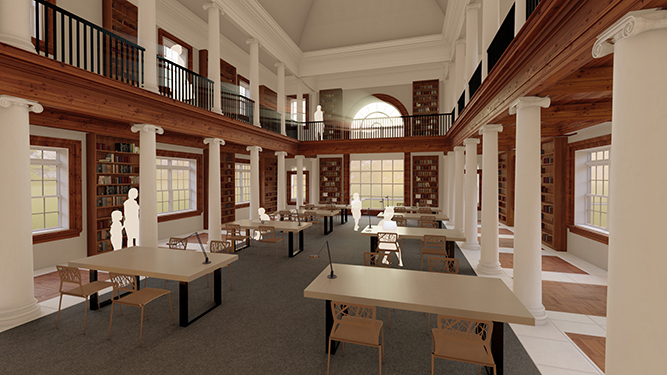 Student Lindsey Barker said she enjoyed her time on the project and working with classmates and design partner Derek Stevens. "Working on a project of this scale pushed me, but it also showed me what I was capable of," Barker said. "Derek and I had to figure out how to delegate different tasks, which is a key component to any successful team project. I love vernacular design; it gives us an opportunity to build upon the culture of a community. I would love to get involved with historic preservation and city development."
Ro said the adaptability of his students during an ever-changing spring semester was inspirational. "Despite the challenges that arose due to COVID-19 social distancing requirements, the results of the design studio and library project were extremely successful," he said. "Shifting to an online and digital format created its own set of difficulties, but the students kept an open mind and optimistic attitude throughout. They are examples to me of what it means to be truly resilient. Their desires to excel no matter the circumstances are inspiring. Personally, I am always humbled to see how much each student progresses over the course of the semester in their design abilities and skill sets."