Undergraduate students from across the state of Utah began showcasing their research and creative works on Friday, February 19, 2021 at the 15th annual Utah Conference on Undergraduate Research (UCUR). Each year the UCUR conference aims at improving undergraduate education by providing opportunities to students that recognizes their exemplary scholarship. Several upper division undergraduate students from Utah Valley University's architecture program were among those selected to present their work at the conference.
The 2021 UCUR conference is being hosted by Brigham Young University this year in a virtual format due to the Covid-19 pandemic. Despite the setbacks students have encountered over the past year, they have continued to demonstrate their ability to persevere, adapt to unique challenges, and apply their grit to scholarly endeavors.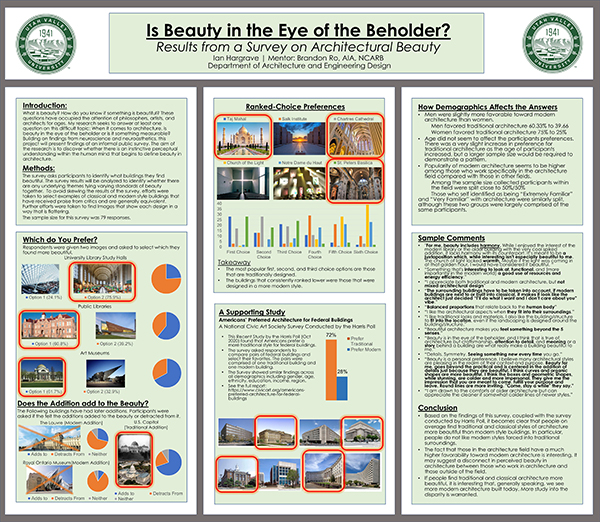 Research poster by UVU architecture student Ian Hargrave.
"You have not only shown that you have the ability to excel in your discipline," explained BYU President Kevin J. Worthen, "but also that you can produce exceptional work under difficult circumstances." He continued, "When the pandemic interrupted life on university campuses, and many internships and projects were cancelled, students adapted and found timely new ways to contribute. They learned how to respond to a global health crisis and worked to solve other problems in our communities. They learned to be better scholars. Because of this experience, many of you are now better prepared to contribute to society in new and positive ways."
During President Worthen's welcome video address to conference participants, he showcased a few select student projects demonstrating the variety of presentations that will be seen from the many academic institutions participating during the conference. Among the five projects highlighted was UVU architecture student Taylor Mumford's visual arts presentation about the architect Bramante's proportions.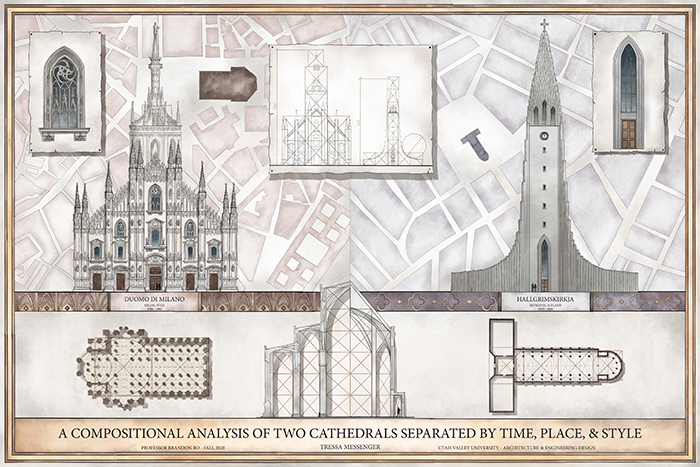 Visual arts creative work by UVU architecture student Tressa Messenger.
The eleven UVU architecture students whose work was accepted for presentation at UCUR 2021 were mentored by professor Brandon Ro, AIA while enrolled in ARC 4520 – an advanced course on architectural theory. According to Prof. Ro, students were required to demonstrate their ability to engage in research about an aspect of architectural theory and its relationship to contemporary practice. Each student was encouraged to conduct an independent inquiry or investigation that sought to make an original intellectual or creative contribution to the field. The student research projects spanned a wide array of architectural topics ranging from beauty and aesthetic judgment to traditional building typologies and considerations for contextual design.
Each architecture student employed a number of diverse research methodologies, such as survey research used by social and behavioral sciences to more traditional case study graphic analysis found in the fine arts and engineering. "I am very proud of my students for this significant accomplishment," said Prof. Ro. "The students were not only able to grasp and study complex topics surrounding thousands of years of architectural writings. Their research and findings make significant contributions to the field by furthering the ongoing dialogue between architectural theory and practice."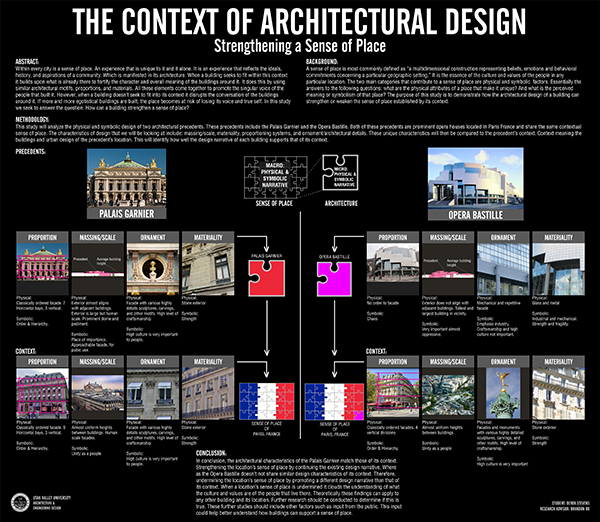 Research poster by UVU architecture student Derek Stevens.
UVU Architecture Student Research Projects
For more information about the UVU architecture student research projects, visit the links below: