Faculty leading the newly approved Bachelor of Architecture degree program at UVU are exited to partner with and host the Institute of Classical Architecture & Art for a series of drawing workshops.  These 3 separate workshops will be held on the campus of UVU and bring both our industry professionals and incoming students together to learn about the classical tradition of architecture.
Introduction to Architecture and the Classical Tradition
- Spring 2019 -
Classical architecture is not a "style." It is a set of timeless principles that transcend cultural preference and passing fashion. What are these principles and how does a designer or architect utilize them to create a composition that is both particular and universal?
This three-part class taught by the ICAA and hosted at Utah Valley University introduces students and professionals to the elements, proportions, principles, and language of architecture in the classical tradition. Students will gain a new perspective of history, design, and the importance of architecture in shaping the civic realm. All classes are open to the public and may be taken separately or in series with the others. Space is limited.
Doric Order: Feb 15-16
Ionic Order: Mar 15-16
Corinthian & Tuscan Orders: Apr 11-13
AIA Credits are available! 7 LU for both the Doric & Ionic, 9 LU for Corinthian. Total 23 LU
Take all three classes and save $25!
ICAA Non-members: $75 per class; $200 for 3-class bundle
ICAA Members: $50; $125
Student (with current student ID): $25; $50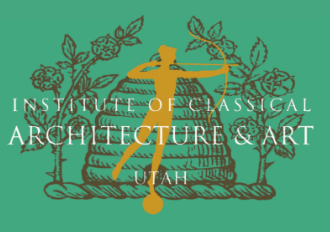 Please consider attending these workshops.  It will be a great opportunity to not only learn about the classical tradition of architecture, but also get to learn about the new Architecture degree program starting at UVU Fall 2019!
Here is a link to the ICAA page where you can register.