Dr. Greg Schwab of the Utah Valley University School of Aviation Sciences received the William A. Wheatley Award for his outstanding work in professional education. The prestigious national award is given by the University Aviation Association each year in remembrance and honor of Wheatley — a dominant pioneer in the field of aviation education.
Only one award is given each year, and past winners have been well-known in the aviation education field. The award was unexpected by Schwab, but deeply appreciated.
"The Wheatley Award is the highest and most senior award given by UAA each year to a single person," Schwab said. "It's the final award given at the banquet so it gets a lot of attention. I am very grateful to have received this recognition."
Nominations for the award come association members. Nominees must meet certain standards to be considered, including a minimum of 10-year as an actual full-time university aviation professor and have made an 'outstanding contributions to aviation education.'
Schwab's influence has been felt by many throughout his career in higher education. During his time at UVU, Schwab's service as associate dean, assistant dean, department chair, and faculty has impacted many who have come through the aviation department.
Aviation has touched all parts of his life. His interest in aviation started when he was young. Inspired by it, he carried that interest with him through his childhood until he pursued higher education.
"I witnessed aviation daily at one point," Schwab said. "I wanted to be more involved. I applied and was accepted into the air traffic control career field, which is where my critical thinking skills flourished. I also pursued an aviation degree which later lead to my selection as an officer and flight crewmember on the E3 AWACS aircraft. Later after finishing yet more aviation degrees and various FAA certificates I entered the airport management career field. It helped me gain even more perspective on the infrastructure of aviation."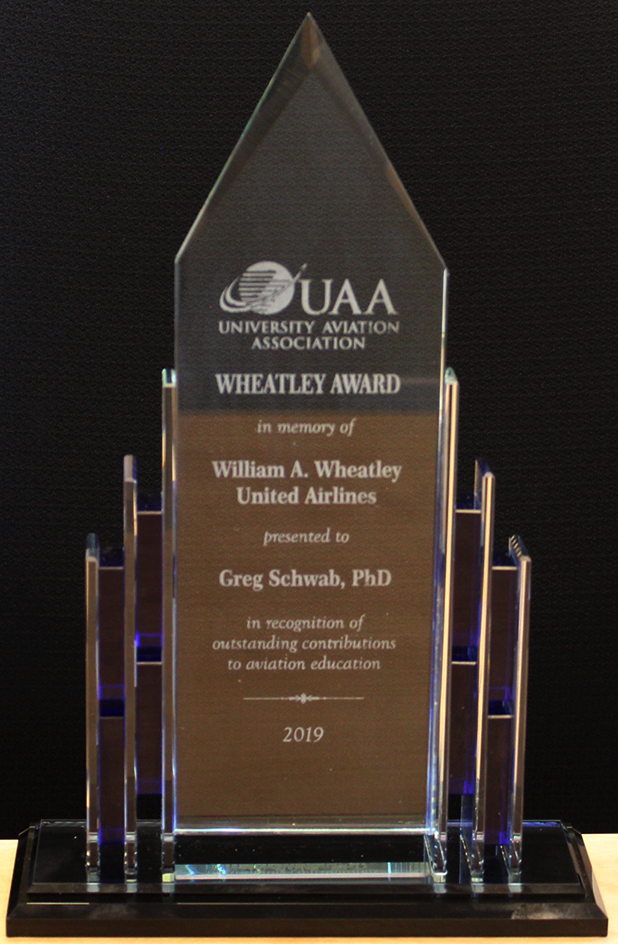 Early in his career, Schwab was experienced and well-versed in all of the different aspects of aviation. As his childhood passion for his career still remained, he decided that airport management wasn't the end of the line for him. He decided to go into full-time education in the hopes of making a difference in a student's life.
Schwab explains that what makes the biggest difference in education is the quality of teaching a student gets.
"All the efforts come back to the common denominator of quality teaching," Schwab said. "Few students will recall the name of a particular dean or perhaps even a department chair but in a moment of time when asked thirty years later can recall the names of the professors."
Soon, Schwab will be retiring from full-time education at UVU. He's grateful to his time spent in the classroom, and also that he received the Wheatley Award when he did.
"In my case the timing of this award if particularly relevant as I prepare to retire from UVU and my time as a full-time educator," Schwab said. "I appreciate the recognition but know I am surrounded by and have worked as a team-member with a great many outstanding educators and staff who try to stay focused on students' success."