"If you are in training now my advice would be to keep in mind the reason you started this journey. For most of us that is the joy of flight and the love story that comes along with it. When things get hard, and they will in training, keep that in mind. Also, surround yourself with people that fearlessly support you, people you can share all of your success and failures with."
The Aviation Online program at Utah Valley University or "Global" program has been in existence since 2001. Hundreds of graduates are currently working in the aviation industry not only as pilots, but in a wide variety of aviation careers. A unique characteristic of the program is that many of its current students are already working as aviation professionals. The format and flexibility of UVU Aviation Online allows it to cater to a diverse group of students in virtually any stage of their life or career.
Katherine Burnett, of Charlotte, NC is a CRJ 700/900 pilot at PSA Airlines and a current student in the UVU Aviation online program, pursuing a Bachelor of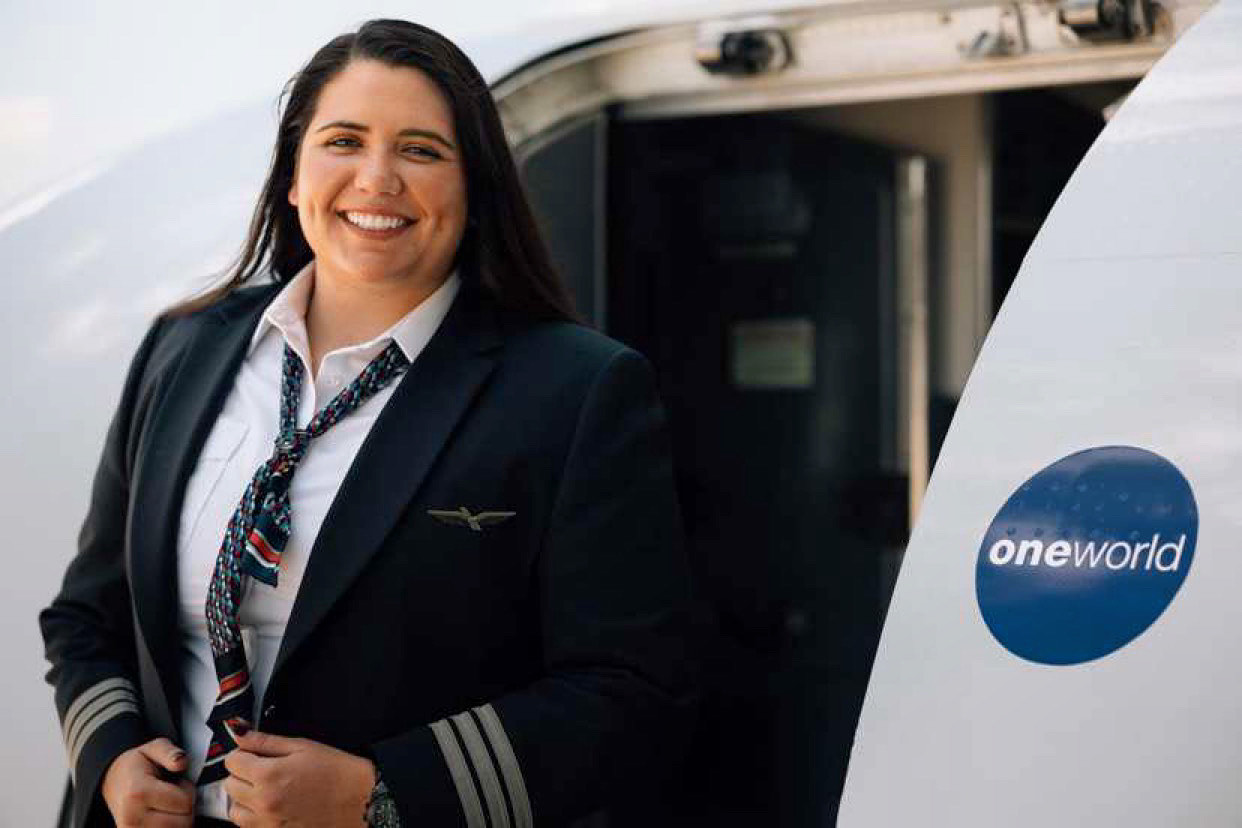 Science in Professional Pilot. Originally from Sierra Vista, AZ, Katherine completed all of her flight training and an Associate of Applied Science degree at Cochise College in Douglas, AZ where she was also a flight instructor from 2019 to 2021.
Katherine first heard about UVU's online program when some UVU Aviation recruiters visited Cochise College while she was a student. "As a student, at least once a semester Ryan and Theo would come speak to us about continuing our education online through UVU." Though a bachelor degree is not necessarily a requirement to work as a professional pilot, UVU Aviation strongly encourages students to get as much education as they can, while they can. Theo Okawa, Program Manager for Online Delivery at UVU Aviation explains, "Many aviation students put off their academic education, focusing on flight training and rationalizing that they will come back to it later. The problem is, 'later' most often becomes too late, when life & family situations become much busier and it never is completed. This results in missed career advancement opportunities and other issues."
While the demand for airline pilots is the highest it has ever been, the aviation industry, like many others is very cyclical. "9/11, the sub-prime mortgage crisis of 2007, and the global pandemic of 2020 all showed us that these great hiring times can change very quickly. It is critical to have a strong educational foundation." Says Ryan Tanner, Aviation Marketing & Communications Manager.
Katherine wisely followed this advice and is working on her online bachelor degree while she builds her experience and flight time at PSA Airlines. She described her experience working full-time and pursuing her degree: "UVU's online platform makes it easy to take these courses from anywhere in the country. Every single instructor I have had at UVU has gone above and beyond to be helpful in the course material and flexible with the changing schedules online students have, since most of us work full-time outside of being a student." She went on to explain, "I would absolutely recommend the UVU online program for a few reasons: 1) the quality of the courses within this degree have been largely beneficial in starting my airline career. 2) The ease of use of the online program and 3) the cost of tuition is reasonable compared to other online programs."
Career goals for Katherine are to eventually fly for a major US Airline (American, Delta, United, etc.) and work her way into the training department to become a line check airman. These select pilots are responsible for conducting operating experience checks, evaluations, and observations of pilots at the airline to ensure all are meeting the standards of the chief pilot or fleet manager. She says this will allow her to blend her love of the airlines and teaching.
Her advice for students considering aviation as a career is simple: "Do it. It's not an easy process, but if you put in the hard work you will end up with a career and life full of passion, create lifelong friends, and see the best views this earth has to offer."