Center for Constitutional Studies Book Club
The American founders framed a republic reliant on citizens both knowing our constitutional system and feeling a responsibility to engage in civic life.
To promote and enrich understanding about our constitutional republic and inspire healthy civic participation, the Center for Constitutional Studies (CCS) at Utah Valley University (UVU) hosts a community book club.
Meeting every few months and open to all, these constitutional conversations are facilitated by a faculty or staff member from CCS.
Next meeting
Thursday, November 30, 2023, noon to 1:15 p.m.

In person on UVU campus in Fulton Library (FL) 120.

Box lunch provided for in-person attendees (RSVP required).

Discussion will focus on The Words that Made Us: America's Constitutional Conversation, 1760–1840, by Akhil Amar, Part II (pp. 151–271) .

Facilitated by Dr. Robert Burton, director of the Civic Thought & Leadership Initiative.
Background on Book Selection
During Sharon McMahon's recent visit to UVU, she highly recommended Akhil Amar's most recent book, The Words that Made Us. The first of three intended volumes, this work explores the passionate arguments over the nature of government at the creation of the Constitution, at its ratification, and at its first interpretations in the new republic. 
In Amar's words, the book shows how "various widely scattered New Worlders first became Americans and then continued to debate and refine what being American meant."
While the Nov. 30 discussion will cover only Part II (pp. 151-271), we recommend reading Part I on American Independence for context.
Discussion Questions for Nov. 30
How did early state constitutions and the Articles of Confederation lay the groundwork for the United States Constitution and inform the deliberations of the framers?

What were the most innovative features of the Constitution? How did it depart from previous attempts at republican government and previous experiments with federal systems?

Which delegates to the Constitutional Convention most deeply influenced the Constitution?

In the ratification debates, what were the principal complaints of Anti-Federalist opponents of ratification?

Why did Federalists win ratification despite their electoral disadvantage going into the state ratifying conventions?
---
Upcoming Dates and Topics
February 22, 2024  |  The Myth of Left and Right: How the Political Spectrum Misleads and Harms America  |  Hyrum Lewis and Verlan Lewis

This book is the groundbreaking work of UVU's own Dr. Verlan Lewis. He and his co-author argue that the political spectrum today is inadequate to twenty-first-century America and a major source of the confusion and hostility that characterize contemporary political discourse.

Conversation facilitated by the author, Dr. Verlan Lewis, Stirling Professor of Constitutional Studies at Utah Valley University

May 16, 2024  |  Revolutionary Mothers   |  Carol Berkin

The American Revolution was a home-front war that brought scarcity, bloodshed, and danger into the life of every American. In this book, Carol Berkin shows how women played a vital role throughout the conflict.

The women of the Revolution were most active at home, organizing boycotts of British goods, raising funds for the fledgling nation, and managing the family business while struggling to maintain a modicum of normalcy as husbands, brothers and fathers died.

Conversation facilitated by Eleesha Tucker, Constitutional Literacy Fellow, Center for Constitutional Studies at Utah Valley University.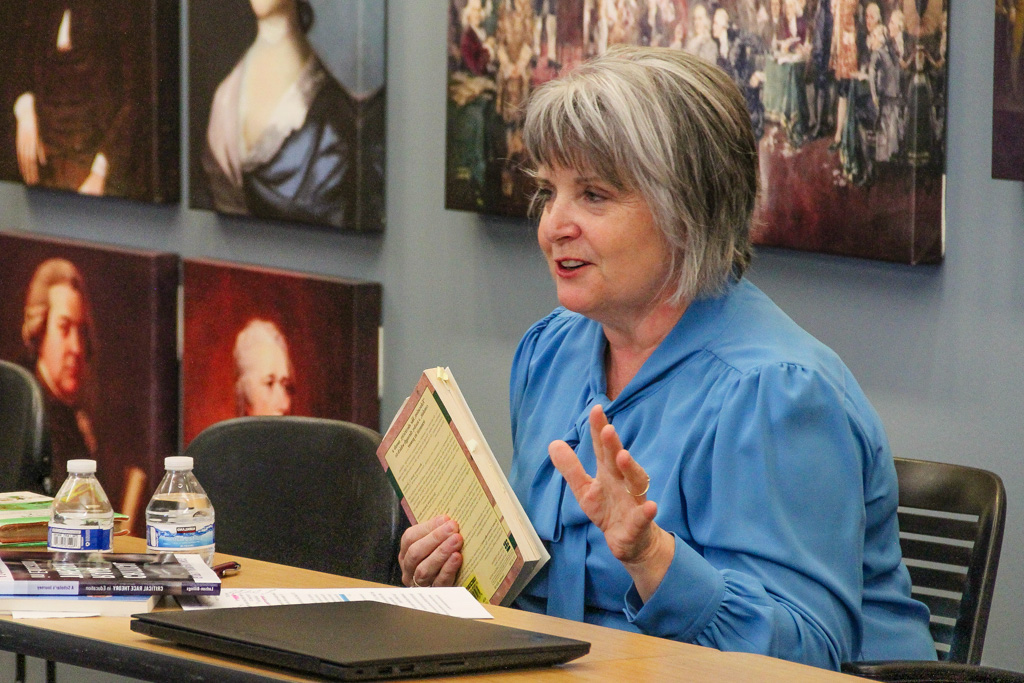 Inspiration for CCS Book Club
Book clubs were a fixture of civic life for colonial Americans. For example, on a ship bound for the Massachusetts Bay Colony in 1634, reformer Anne Hutchinson organized a female discussion group to examine weekly sermons.
In 1727, Benjamin Franklin founded the Junto Club, whose members pooled their books to create a library where they could meet weekly to discuss them in light of the issues of the day.
Hannah Mather Crocker organized a female reading society in Boston in 1778 to study science and read the belles lettres, or the salient literary works available at the time.
In that same spirit of discussion and learning that abounded in the founding era, the CCS Book Club seeks to bring people and books together to better understand and appreciate the threads of history, philosophy, government, and citizenship woven into the national fabric and what they call us to do today.