Graduation is a time to celebrate academic success, but for the most recent graduating class from the Utah Valley University (UVU) paramedic program, it was also a time to celebrate personal accomplishments, growth, and professional achievement.
Kiahna Hines is the daughter of a paramedic and now, a graduate of the paramedic program herself. Her father's influence on her life impacted her experience studying at Utah Valley University. 
"Every time he would come back from work he would tell us stories of how he helped people," she said. "My dad was there for people on their worst day just like he was there for his children on their worst days. I wanted to be just like my dad, and now I can be."
At her graduation, Kiahna's father presented her with her certificate. The special moment between father and daughter marked the fulfillment of years of love and dedication.
Going into the medical field has never been an easy endeavor. When asked what the hardest part of the program was, class valedictorian Alyssa Anderson said, "Learning how to be resilient in the face of failure. When I didn't get the test score I wanted, or experienced difficulty in successfully completing a physical skill, I felt discouragement...But the program gives students a lot of opportunities to improve and seeing yourself overcome academic obstacles is rewarding."
Instructors pushed their students to achieve their best results, not only because of academic standards, but because these students will be responsible for saving lives. Class Lead James English reflected on his teachers' heartfelt advice when he spoke at graduation. The teachers encouraged them, he said, to "Fail here. Fail in here so that when the time comes you don't fail out there. Take this seriously. Be the paramedic you want showing up to your mother. Your brother. Your niece or nephew."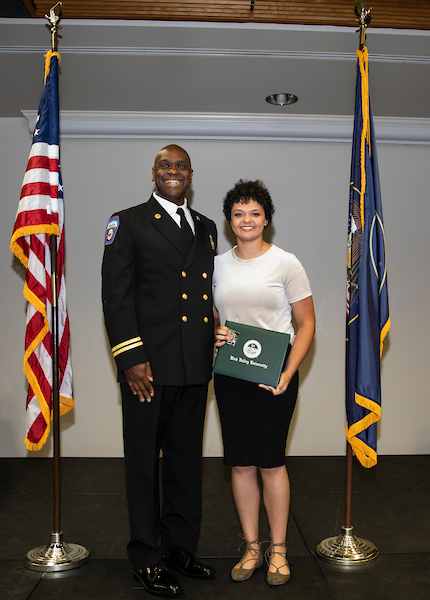 Kiahna and her father
Each graduate of the paramedic program at UVU takes with them their skills, their passion for service, and the incomparable hands-on experience they gained from their instructors. Their potential to do good in the world is unparalleled, and we know they will achieve incredible things.