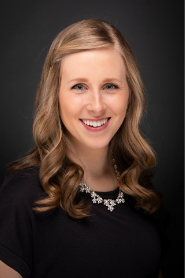 Anna Petersen
Bachelor of Science, Communication and Speech Communication
Four-year Valedictorian
From Kaysville, Utah, and a graduate of Davis High School, Anna Christine Petersen was published in the Fall 2019 issue of UVU's Journal of Student Leadership. She was awarded an academic scholarship, as well as the Wolverine Ambassador Scholarship, and is the founder of the Fighters Against Porn Club that was awarded the Outstanding Start award. She represented UVU at the National Association for Campus Activities (NACA) spring 2019 national conference, and was a contributor and research assistant to UVU research on women's experiences that was to be presented at the National Conference on Undergraduate Research this spring. After graduating, Petersen completed an eight-month communication internship for The Church of Jesus Christ of Latter-day Saints. In January 2020, she welcomed her first child and is now teaching classes online. In the future, Petersen says she plans to complete a master's degree and work for a nonprofit organization. "UVU gave me the opportunity and resources to chase after anything I could dream up," she says. "UVU had so many amazing people and programs that helped me to have an incredibly meaningful college experience and discover all that I am capable of. My professors and mentors took a sincere interest in my life and pushed me to become my best self." Petersen enjoys being outdoors, creating music, and enjoying life with her husband, Garrett, and son, Finn.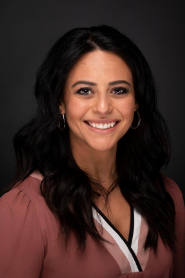 Lisa Petot
Bachelor of Science, Psychology
Behavioral Science
Lisa Michelle Petot is a graduate of W.S. Hart High School in Santa Clarita, California, and of Brigham Young University, where she earned a bachelor's degree in health science. Petot has been an undergraduate research consultant, 2019–present, with faculty members Dr. Matthew Draper and Dr. Brett Breton, with her final document to appear as a chapter in the textbook The Pre-Crime Society: Crime, Culture, and Control in the ltramodern Age (slated for 2021 publication). She was also part of a UVU evaluation research team that studied the Butterfly Biosphere Museum exhibit at Thanksgiving Point, tracking behavior and analyzing data, with the goal of evaluating the museum's ability to foster transformative family learning. She is also a preparedness coordinator for the Utah County chapter of the American Red Cross. Petot says her goal is to be a wellness therapist, a practitioner that provides mental health counseling specifically to those seeking to ameliorate chronic physical suffering. She has been accepted to a clinical mental health counseling program and will begin graduate school in the fall of 2020. "UVU showed me the virtue of acceptance and the power of access," Petot says. "Leaving my career to return to school was a terrifying undertaking — I felt like a fish out of water. Thankfully, UVU has the spirit of acceptance. UVU is also all about access — access to resources, professors, professionals, and opportunities. The best part of UVU is that people deliberately choose to be here and choose to make the most of their time at this institution."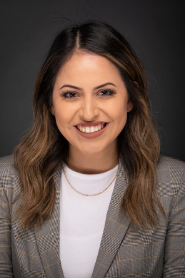 Elizabeht Hansen
Bachelor of Science, Communication
Communication
Elizabeht Roberta Hansen graduated from Pittsburg High School, Pittsburg, California, and Los Medanos College, also in Pittsburg. She is graduating from UVU with an emphasis in public relations. While at UVU, Hansen received the Latino Initiative Scholarship, is a member of the National Society of Leadership and Success, and graduated with honors with an Associate in Science in University Studies. She plans to continue research in topics such as gender, education, social class, and race, hoping to obtain a master's degree in intercultural communication studies. She says she is passionate about helping other students reach their goals, and helping muted communities and minorities. "UVU has helped me achieve my goals because they focus on the student experience," she says. "The engaged-learning approach is something I am extremely grateful for. UVU has provided me with many unique opportunities which have greatly elevated my overall experience."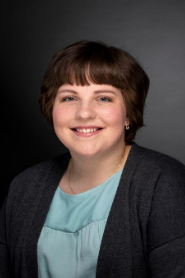 Mariah Todd
Bachelor of Arts, History Education
History
A graduate of Hillcrest High School, Midvale, Utah, Mariah Jane Todd will graduate with a bachelor's degree in history with a double minor in environmental studies and American studies. While at UVU, Todd received the UVU Exemplary Merit Scholarship and a Utah Regents' Exemplary Award Scholarship. She has also been a co-editor-in-chief of the Crescat Scientia, the UVU history and political science student journal, as well as the content editor of the 2019 Youth and the Mountains Journal. Todd was treasurer of Phi Alpha Theta from 2018–2019. Todd has also worked as the outreach and education intern at the Utah State Archives, as an instructional assistant in the history and political science department, and as a research assistant studying water quality and availability. She plans to attend law school in the next couple of years and pursue a career in advocacy and public interest, focusing on environmental, gender, and LGBTQ+ issues. "UVU has shown me new ideas and paths for my life that I had not considered before," Todd says. "I have grown and learned more about the world and myself while being supported by my school community. The opportunity to try new things in a safe and collaborative environment has been wonderful." Todd is also an artist, enjoying drawing and painting in her free time.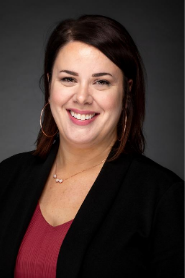 Hillary Hunt
Bachelor of Science, English and Writing Studies
English & Literature
A graduate of Pleasant Grove High School and currently living in Lehi, Utah, Hillary Hunt has been published three times in Essais, and carries a 4.0 in all English coursework. She works part time as a copywriter for UVU's Community Outreach and Economic Development department and as a content creator for an Amazon marketing agency. She often writes articles regarding women's health and wellness, and she would like to further explore writing creative nonfiction, academic, and political content in the future. Hunt says she dropped out of UVU when it was still called UVSC, but "was not content being part of the statistic that had Utah women trailing behind in college graduation rates." She says returning to UVU and pursuing an English degree is one of the highlights of her life, and that what she's accomplished and learned here means she can now call herself a writer with confidence. Hunt says she appreciates her English professors "who offered me intellectual escape and challenge every day. Reading scholarly articles in the library with my coffee was pretty great too." She and her husband are parents to two boys and owners of a rescue poodle. She enjoys gardening, subversive humor, and a "wellconstructed charcuterie board."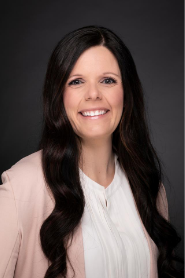 Jessica Shuler
Bachelor of Science, Integrated Studies, Emphases in Anthropology and Community Health
Integrated Studies
Jessica L Shuler is from Springville, Utah, and is graduating with emphases in anthropology and community health. She has completed her capstone, a humanitarian project she planned and carried out. Shuler obtained a grant to travel to and work with a women's empowerment movement in Nepal. She has continued to work with and aid the women by purchasing coffee they grow, which she sells in a coffee shop called Art City Coffee she owns and operates with her husband. Her plans are to attend the University of Edinburgh upon acceptance to the graduate medical anthropology program, and then return to UVU. For several years while attending UVU, Shuler says she was a single mom working full time, unsure of what career path to take. She says the Integrated Studies program allowed her to pursue a degree at her own pace and finally accomplish it. "I have worked with professors in several different departments, and they have all been nothing short of amazing. They have challenged and pushed me to become the best I could be. They are not only my mentors but several have become close friends. They have not only assisted me in an educational sense, they have supported my humanitarian efforts outside of my education." While Shuler calls Utah home, she spent much of her youth in southern India, England, and on the East Coast of the United States. While raising her now-14-year-old son, her family has traveled to more than 20 countries.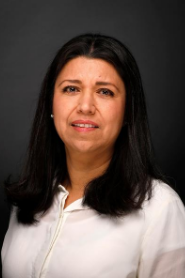 Liliana Jessup
Bachelor of Arts, Spanish Education
Languages & Cultures
Now calling Eagle Mountain, Utah, home, Liliana Jessup graduated from the Centro de Bachillerato Tecnológico Industrial y de Servicios #36, in Monclova, Coahuila, Mexico. She also graduated from high school with a technical degree in accounting. She has been awarded the Dean's Merit CHSS Languages Scholarship, an I Am First Scholarship, and a First-Generation Completion Scholarship. Jessup plans to start teaching this fall as a Spanish immersion teacher at the secondary level, with an eye to also complete a master's degree in educational leadership. She says UVU helped her finish a degree started years ago. She said some of her coursework was completed online which aided her progress. "The professors are personable, competent, and provide additional materials and resources that enrich learning," Jessup says. "Professors hold students to high expectations, are up to date with content knowledge, integrate technology, and incorporate collaboration and group work. Students are committed to excellence. Working together on projects and assignments has been a valuable and enjoyable experience." Jessup began learning English as a second language at age 25. She and her husband have five children, and she will graduate with a bachelor's degree at the time her oldest child will graduate from high school. She enjoys reading nonfiction literature, especially psychology, sociology, medical topics, geopolitics, and biographies.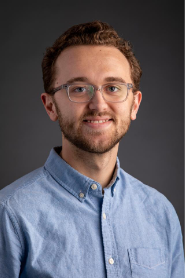 Hayden Berg
Bachelor of Science, Philosophy, Bachelor of Science, Psychology
Philosophy & Humanities
Hayden Berg graduated from Salem Hills High School in Salem, Utah, and now lives in Provo. He has had two articles accepted for forthcoming publication: "Siddhartha Gautama: A Secular Suspension of the Ethical," in Sophia Fall 2020; and "Smell, Alienation, and Political Art: A Marxist Analysis of Parasite," in Essais Spring 2020. He hopes to soon take the GRE and begin applying to graduate programs. Berg says he'd love to spend the rest of his life reading, writing, and teaching about philosophy, so he hopes to gain a doctoral degree and be a professor. "My time at UVU has made me a significantly better writer and critical thinker. UVU cares about the quality of their faculty and hires professors who are passionate about their field and excited to share that passion with students who also have an interest in the same work." Berg says he will soon be married to his favorite conversational partner, and they are both film fans. He said he hopes to represent UVU well in his future professional life.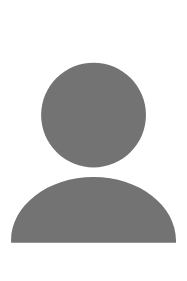 Elexis Kain
Bachelor of Arts, Philosophy & Humanities
Wolverine Achievement: Dean's Choice  Award Winner
Elexis Kain has made significant contributions to the UVU community through her work with the Interfaith Student Council, for which she served as co-president the past two years. Under her leadership, this new campus group grew and flourished. She oversaw two retreats, five interfaith forums, and three excursions, as well as participated in various events where she has beautifully represented the values of interfaith and pluralism at UVU. She has been an articulate ambassador of pluralism and an effective community builder, effortlessly building relationships with administrators and community board members, as well as her fellow students. One faculty member says of Elexis, whom she calls an exemplary UVU student: "I know she will make her alma mater proud [and] go on to do amazing things to make the world a better, more inclusive, compassionate place."