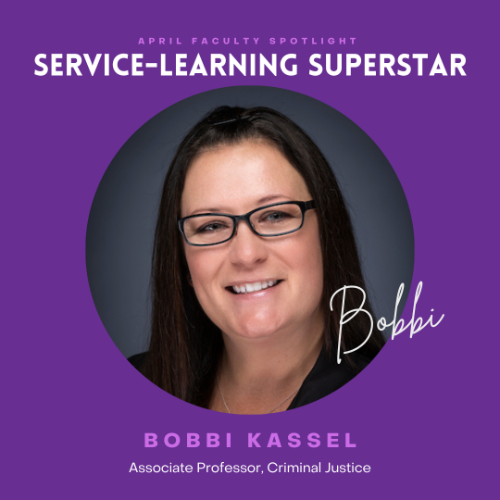 Bobbi Kassel is an Associate Professor in the Criminal Justice Department at Utah Valley University.  She has an M.Ed. in Educational Psychology from the University of Utah and a BS degree in Criminal Justice from Utah Valley University. 
Bobbi uses service-Learning projects in her Victimology class (CJ 3300).  This course is designed for students to learn more about crime happening in their own communities, identify the problems and dilemmas that crime victims face along with learning how the criminal justice system interacts with and assists crime victims. The service-learning project allows students to engage with criminal justice organizations that help crime victims.  The students work hand-in-hand with these organizations to plan, develop, and execute meaningful projects to help people that have been a victim of a crime.
Students enrolled in Bobbi's Victimology course participate in projects with many organizations throughout the state of Utah.  Recent student projects include working with the following organizations: The Refuge, Utah County Children's Justice Center, Utah Domestic Violence Coalition, American Fork Police Department, Orem City Police Department, Provo Police Department, CourtWatch -Utah Coalition Against Sexual Assault, Fourth District CASA Program, Utah Office for Victims of Crime, and Pretty Tough Ladies Resource Center. Her students provide various services for these organizations and in turn, they receive valuable insight into the work that is being done within the criminal justice system to help people that have been victimized.
A service-Learning project that stands out to Bobbi is one where a student worked closely with a police officer in the Provo Police Department. The student worked with the officer to organize, plan and complete a donation drive, asking for new door locks.  These locks were donated to the police department.  Officers respond to domestic violence calls often.  To help the victim feel safer, and depending on the situation, an officer might offer to change the locks on the doors at the home. This particular student was able to collect more than 30 new locks that will go a long way to help victims of domestic violence feel more secure. This is just one example of many meaningful projects Victimology students complete each semester.
Service-learning is an excellent way for students to be involved and make a difference in their communities. Many of the projects in Bobbi's Victimology class have personal meaning to her students. Her students have loved the opportunity to network with these criminal justice organizations and at the same time, make a difference in someone's life.
Please join us in congratulating Bobbi Kassel for her incredible service-learning efforts!
Dr. Jonathan Westover
Academic Director, Center for Social Impact 
Dr. Leandra Hernandez
Associate Academic Director, Center for Social Impact 
We welcome nominations for future Service-Learning Superstars on a rolling basis, and self-nominations are encouraged. To nominate, please send an email to Dr. Jon Westover (Jonathan.westover@uvu.edu) and Dr. Leandra Hernandez (Leandra.Hernandez@uvu.edu.) with a 250-word description of the nominee, department affiliation, and service-learning course activities.