Delivering some holiday cheer
Students in the Fall 2021 CJ 209R class contacted The Refuge to find out how they might help make the season a little merrier.  After getting a list of  needed items, they went to work determining where to purchase them. On Thursday, the students presented the purchase to staff at The Refuge.  The donation consisted of 25 t-shirts, 16 pairs of shorts, 10 pairs of sweatpants, 10 sweatshirts, 10 pairs of slippers, 20 blankets, 30 boxes of tissues, 2 boxes of 1-gallon storage bags and some snacks.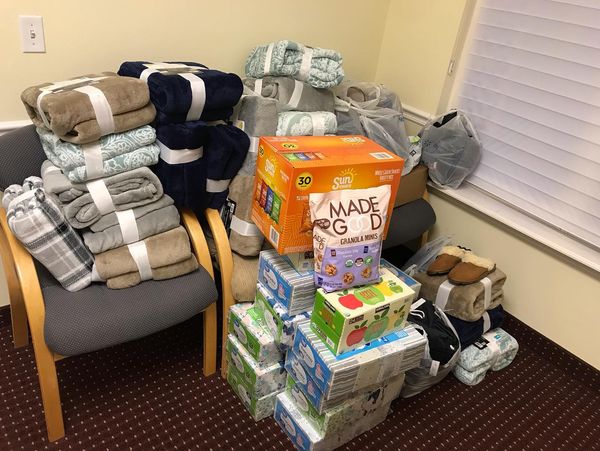 CJ 290R - Law Society is a 1-credit, repeatable, elective-credit class for students interested in law or law-related professions. It provides a program of activity relating to current legal issues, encouraging social awareness and developing law and civic consciousness. Students arrange for guest speakers from the legal and criminal justice professions to present information concerning their professions. The class teaches leadership skills by serving on committees. A Pass/Fail grade is issued. Criminal Justice majors and Paralegal majors may repeat this course for a total of three elective credits towards graduation. Each student must participate in the service project and fundraiser for a passing grade.
CJ 290R is typically offered in the Fall and Spring as follows:
Fall - Thursdays from 5:00-5:50 pm (CRN 34369)
Spring - Mondays from 5:00-5:50 pm (CRN 34968)

If you're looking for a class that is fun as well as informative, this is the class for you!
The primary purpose of The Refuge Utah is to provide safe, secure, and confidential help to those who are effected by domestic violence, stalking, sexual assault and rape. For more information, please visit their website http://www.therefugeutah.org/ or call (801) 227-5038. The Refuge is a non-profit organization.