UVU Digital Audio Represents at SkillsUSA National Championships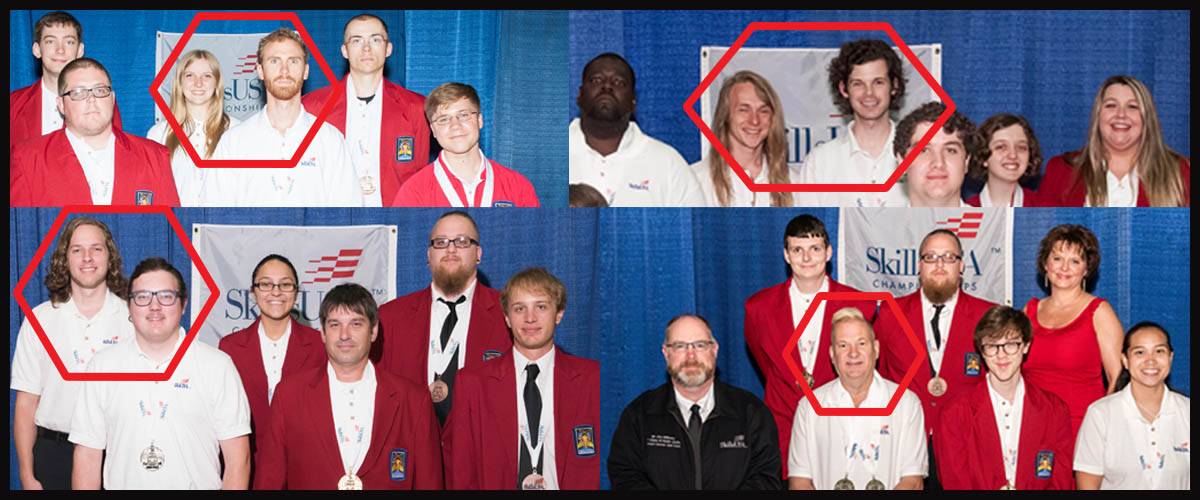 Past SkillsUSA Champions: Kristal Beyer and Grant Matheson (top left 2016), Chase Knight and Andrew West (top right 2017), Gage Freeman and Sam Adams (bottom left 2018), Faculty Advisor Mike Wisland representing Griffin Hall and Brady Jones (bottom right 2019).
UVU's Digital Audio program has a significant history for the past decade and a half in sending students to compete in the SkillsUSA National Championships in Audio/Radio Production. See the list below of years competed and medals won.
This year the team of Will Ingram and Joseph Meacham will represent the state of Utah in the thirteenth appearance by Digital Audio students from Utah Valley University. The competition will be a virtual one this year after last year's cancellation due to the COVID-19 pandemic.
SkillsUSA faculty advisor, Mike Wisland, chose the teams based on their classwork in the Radio Production course from the previous fall semester. In particular, the creation of two engaging radio commercials for a fictitious product, one funny and one serious, where students blended voice, sound effects, and music. Wisland then selected the top three highest-scoring teams as eligible for this year's state competition.
Ingram and Meacham's team competed in and recently won the Utah SkillsUSA Championships. They created a real-world radio spot for Nuzzles & Co pet adoption agency in Summit County, Utah. As a bonus to their state win, the ad will air on Park City's KPCW radio station, where UVU students frequently have the opportunity to volunteer as on-air DJs. 
SkillsUSA National Titles in Audio/Radio Production:
2005 Gold

2006 Gold

2008 Gold

2009 Gold

2012 Silver

2013 Bronze

2014 Gold

2015 Gold

2016 Gold

2017 Gold

2018 Silver

2019 Silver