DGM Student of Excellence 2021: Skye Slade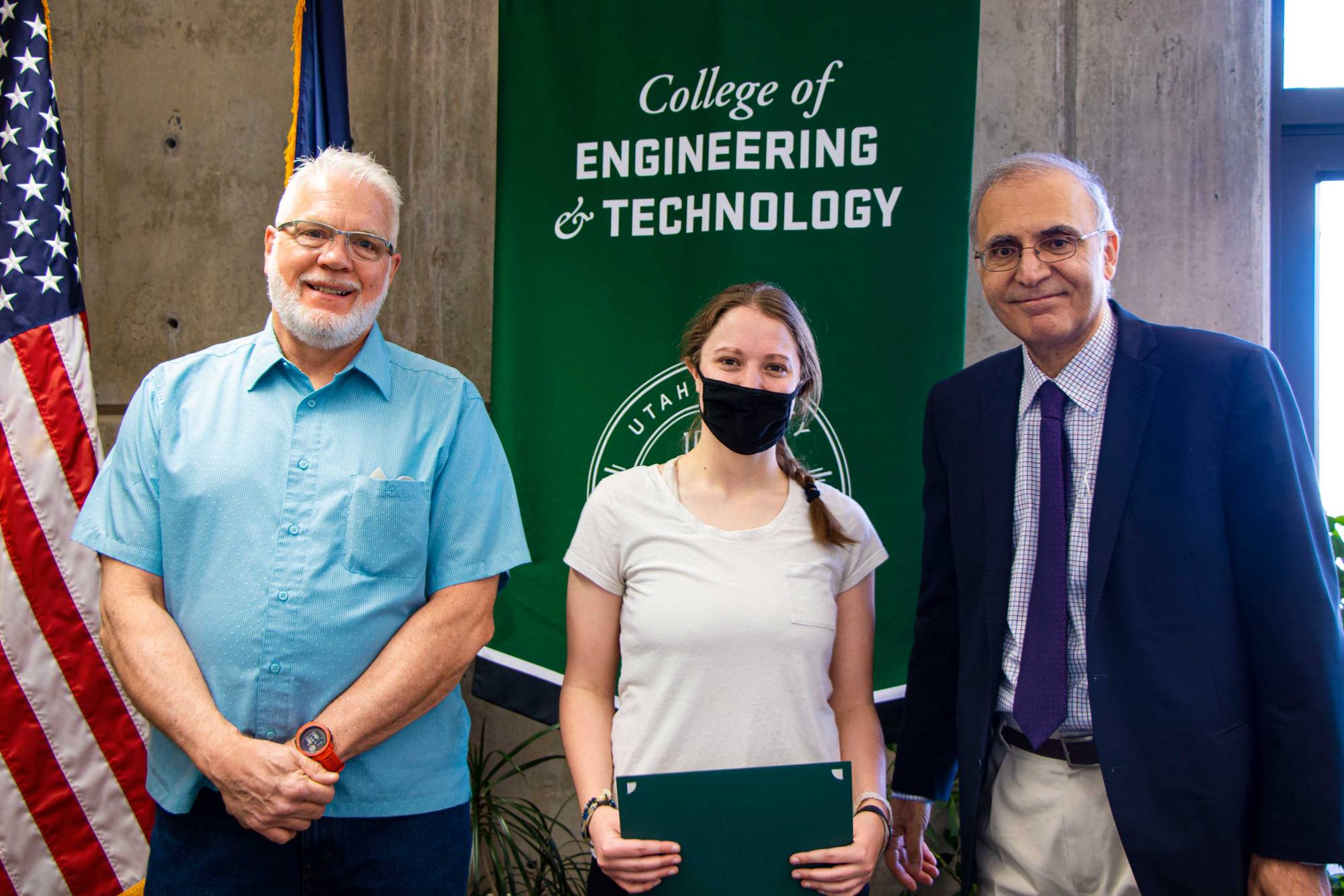 Skye Slade (center) with Associate Professor Marty Clayton (left) and Dean Moaveni (right) at Student of Excellence Ceremony.
Department Chair, Kim Brown, chose Animation and Game Development student Skye Slade as Digital Media's Student of Excellence 2021. She went up against other students from the College of Engineering and Technology for this year's honor of being named Valedictorian of CET. We asked Skye if she would give a few words about her decision to study at UVU. Below is her response.
I decided to study Animation and Game Development at UVU, starting from a simple interest in Digital Media. I took a Concurrent Enrollment Digital Media class in high school, which UVU did, and that's where I learned about the Digital Media department of UVU. Once I got here, I was told I needed to decide between the four different Digital Media programs that UVU had to offer. I decided to try out Animation and Game Development since it sounded fun, and I wasn't disappointed.
People should know that there is not enough time to learn everything in your classes, so it takes a lot of self-teaching. But along with that, the program has great professors who want to see you succeed, and they are always willing to help you out.
The Animation and Game Development program does not have you specify an area of concentration, but I spent most of my free time learning how to code for games and simulations, and it's the part of the process I enjoy the most.
Currently, I plan to find a steady job, and I would love to eventually work my way up to programming for a major game company or a small indie company. I want to experience both in my life to have the two sides of the spectrum. I don't necessarily want to create a company of my own, but I want to create a game by myself or with a couple of friends and publish it.