Login Help - Changing Your Password
Service Description
Changing your password ensures that your UVU account is secure and updated with UVU's password standards. Checking against the "hacked database" and setting a new password takes less than a minute.
How to Access Service
If you would like to change your myUVU password, click here:
See the Service Information section below for a step-by-step guide to using the UVU Password Manager.
Need Help?
Contact the Service Desk
Submit a Service Request
Chat With Us
Live Chat Hours: Monday-Friday 7:00am - 9:30pm
Saturday 8:00am - 5:00pm
Call Us (801) 863-8888
Phone Support Hours: Monday-Friday 7:00am - 10:00pm
Saturday 8:00am - 5:00pm
Frequently Asked Questions
Where should I go to manage my password recovery options?
Use the Password Management Tool. If you need more instructions on how to manage your password recovery options, navigate to blank for more info.
What requirements do I need to follow in order for my password change to be valid?
Password must be/contain:
At least 16 characters long
At least one upper and lower case letter
Numbers and/or special characters are encouraged but not required.
How do I sign in to the myUVU portal if it is my first time logging in?
Navigate to myUVU

When prompted, use your eight-digit birth date in the format of: MMDDYYYY (no spaces or dashes).
For example, if your birth date was January 23, 1945, your password would be 01231945.

 
How do I choose a good password?
A good password should be easy to remember, yet hard to guess. Passwords that have at least 16 characters in length eliminate about 90% of the "hacked database" passwords as well as the possibility of using a brute force guess attempt. 
When making your new password, try combining several words into a passphrase that has 16 characters. Create a unique passphrase for each website you use (like my.uvu.edu), because reusing the same one for multiple accounts is risky.    Passphrases are simple sentences or word chains based on things that are easy to remember but hard to guess.  examples are "I have owned 5 cars in my life" or using PASSword – "PeachesApplesSugarSalt".
Bad passwords contain:
Information related to you that is easy to look up (like phone number, birth date, license plate number, spouse name, pet name).
Dictionary words or phrases from books, films, poems, songs, famous speeches, etc. (in any language).
Words with simple methods, such as: using the same word backwards, joining two words, or two words with a punctuation character in between (e.g., Elponitnatsnoc, yenoh, eipragus, yellowtiger, regitwolley, cat?dog, star!search).
Numbers in an easy sequence.
If you have trouble remembering passwords, try using a password manager like LastPass, 1Password, or Dashlane. These password managers generate a random password for each visited website. You only need to remember the master password. The tool will generate and keep track of the others.
To change your password, first login to myUVU. Next, click on your name (upper right), then click the "gears" icon (user settings), and then select the UVU Password Manager. A new tab will open, and you will be prompted to sign in with your UV ID and password. Once you are logged in, click on the Change Password option. It will take you to a screen similar to this one to the right:

Type in the new password you want to change to (note that the actual characters will not be displayed, but will be masked by the • symbol).  When you pause typing, the system automatically checks to determine the validity of the password.

 You will see one of the following prompts (errors are highlighted in blue; valid password prompts are highlighted in pink):

New password is too short
New password is too obvious (meaning it can be easily guessed or hacked)
Password is known to be vulnerable.  Please pick a different password (meaning it was found on the "Hacked Database")
New password does not have enough upper case letters (meaning you must have at least one upper case letter)
New password does not have enough lower case letters (meaning you must have at least one lower case letter)
Password is the same as the current password
Password meets requirements, please type confirmation password (meaning you can then Tab to or Click in the Confirm Password field to continue)

Once you have created a password that meets requirements, you must then retype the new password into the Confirm Password field. You cannot copy and paste from the New Password field into the Confirm Password field; it must be typed again. You will see one of the following prompts (unlike step 3, errors are in pink):

Passwords do not match (meaning that they are not the same and cannot be confirmed)
New password accepted, please click change password (highlighted in orange)

You can then click on Change Password to complete the process or click Cancel to exit without changing the password.

You will receive a confirmation once your password has been successfully changed.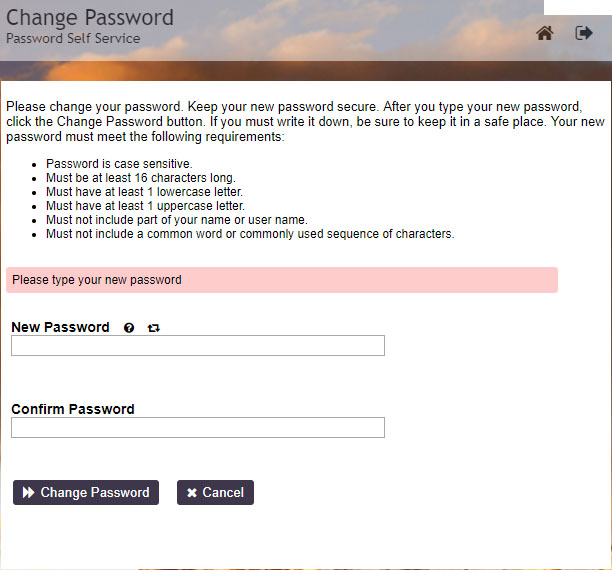 Passwords that are not compliant with the new standards will expire as their "yearly update" time comes up in October 2019. If your password expires, it will be automatically changed to a secure password, which must then be changed with the password reset process when you next sign in to myUVU. If you need further assistance, contact the Service Desk.