UVU Trademarks & Licensing Program
Utah Valley University seeks to properly communicate and market its brand and has delegated that responsibility to University Marketing for maintaining, managing, and licensing the university's trademarks.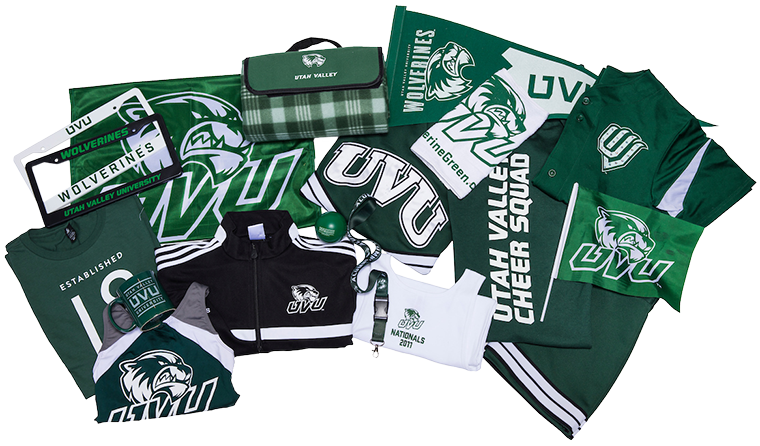 UVU TRADEMARK LICENSING PROGRAM: Why is it important?
Ownership of Intellectual Property
Utah Valley University's "TRADEMARKS" are intellectual property protected by State and Federal laws, and any use without authorized permission is illegal. All UVU trademarks are subject to the campus contract licensing requirements and trademark permissions to prevent counterfeit and infringing uses.
Utah Valley University trademarks are defined as any visual, design or written script through the use of names, icons, initials, text, logos, indicia, symbols, phrase, insignia, tradenames, service marks, trademarks, wordmarks, character marks, crests, tartan patterns and seals, which represent and distinguishes the visual passion, brand recognition, and source of goods from the university.
Trademark examples that the university owns, oversees and protects through the licensing office include some the following: Utah Valley University, Utah Valley, Utah Valley Wolverines, UVU, GOUVU, Willy the Wolverine, The Den, Protect the Den, Green Man Group, Gulo-Gulo, Wolverine Wednesday, and 12THWolverine.
Protection of Licensing Revenues
The use of UVU's trademarks, through the licensing program, generates revenues which provides strategic funding for student scholarships and campus programming.
Manufacturing Code of Conduct Compliance
The university safeguards its trademark use through approved manufacturing and distribution channel compliance, which requires transparent vendor reporting and the protection of workers' rights through a 'code of conduct' observance:
Adherence to labor laws and regulations
Harassment / Abuse
Non-discrimination
Forced, Indentured and Slave Labor
Child Employment Labor
Collective Bargaining
Sweatshops / Safe Working Conditions
Legally Restricted Work Hours
Right to Fair Compensation
Protection Against Product Liabilities
To protect the university and consumers from inferior products, defective product liabilities, and assuring that only quality products bear the university's trademarks, the program requires all approved vendors to carry liability insurance and to issue legal indemnification.
Unified Message and Consistent Brand Presence
The university seeks to control messages associated with our institution by properly reviewing and approving all trademark uses, making sure trademarked products and promotions are consistent, uniform and appropriate.
STUDENTS AND CAMPUS EMPLOYEES: How do I order UVU product?
Campus entities designing and producing any product / merchandise to bear a university trademark must secure prior approval, in writing, from the university's licensing program.
APPROVAL PROCESS:
The University licensing program is designed to provide any individual or department a simple process to legally purchase licensed goods that bear the university's trademarks. Please follow these 8 easy steps to participate and receive approval from the Licensing Program:
STAGE 1: ARTWORK MOCKUPS
Trademark Use and Artwork Mockup: Generate product concept (produce a design and how the trademarks will be used).
Contact the licensing office by email: trademarks@uvu.edu.
To acquire official university logos files and university style guide.
To discuss concept and scope of project (See Ordering Product #1)
Download the most recent list of "APPROVED TRADEMARK-LICENSED VENDORS" to work with to manufacture the product.
STAGE 2: ORDERING PRODUCT
Under university policy, some types of purchases are 'restricted or limited' on P-cards. Items with UVU Logos or Department logos fall under 'restricted' purchases on P-cards.
If you are looking for generic UVU products, please support UVU and purchase licensed products from the UVU Bookstore or local retailers.
Licensing office determines if licensing royalties / fees apply to the project. Determinants: Cosponsored product, Resale, Fundraising, Contracts, Exclusives, etc. Royalties typically apply to campus orders when a third-party sponsor logo is present on the product with UVU's trademarks. If royalties apply, the individual / department will receive a message in the procurement process, from the Licensing office, stating that royalties, fees or premiums are required. This note should be submitted to vendors during the bid process.
Individual or department requests requisition or bids (UVU Wolverine Marketplace) from approved trademark-licensed vendors, to make purchase. Most trademark-licensed vendors have not been awarded university contracts. For campus departments making purchases of $5,000 or more, you must contact Campus Procurement prior to completing this process. Email: procurement@uvu.edu.
Individual or department connects with awarded approved trademark-licensed vendor to give initial department approval for the design / artwork.
Vendors submit design / artwork to IMG College Licensing (UVU's licensing agency).
Licensing office grants 'final approval' for approved design / artwork in IMG system.
Vendor produces product and ships to individual / department.
BUSINESSES WHO WISH TO BECOME LICENSEES: How do I apply for a trademark license?
Thank you for your interest in becoming a licensee with Utah Valley University! We hope that our brand will help enhance your product sales and increase school spirit here at UVU.
Utah Valley University REQUIRES businesses and entrepreneurs to "legally produce" products bearing the trademarks of the university. UVU's trademark and licensing office is in place to support individuals and businesses through the licensing process.
To apply for a trademark license, vendors will go online to IMG College Licensing and apply for a license with "Utah Valley University."
Once you have completed the application and made payment, please contact our office to help in the process of getting the application approved. The on-boarding process can take anywhere from 2 days to 4 weeks, depending on how active you are as a vendor, in frequently contacting UVU and IMG for the trademark license approval.
If you have any questions, please feel free to email trademarks@uvu.edu.