Utah Valley University culinary arts student Madeline Black won the honor of Western Region Student Chef of the Year at the American Culinary Federation competition held this past week in Chicago. She now advances to the national competition held July 8-11 in Orlando, Fla.
Madeline's winning dish was titled "Ruby Red Utah Rainbow Trout." It consisted of pan-seared corn-dusted fillet, trout mousseline-filled crepe, trout and shrimp pan-fried cake, and smoked trout belly with herbed beurre blanc, celery root and carrot puree, orange-scented carrots and parsnip sauté, tomato-fennel compote and vegetable medley.
"Madeline's work ethic and craft is nothing short of perfection," said Chef Todd Leonard, UVU Culinary Art Institute Department Chair. "Once she set her mind to it, there was nothing stopping her. Even during the competition the judges said that she would be the one they'd want to hire for their restaurants."
Additionally, the four-member team of UVU culinary arts students also won the Western Regional Culinary Knowledge Bowl event. The Western Region consists of teams from Arizona, California, Colorado, Hawaii, Nevada, Oregon and Utah. As regional champs, UVU's team also now advances to the nationals in Orlando.
Members of UVU's Western Regional Knowledge Bowl championship team are Abby Raff, Emily Williams, McKenzie Jorgensen, Felix Mududa and Summerly Dye. UVU Chef Instructor John Thomas served as the team' head coach with UVU Chef Instructor Meghan Roddy as assistant coach.
"It is amazing to see the UVU Knowledge bowl team in action," said Chef Thomas. "In fact, we have become the measuring bar. We are no longer the underdogs — we are now regarded as the team to beat. UVU is truly becoming well known in the culinary world, and the program is turning heads all over the country."
Both Madeline and the Knowledge Bowl team will be looking to defend the two ACF national championships UVU's Culinary Arts Institute won last year.
To learn more about UVU's Culinary Arts Institute, visit online at uvu.edu/ca.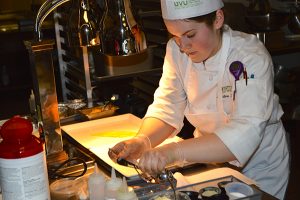 Fourth region (Section 1)