With Utah Valley University's 75th anniversary celebration complete, President Matthew S. Holland encouraged UVU faculty, staff, and students to work to make the next 25 years even more marvelous as he delivered his 2017 State of the University address on Feb. 7.
"The path to 2041 starts right here in 2017," President Holland said. "In the coming years, we are faced, as we always are, with tremendous opportunities to seize and challenges to address in order to carry out our vital mission. It was like that in 1941. It was like that when I started in 2009. It is like that today. And I am quite sure it will still be like that in 2041."
While the bulk of Holland's address was centered on UVU's future, Holland also recognized the university's yearlong anniversary celebration in 2016. Significant milestones in that celebration included visits from UVU's past presidents and interim leaders, the publishing of a book on UVU's history, numerous groundbreakings and ribbon-cuttings for new facilities, and the installation of the spectacular Roots of Knowledge windows.
"You will soon start to see a flood of wonderful physical enhancements to Roots of Knowledge," Holland said, also highlighting forthcoming printed and digital publications and lectures featuring the windows. "I invite you and your students to actively participate in and contribute to the intellectual community that is developing around these windows."
Holland also mentioned numerous and diverse student successes in 2016, including UVU's third-straight Skills USA national championship, the university's first student Emmy win, top national honors for culinary arts and public relations students, and many more.
Looking forward, Holland detailed UVU's legislative priorities for Utah's 2017 session, which include requests for $4.6 million in merit-based compensation adjustment, $1 million in new student growth funding, support for starting and expanding programs to meet market demand and workforce needs, a new business building, and a pedestrian bridge over Interstate 15 connecting UVU's west and east campuses.
But Holland especially cast his gaze further into the future, predicting the wondrous advances that lie ahead of UVU, the state of Utah, and the world in the next 25 years. Though he speculated about future technology and scientific discovery, his main focus was on the part UVU and its students and alumni would play in bringing those discoveries to pass.
"The true excitement will be, as it always has been and always will be, the students: all 65,000 of them in 2041," Holland said. "But it won't just be our raw size that will be significant; we will have the most students in the state walking out our doors with associates or bachelor's degrees, producing, on average, 10,000 graduates a year, achieving completion rates 2.5 times what we are doing right now. And those degrees will be earned by the most diverse student body in the state when you take into account ethnicity, socioeconomic status, and the number of first-generation college goers."
Holland predicted UVU students would be Rhodes Scholars, Wall Street and Madison Avenue leaders, and Oscar and Pulitzer winners. He also proclaimed that UVU's athletic programs would win multiple NCAA Division I national championships. But Holland said perhaps an even more important measure of UVU's achievements would be the hundreds of thousands of UVU alumni quietly going about successful and happy lives.
"They will not only make the world we live in more comfortable, prosperous and just; they will be self-sufficient, providing for themselves and the dependents around them a life that is safe and sustainable," Holland said. "And, if we have done our jobs right, they will have more than that. They will also be able to soar with a piece of poetry, savor a work of art, recognize great music, learn vicariously through literature, compose a moving letter, counsel a confused friend, defend a contested truth, organize for collective action, transcend a parochial interest, connect with a broader world, give a persuasive speech, sustain life-long learning, and reflect deeply on the nature of their own happiness and the direction of their lives."
Holland closed the State of the University address by expressing his desire to make UVU "the nation's very best open-admissions platform for student success."
"Before us rests an enormous and exhilarating moment," Holland said. "There is still much to do to make this happen, and to ready ourselves for a centennial celebration far grander than anything we have experienced this year. For me, that work has already started, and it is not stopping any time soon. I hope the same is true for you."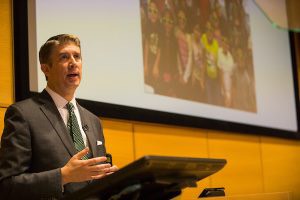 Fourth region (Section 1)