University Marketing & Communications: Layton Shumway | 801-863-6863 | LShumway@uvu.edu
Written by: Jim McCulloch | 801-863-7004 | Jim.McCulloch@uvu.edu
Madeline Black, a first-year student at Utah Valley University's Culinary Arts Institute, was named the nation's Student Chef of the Year at the American Culinary Federation's national convention held in Orlando, Florida, July 8-13th.
Black, a sophomore from Provo, becomes the second straight national champion from UVU's Culinary Arts Institute. Last year, UVU's Michelle Stephenson won the same title, the first in UVU history.
"Nobody expected UVU to do what we have done," exclaimed Chef Todd Leonard, department chair of UVU's Culinary Arts Institute. "From not knowing who we were just a couple years ago, to having back-to-back national champions. This has just put UVU on the culinary map to stay. We have suddenly become one of the most intriguing places in the culinary world."
As one of five regional winners, Black had only 90 minutes to prepare a world-class dish that would impress a team of seasoned top-level chefs. Each competitor came up with their own recipes utilizing an ingredient list given to them just a few weeks earlier. This year's list was built around duck as the main protein. Black's final winning menu consisted of truffle-scented duck roulade finished in duck fat, with Utah honey lacquered duck thigh-riblet, pan seared foie gras with port and morel mushroom sauce, accompanied by potatoes gratin, celeriac and pea puree, with rhubarb chutney and summer vegetable medley.
"This is really a dream come true," said Black. "I was breezing along, and then the last 10 minutes things just weren't coming together like I'd practiced a hundred times, and it got a little crazy. But the judges said they were very impressed with the complicated dish I created and I think that's what made the difference. How cool is it to bring back to UVU another national championship!"
Black was awarded her first-place gold medal at a banquet Thursday evening in front of more than a thousand of the top chefs in America, who gave her a rousing standing ovation.
"I have been around hundreds of the best up-and-coming student chefs for many years with ACF," said one judge. "I've got to say, Madeline is one the very best I have ever seen. And to be named the best student chef in the country after only one year of training, she has an amazingly bright future in this business."
UVU's Culinary Arts Institute also sent a student team to compete in the ACF Culinary Knowledge Bowl, where they finished second in the nation. It's the second straight year the team has made it to the finals, winning the national title last year.
To see pictures and videos of the UVU's 2017 ACF national championships, visit http://www.flickr.com/photos/tcpix/albums/72157686140311016.
To learn more about UVU's Culinary Arts Institute, visit online at uvu.edu/ca or contact Todd Leonard at 801-863-8087 or tleonard@uvu.edu.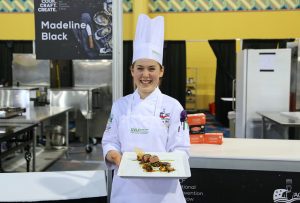 Fourth region (Section 1)