University Marketing & Communications: Layton Shumway | 801-863-6863 | LShumway@uvu.edu
Utah Valley University's 76th Commencement Exercises will be held on Thursday, May 4, in celebration of more than 5,000 graduates.
Commencement exercises begin at 6:30 p.m. in the UCCU Center on UVU's Orem Campus. The featured speaker will be President Henry B. Eyring, First Counselor in the First Presidency of The Church of Jesus Christ of Latter-day Saints. The university's eight individual college and school convocations will be held across campus on Friday, May 5.
Graduates will receive 204 certificates/diplomas, 1,894 associate degrees, 3,110 bachelor degrees, 96 master degrees, and six graduate certificates.
More than 3,900 of the graduates are from Utah. The most populated areas of study for this year's graduating class are behavioral science, business management, university studies, aviation science, communication, nursing, accounting, pre-professional (health sciences and legal), elementary education, and community health.
Eyring was ordained an apostle in 1995. He also served for 18 years as Commissioner of Church Education. The New Jersey native is also known for his academic accomplishments. He was president of Ricks College, present-day Brigham Young University-Idaho, from 1971 to 1977. He was a tenured assistant professor in the Graduate School of Business at Stanford University from 1962 to 1971. He has also been a Sloan Visiting Faculty Fellow at MIT.
During the commencement proceedings, honorary doctoral degrees will be presented to Eyring as well as three other outstanding individuals: Keith Nellesen, co-founder of Vivint and current chairman and CEO of NUVI; Brent Wood, entrepreneur and philanthropist; and Shirlee Silversmith, director of the Utah Division of Indian Affairs.
In recognition of Silversmith's service to UVU and the state, UVU President Matthew S. Holland will be wearing a special beaded medallion during commencement made by UVU student Sean Snyder, who is of Navajo and Southern Ute heritage. Beaded medallions are often given within Native communities as symbols of appreciation, honor, and respect. Each medallion is meticulously designed and beaded with the receiver in mind. Beading is a traditional art form in various indigenous communities including those represented by UVU students.
Convocations for UVU's individual colleges and schools will be held Friday, May 5:
—College of Science & Health: 8 a.m., UCCU Center
— School of Education: 8 a.m., Lockhart Arena
— Woodbury School of Business: 11 a.m., UCCU Center
— University College: 11 a.m., Lockhart Arena
— College of Technology & Computing: 2 p.m., UCCU Center
— School of the Arts: 2 p.m., Lockhart Arena
— College of Humanities & Social Sciences: 5 p.m., UCCU Center
— College of Aviation and Public Service: – 5 p.m., Lockhart Arena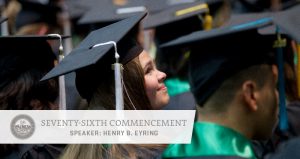 Fourth region (Section 1)