University Marketing & Communications: Scott Trotter |  801-863-6807 | scott.trotter.@uvu.edu
Written by: Barbara Christiansen | 801-863-8208 | BarbaraC@uvu.edu
Utah Valley University's automotive department had several objectives in mind when it decided to exhibit a vehicle in the Specialty Equipment Market Association show in Las Vegas Oct. 31 to Nov. 4. The University met and exceeded those expectations, according to professional-in-residence Jeff Holm, who led a team of students there.
"Overall the interest in that vehicle was beyond expectations," Holm said. The vehicle was a one-of-a-kind all-electric rock crawler. Of more than 3,300 exhibitions, it caught the attention of some of the 180,000 attendees, with offers of support pending from major manufacturers.
"Our objective was to make the industry aware of our university from the technical aspect," he said. "We also wanted to network with professionals, align with original equipment manufacturers, and have student involvement. We took 29 students who had qualified to attend."
The students were involved for much longer than the five days of the show, however. Holm said that from the beginning of the idea to bringing it to fruition took about 14 months, with the most work happening in the last six months.
In creating the actual vehicle, the students worked with physics, engineering, electrical, suspension, drive train and overall safety, he said. Students learned important points in participating in such an exhibition, including providing thank-you gifts for sponsors and how to dress and act professionally in manning a booth.
"These industries were extremely willing and anxious to support the University, particularly in our discipline," he said.
The crawler is 16' long by 7.5' wide. It weighs approx. 3800 lbs. It can hold a driver and passenger only. It's an all-electric rock crawler — designed, engineered and built by automotive students.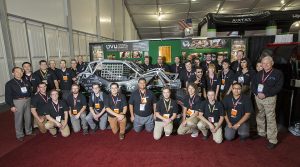 ###