Media contact: Patricia Monsoor| email: pmonsoor@uvu.edu| land: 801.863.5483| cell: 650.454.6441
UVU's Personal Financial Planning (PFP) students continued their incredible winning streak by capturing first place in the Financial Planning Association's (FPA) National Financial Planning Challenge October 2-4 in Nashville, TN. UVU has always placed in this competition, but first place eluded them until now.
The FPA Challenge was open to teams of three undergraduate students from universities with financial planning programs. The students representing UVU in this competition included Josh Scott, Gerika Ballard, and Brian Miller, all seniors studying financial planning. 
The challenge consisted of three phases. Phase 1 was a written financial planning case study. Teams were given profiles for two hypothetical clients for whom they prepared a comprehensive financial plan. They could not seek advice or help from professionals, even from their own faculty adviser. After the first phase was judged, only the top eight teams advanced to the national competition.
"I'm grateful I could have this incredible experience, but it happened because of UVU's PFP program," said UVU PFP student Gerika Ballard. "We worked hard, putting in over 300 hours as a team, but without the program, we wouldn't have the chance to participate in career-defining events like this."
The students of the top-10 rated PFP program had their work cut out for them. After being flown all-expenses-paid to Nashville, students participated in Phase 2, where teams presented their case study orally to a panel of judges.
Phase 3 was the "How Do You Know" Challenge, a two-hour "Jeopardy"-style quiz bowl that tested the financial planning knowledge of each team. UVU scored 8350 points in the quiz bowl, 2550 points more than second-place California State University, Northridge, followed by Texas Tech University, Texas A&M University, Winthrop University, University of Illinos Urbana-Champaign, University of Georgia, and University of Akron.
"Attending conferences and competitions like this lets us network closely with professionals in the financial planning industry," said PFP student Brian Miller. "Each student on the team came back with many new contacts and relationships with potential employers."
For winning first place, the UVU team was awarded a $10,000 scholarship. Also, members of the first-place team will receive a full scholarship to FPA's highly acclaimed residency program as well as one hour of career coaching with one of the industry's best advisors.
"Josh, Brian, and Gerika worked extremely hard and we are very proud of them," said UVU professor and team adviser Hyrum Smith. "It was fun to see them honored in the final session in front of over a thousand financial planning professionals across the nation whose interest in UVU's PFP program continues to grow."
For more information on the top 10 ranked Woodbury School of Business Personal Financial Planning Program, visit www.uvu.edu/pfp.
About the Woodbury School of Business
The Woodbury School of Business (WSB) is the largest business school in the Utah System of Higher Education and is accredited by the Association to Advance Collegiate Schools of Business (AACSB). The WSB supports a variety of engaged learning projects and programs, including the Entrepreneurship Institute in which students start their own business. The school is distinguished for its focus on student development, entrepreneurship, global involvement and innovative teaching. In addition to traditional undergraduate courses of study in discipline ranging from accounting to marketing, the WSB offers an MBA program that accommodates the schedule of working professionals through evening and weekend classes.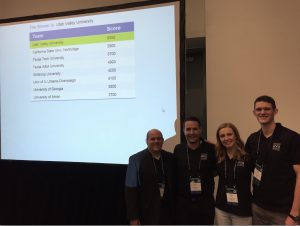 Fourth region (Section 1)