Media contact: Patricia Monsoor pmonsoor@uvu.edu landline: 801-863.5483|cell: 650.454-6441
Tapping into the need for companies to create more benefits for employees, combined with an employee's desire to feel valued and be more efficient, UVU student entrepreneurs Trevor Larson and Andrew Hollis gave birth to PERKNOW.
PERKNOW is a solution that includes the acquisition and management of a portfolio of desired perks, and recurring discounts across a wide range of categories delivered through an intuitive mobile platform.
Employees can browse and redeem perks "on-the-go" directly from their smartphones through the PERKNOW app. Perks include preferred pricing at popular food venues, professional services and a unique concierge package that allows employees to get errands done while at work such as car detail, oil changed, dry cleaning, chiropractic care and more.
Ryan Clark, Economic Development Manager for the City of Orem, had this to say about the new benefit for their employees. "Unique and affordable benefit options for our employees are always of interest. It can be difficult to recruit and retain employees in the current labor market and we are hopeful that a program such as PERKNOW can help with this situation. Also, it's a benefit that can be enjoyed by full and part-time workers. We also see PERKNOW as a program that can help us manage requests from businesses interested in marketing their products and services to our employees. PERKNOW will work with the businesses to bring them into the program. In turn, our HR employees can focus on other job duties."
Larson and Hollis captured first place in UVU's 2017 Opportunity Quest competition. They truly embrace and believe that PerkNow is the wave of the future for companies. "Everyone wants to work somewhere they can be proud of, and be the company that people talk about," says Larson. "PERKNOW helps solidify that credibility."
Hollis is a staunch supporter of making employees feel valued for their hard work. "Let's make them happy campers that want to stick around," he said. "HR can focus on their core tasks – finding the best talent, and we can focus on making the employee feel special."
To learn more about PERKNOW visit the website at www.perknow.com. For more about the UVU Entrepreneurship Institute visit. www.uvu.edu/entrepreneurship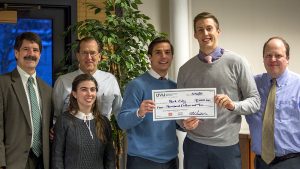 Fourth region (Section 1)