University Marketing & Communications: Layton Shumway | 801-863-6863 | LShumway@uvu.edu 
Utah Valley University will cut the ribbon on the NUVI Basketball Center, a new practice and conditioning facility to house its men's and women's basketball teams, on Wednesday, September 13 at 1 p.m.
The 14,500-square-foot facility was funded entirely by private donations and sponsorships totaling approximately $4.4 million, including a lead donation from NUVI chairman and CEO Keith Nellesen.
"The NUVI Basketball Center is one of the best practice facilities in the WAC," said UVU athletic director Vince Otoupal. "It will help our basketball programs continue to pursue success both on the court and in the classroom. The facility changes the way our student-athletes and coaches approach their craft and will make our programs better. We are excited about our continuing partnership with NUVI and the Nellesens, with the Melisa Nellesen Autism Center, Cole Nellesen Autism Building, the NUVI Social Media Command Center, and now this amazing basketball facility. UVU is better because of our partnership with NUVI."
The NUVI Basketball Center includes 8,000 square feet of court space, named the Ryan Toolson Practice Court, and nine basketball standards, with "game-day atmosphere" graphics to match the UCCU Center environment. The new Travis Hansen Strength and Conditioning Center includes roughly 1,300 square feet, with custom-made 9-foot high racks, dumbbells up to 125 pounds and an array of power and conditioning tools. The room opens up directly onto the Ryan Toolson Practice Court.
A mezzanine level overlooks the court and includes the Roger Fields Family Basketball Offices — 3,000 square feet of office space split into suites for the men's and women's coaching staff. Each suite features a large office for each head coach that can double as a conference room, and offices for three assistant coaches and basketball operations.
"This University provides opportunity and promotes student success," said UVU men's basketball coach Mark Pope. "It is a place where students raise their faculties and broaden their minds. This building does that very thing for our student-athletes."
"The NUVI Basketball Center will have an immeasurable impact in our day-to-day function and growth as a program," said UVU women's basketball coach Cathy Nixon. "Just giving our girls somewhere to come anytime to shoot and work on their game is a huge difference maker. We're so grateful for the many people involved in funding, planning and building this facility to help us in our quest to win WAC championships."
The UVU men's and women's basketball teams will begin practice in the NUVI Basketball Center for this upcoming season. The new facility will help prepare the men's basketball team for its upcoming games at Kentucky and at Duke in back-to-back nights on November 10-11, which has been called "the toughest 24 hours in college basketball."
"This beautiful facility will be a basketball factory that will facilitate our players in chasing their biggest possible dreams," Pope said. "The NUVI Basketball Center fully equips our program to prepare our players to win WAC championships and earn NCAA tournament bids. This facility is also a symbol of tremendous support from the Utah Valley community. It's a game changer."
Major gift support for the facility was also received from:
Utah Community Credit Union
Ryan Toolson, former UVU basketball player, now playing in Europe
WCF Insurance
Todd Pedersen, founder and CEO of Vivint
Alexander's Print Advantage
Travis Hansen, former UVU and NBA basketball player
Forte Elements
Roger Fields
About Utah Valley University
Utah Valley University is home to more than 35,000 students. UVU began as a vocational school during World War II, and in the seven decades since has evolved into a technical school, community college, state college, and, finally, a comprehensive regional teaching university. UVU is one of Utah's largest institutions of higher learning and offers programs ranging from career training to high-demand master degrees.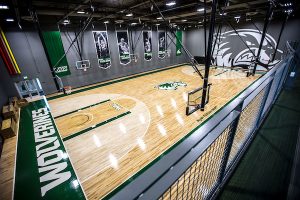 Utah Valley University Wolverines Nuvi Basketball Center on the UVU Campus in Orem, Utah, Tuesday September 18, 2017. (Jay Drowns/UVU Marketing)
Fourth region (Section 1)