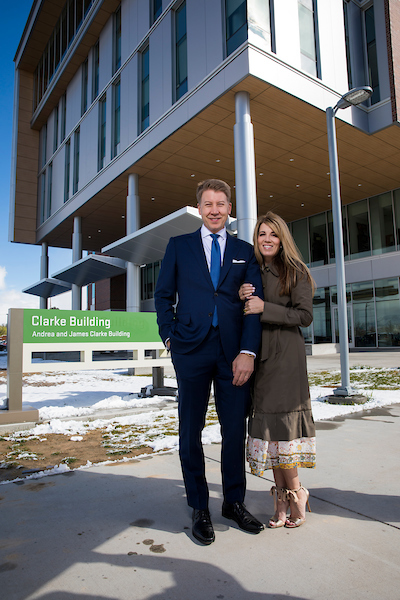 Andrea and James Clarke, two of Utah Valley University's foremost supporters, announced at a campus luncheon in April they will be making a $5 million donation to benefit university colleges and programs.
At that same luncheon, UVU President Matthew S. Holland announced the University is renaming the Classroom Building to the Andrea and James Clarke Classroom Building, to honor the couple. In addition, to pay tribute to Clarke's parents, the former Oquirrh Mountain Rooms on the 5th floor, 510 and 511, have been renamed as the Labor and Honor Rooms. This unusual name comes from the extraordinary lessons James Clarke learned as he worked for his parents.
For centuries, the Latin phrase labore et honore -- which translates to "Labor and Honor" -- has adorned the Clarke Family Coat of Arms. As a young boy, Clarke gained practical meaning from the phrase as he collected his weekly paycheck from working summers for his parents.
Far more important than the sum of money at the end of each week were the words on his paycheck, Clarke said. Had he been honorable and hardworking in his efforts, the memo section of the paycheck would read "LABOR and HONOR." Had he just worked but been late or given a half-hearted effort, the memo section of the check would simply read "LABOR," a singular word which he said made his heart sink. He learned early that only labor and honor together would suffice throughout his life.
Whether it be educational pursuits, one's chosen profession, or all human relationships, the core of what Andrea and James Clarke hope to share through their efforts in support of Utah Valley University is that labor alone is not sufficient unless coupled with honor.
The 244,000-square-foot Classroom Building, which sits on the north end of the UVU Orem campus, was erected in 2014 in anticipation of the future growth of student enrollment. The University is expected to have more than 40,000 students by 2020.
The $5 million donation will benefit the Woodbury School of Business, the Women's Success Center, the Center for Constitutional Studies, and the School of Aviation Sciences.
"It's hard to find words to describe the positive impact this donation will have on Utah Valley University," said Scott Cooksey, vice president of development and alumni relations. "Andrea and James Clarke have done so much for UVU over the years. They truly epitomize the spirit of the University."
###
About Utah Valley University
At 37,282 students and growing, Utah Valley University is the largest public university in the state of Utah and one of a few in the nation offering a dual-mission model that combines the rigor and richness of a first-rate teaching university with the openness and vocational programs of a community college. UVU's unique model, which focuses on student success, engaged learning, rigorous academic programs and faculty-mentored research, is transforming higher education by making it more affordable and accessible to students of all backgrounds.