Contacts:
Melanie Heath, USHE communications | 801-244-9620 | mheath@ushe.edu
Scott Trotter, UVU communications | 801-419-6860 | scott.trotter@uvu.edu
---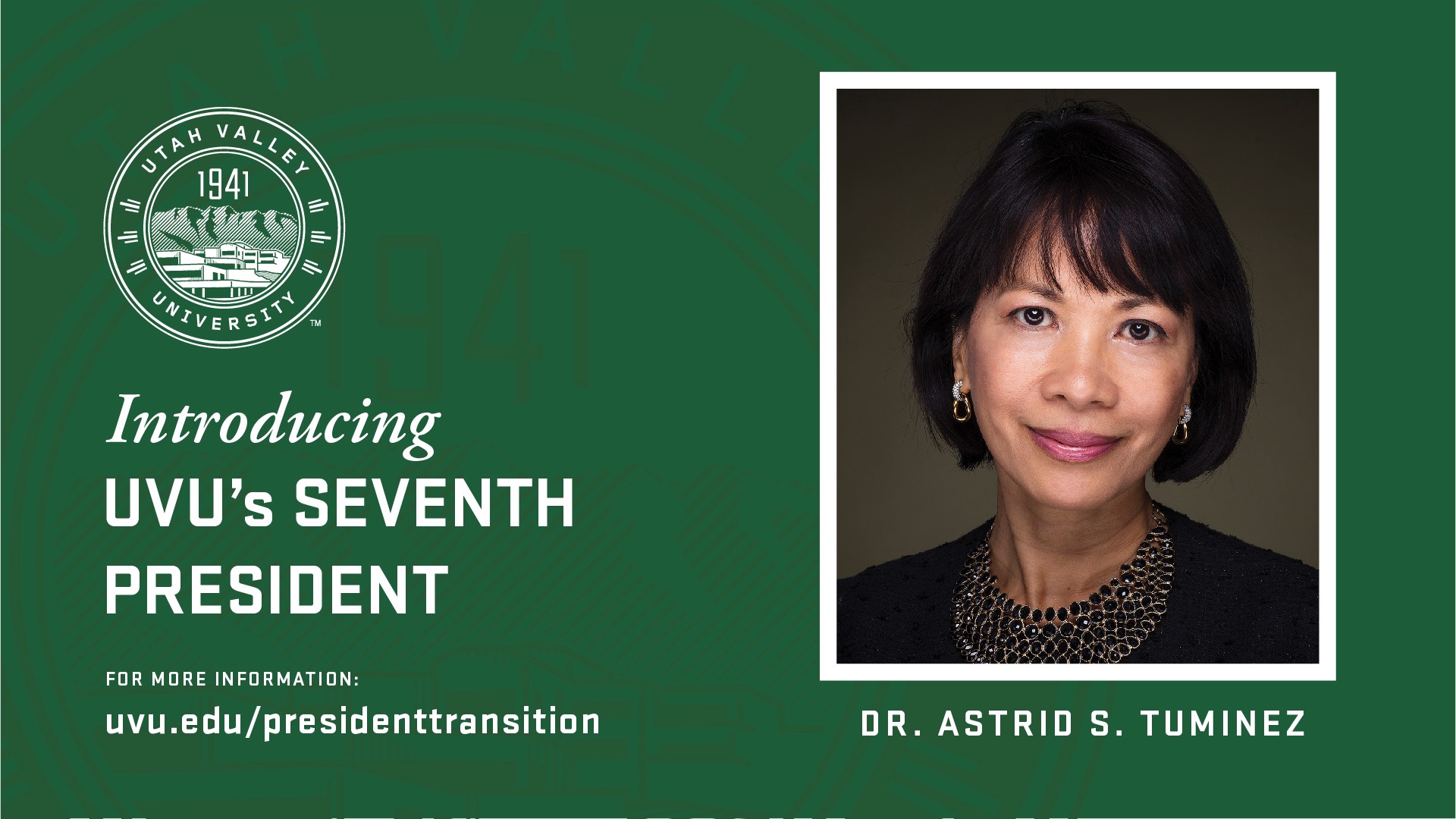 OREM — The Utah State Board of Regents has selected Astrid S. Tuminez as the seventh president of Utah Valley University—and the first female president in the university's history. Tuminez, who currently serves as Regional Director for Corporate, External, and Legal Affairs in Southeast Asia for Microsoft, will assume the position this fall.
She succeeds Matthew S. Holland, who has served as president since 2009. Holland announced last November that he was called as an LDS mission president, and is set to leave UVU in June.
"Dr. Tuminez has proven to be a dynamic leader across academic, nonprofit, public policy, and corporate sectors. Throughout her storied career, she has focused on bridging gaps in education and opportunity to make a difference in people's lives, which seamlessly aligns with UVU's institutional mission and core themes," said Daniel W. Campbell, chair of the Board of Regents. "Dr. Tuminez's experience, vision, and dedication to student success will ensure that UVU continues to thrive in the years ahead." 
A 24-member Presidential Search Committee, co-chaired by Regent Steven Lund and UVU Trustee Chair Elaine Dalton, selected Tuminez from a pool of 41 national and international applicants for the position. She was one of four finalists announced April 12.
"Out of an impressive field of candidates, Dr. Tuminez rose to the top in the search for the next president to lead UVU," David L. Buhler, Utah Commissioner of Higher Education. "She articulated a clear and compelling vision for UVU, and she understands the value of collaboration within Utah's system of public colleges and universities."
Prior to her current role, Tuminez was the Vice Dean of Research and Assistant Dean of Executive Education at the Lee Kuan Yew School of Public Policy at the National University of Singapore, where she trained over 2,000 government officials and private-sector professionals in leadership and organizational change. Her previous positions include senior consultant to the U.S. Institute of Peace, Director of Research at AIG Global Investment, and program officer at Carnegie Corporation of New York. She previously ran the Moscow office of the Harvard Project on Strengthening Democratic Institutions. She holds a bachelor's degree from Brigham Young University, a master's degree from Harvard University, and a doctoral degree from the Massachusetts Institute of Technology. For more, see her CV.
"I am incredibly honored to be given the opportunity to lead Utah Valley University, and I offer my thanks to the Board of Regents and the search committee for their confidence in me," Tuminez said. "UVU's nationally-recognized dual-mission role, with its emphasis on engaged learning and inclusivity, gives students the opportunity to access higher education and transform lives. I look forward to meeting and working with students, faculty and staff, UVU trustees, and community leaders to lead the university to the next phase of relevance, growth, and impact."
High-resolution digital images of President Tuminez are available for download here  (password: uvu890).
###
About Utah Valley University
At 37,282 students and growing, Utah Valley University is the largest public university in the state of Utah and one of a few in the nation offering a dual-mission model that combines the rigor and richness of a first-rate teaching university with the openness and vocational programs of a community college.
UVU's unique model, which focuses on student success, engaged learning, rigorous academic programs and faculty-mentored research, is transforming higher education by making it more affordable and accessible to students of all backgrounds.
About the Utah System of Higher Education
The Utah System of Higher Education (USHE) is governed by the Board of Regents and is comprised of Utah's eight public colleges and universities. The CEO of USHE is the Commissioner of Higher Education. For more information, visit higheredutah.org.