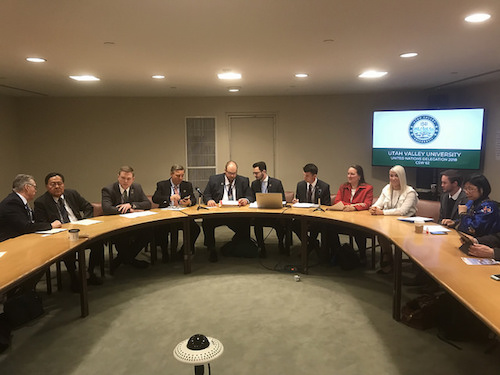 Utah Valley's Office of Global Engagement, within the new UVU Mountain Partnership with the United Nations Department of Public Information (UN-DPI), facilitated the visit for a delegation of 11 UVU students to attend the 62nd United Nation's Commission on the Status of Women (CSW62) on March 19-21.
UVU's student delegation learned about many opportunities including internships and research programs, visited the office for the Food and Agriculture Organization of the United Nations and attended a meeting with the Permanent Mission of Botswana to the United Nations, with Ambassador Charles T. Ntwaagae of Botswana, to examine the various issues involving the status of women, primarily in Botswana.
As a contribution to CSW62, delegation members also hosted two side events during their visit including a presentation at the UN, co-sponsored by Permanent Mission of Bosnia and Herzegovina to the UN, on "Advocating for Rural and Mountain Women Globally Through Student Engaged Learning," and on "Education for Sustainable Development to Empower Rural and Mountain Women" at the Church Center of the United Nations.
"This was a great example of successful implementation of UVU student engaged learning model at the United Nations," Matthew Rands, president of the Utah International Forum, a coalition of student clubs at UVU, said.
This was UVU's first visit to the highest United Nations forum on gender issues and was led by Baldomero Lago, CIO/vice rector for global engagement at UVU.
UVU's Office of Global Engagement continues to support the efforts of the Utah International Mountain Forum, a coalition of student clubs at UVU, and encouraged the UIMF members to report at CSW62 about student engaged learning contributions to the advocacy of the mountain women through the international Women of the Mountains Conferences.
###
About Utah Valley University
At 37,282 students and growing, Utah Valley University is the largest public university in the state of Utah and one of a few in the nation offering a dual-mission model that combines the rigor and richness of a first-rate teaching university with the openness and vocational programs of a community college. UVU's unique model, which focuses on student success, engaged learning, rigorous academic programs and faculty-mentored research, is transforming higher education by making it more affordable and accessible to students of all backgrounds.