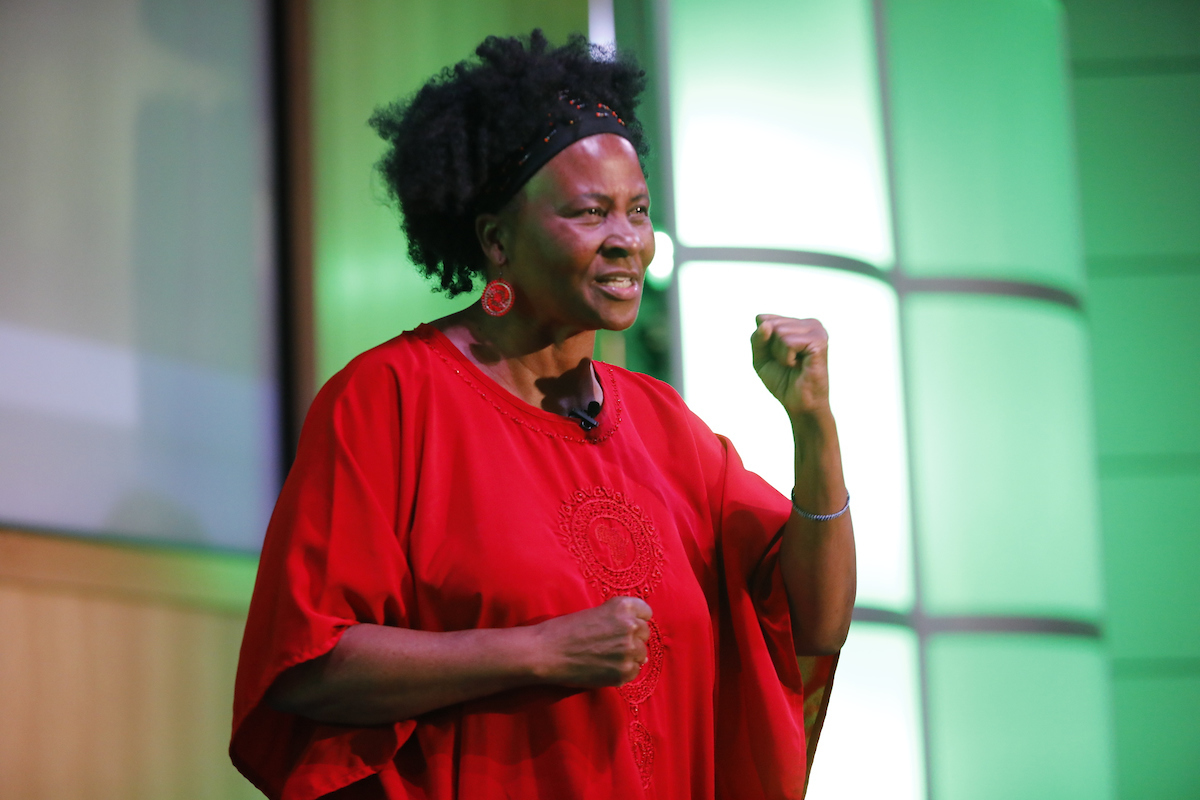 Dr. Tererai Trent today inspired the Utah Valley University community on Wednesday to fight for their dreams. Dr. Trent grew up in a small rural village in Zimbabwe, in a hut with no running water or electricity, and it was in this context that her dreams took shape. Despite poverty, war, and illiteracy, she speaks of a strong cultural setting that opened her mind to possibilities.
Dr. Trent said she comes from a long line of generations of women who married young before they could define their own dreams. Each young woman passed the baton of poverty, early marriage, motherhood, and oppression to the next.  In her life, there were pivotal moments, and mentors, who allowed her to drop that baton and reach for something more.
After the war for independence ended in the late 1970s, more foreigners came to her village to conduct research. Jo Luck, the CEO of Heifer International, visited from the United States. She asked young Tererai a pivotal question, "What are your dreams?" Dr. Trent had never before considered the possibilities of following her dreams, but was inspired that someone could see beyond her poverty to her potential. She told Jo Luck about the dream of higher education. The response was, "It is achievable!" To this day she says, "Tinogona." It means, "It is achievable," and is her favorite motto. With this support, and the encouragement of her mother, she set out to change her future. "My mother said to write down my dreams and bury them, that they would grow like trees. My mother said to go where you buried those dreams and visualize those dreams. I visualized being on an airplane. I'd never been on a plane. I had only seen military helicopters I visualized I was on a campus with big buildings and classrooms. I had deja vu when I arrived on campus. I was in America, but it was tough."
By the time Tererai Trent was 18 years old, she was married with three children.
It took her eight years to complete her GED through a correspondence course. When she arrived in the United States with her family, they did not leave poverty behind. "Fruits and vegetables were expensive in America. My children's gums were bleeding from their diet. I was working three jobs. I was a full-time student." A local grocer agreed to let her take expired fruit and vegetables out of his dumpster. She gathered it up, and took it home.
"Who am I to complain that I feed my children out of trash cans? At least they wash the vegetables in America. Who am I to complain that I live in a trailer and that it leaks when it rains? There are so many who are homeless. Those thoughts grounded me," she said. "I was here [in America] because of a dream. I was here to get rid of things that silence me." 
Through steadfast hard work, and support from others who shared her dream, she would eventually earn multiple degrees, bring her family to the United States, and become a prominent voice for the importance of providing the opportunity for all to receive an education.
Her recent work includes a partnership with Oprah Winfrey and the nonprofit Save the Children, to create schools in Zimbabwe where 6,000 children are now in classes where they too can dream.
She was the keynote speaker at the UN Global Compact Leaders Summit, and continues to lead the charge in the fight for education for all and women's rights. "If we give educational opportunity to those who are torn down, they can achieve it. If we give it to women and girls, women and girls will change the world. We can un-silence women and girls," Trent said.  
During her address at Utah Valley University, she encouraged people to recognize the need for dreams, purpose, and living life with meaning. "There are two kinds of hunger in our lives: [one is] little hunger, immediate gratification — 'I want it now. How many did I get today?' The great hunger is for living a beautiful life. We need a journey where we do good for other people." In the words of her grandmother: "I am because we are. Since we are, therefore, I am."