Our Mission
Our mission is to provide quality nursing education, helping students to cultivate requisite knowledge, sound clinical judgment, and a foundation for lifelong learning as they progress toward becoming competent, caring nurses in a complex and changing health care environment.
Department Values
We are committed to the learning and success of our students. Student success is a measure of our success as nurse educators.
We believe that caring nurses promote the health of body, mind, and spirit in individuals, families and communities.
We are committed to serving our local, state and global communities. We promote and maintain positive relationships with our community partners. We promote health by educating nurses committed to work and service in their community.
We are dedicated to student-centered teaching. We value evidence-based teaching strategies and active, collaborative, experiential learning. Teaching and learning are a partnership in which students are ultimately responsible for their learning, and accountable for their nursing practice.
We encourage the pursuit of excellence through life-long learning. We expect our graduates to utilize sound clinical judgment and evidence-based nursing actions.
We believe honor and integrity are essential to learning and for nursing practice, and we promote professional standards of practice and behavior.
We value collegial collaboration as well as the rights and responsibilities of academic freedom. We encourage thoughtful and civil discourse, recognizing that free exchange of informed ideas enhances individual and community decision-making.
We appreciate the diversity and the interconnectedness in our faculty, students, and in the communities in which we practice. We celebrate diversity within our community.
Give to Nursing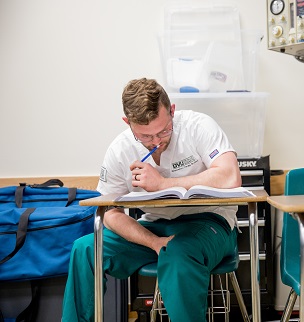 Consider giving to our program to help fund future nurse education
Give to Nursing
UVU's Department of Nursing is accredited by Accreditation Commission for Education in Nursing (ACEN).