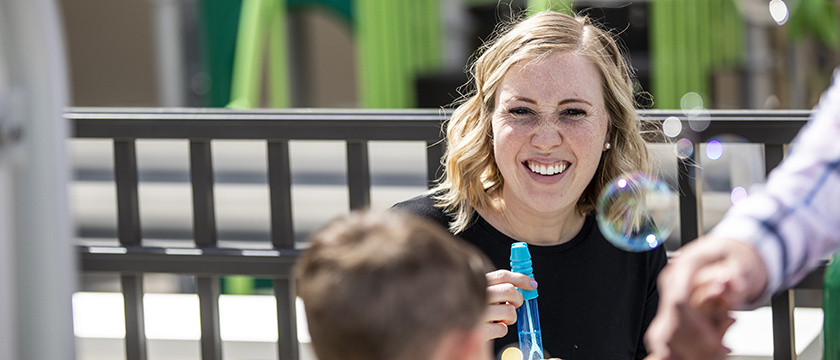 The Best Hugs from Kohen
"Kohen is the spark in our family's life," says Keri Clune. "Everything from his giggle and smile to his hugs — although they are more like head squeezes. He is our special baby of the family."
Around Kohen's second birthday, Keri and Zac Clune started noticing something was different about their son. After months of taking Kohen to see several specialists, they eventually received a diagnosis — moderate to severe autism.
"It was hard," explains Keri. "We had no idea what his future was going to be. Would he be able to function in society? Would he be accepted?" Kohen's diagnosis was an adjustment for the family, but everyone, including his two older siblings, pitched in to make it work.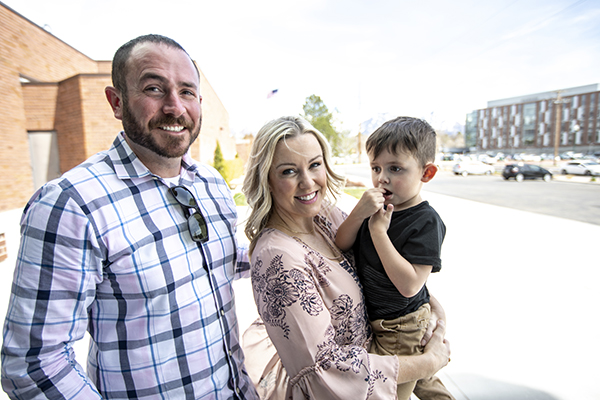 As the family started to search for resources to support Kohen, they quickly found out how scarce resources are for individuals with autism. "Some autism preschools have waitlists as long as two years," says Keri. "Until I started looking myself, I never realized how great the need is for autism support services in Utah."
One day, while visiting the Alpine School District offices, Keri learned about the Melisa Nellesen Center for Autism. A member of the faculty had recently toured the center. The teacher suggested that the Clune family look into it. "It was like the stars aligned when Kohen started the preschool program at the Nellesen Center," says Keri. "It felt like I was taking him to a private school. The facility is practically brand new, and because Kohen needs so much physical prompting to learn, it was nice to have so many teachers there to support him."
One of Kohen's teachers, Brylie Mason, enjoys her time with Kohen as much as his family does. "When Kohen first came to the center, he was basically nonverbal," explains Brylie. "We would go outside, and he would cry to come inside. We would go inside, and he would cry to go somewhere else. But now he's really started learning through our routine. He's started imitating words, playing peek-a-boo, and walking around the classroom freely. Kohen wasn't saying a single word when he started. Seeing how far he's come is truly wonderful."
Brylie started her career in special education by coincidence when she applied for a secretarial position at a junior high school close to her home. The staff at the school informed her that the position had been filled but asked if she would be interested in a job as a special education para-professional.
"I was very intimidated at first," explains Brylie. "We had several students who required a lot of attention. Many of the students were big, some were aggressive, and I was unsure if I was going to last in the job," explains Brylie. "But after my students left for summer, I just sat in the classroom crying. I didn't want them to go. At that moment, I recognized the difference I was making and that I wanted to pursue a career in special education."
Brylie is now a teacher in the Melisa Nellesen Center for Autism's prekindergarten classroom and is heavily involved with the Utah Statewide Autism Education Project — or STAR program — providing coaching and education to teachers throughout Utah. "You can tell she loves the kids," says Keri Clune. "There is a passion behind the work she is doing, and it shows."
For the Clune family, there is still a long road ahead to help Kohen with his development. "The autism spectrum is so wide that it's hard to know what Kohen's future will look like," says Keri. "I hope one day he'll be able to hold a job, have friends, and overall just have a good life. It's been a hard thing to go through, but we wouldn't have it any other way."