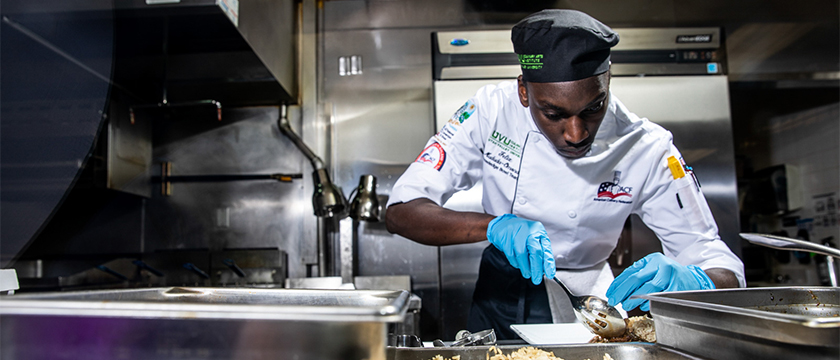 UVU Culinary Arts Attracts International Student
Felix Mududa was dead set on becoming a pilot — until he took a pastry class. After he graduated from high school in his home country of Kenya, his brothers convinced him to take a year off and explore his options. It was during that year that he decided to try his hand at baking — he loved cake but didn't know how to make one. Again his brothers chimed in — don't do anything halfway, they advised — so Felix found a good pastry school and enrolled. "It was the hardest thing I'd ever done, and I wanted to quit after a week," he says. But he stuck it out.
A week before his final exam in the pastry course, Felix was offered a job in a bakery. He took it, grateful for the chance to earn money for college doing something he enjoyed. But he gradually realized how much he loved the culinary world; he wanted to expand his talents and learn the full range of cooking. As he was looking into culinary schools, a family friend living in the United States recommended UVU's Culinary Arts Institute. Felix did some research and decided to take the leap, moving alone to Utah, halfway across the world. It was a gutsy move, and he's never regretted it.
"The UVU Culinary Arts program is one of the best — if not the best — culinary programs in the western United States," says Felix. "I've had the opportunity to take part in competitions where I've spoken with students in different colleges. That helped me realize just how far ahead of other schools the UVU Culinary Arts program is." Felix says that the UVU chefs invest themselves in every student. They get to know the students, understand their struggles, and help them advance to the next level.
Felix recently earned his Associate in Applied Science from the Culinary Arts Institute and is transitioning into the Hospitality Management program. He hopes to one day open an Italian fine dining restaurant, maybe even a chain. In the meantime he's working in the Culinary Arts Institute's Café at Canyon Park to help pay for school and living expenses. He's also had some financial help from scholarships.
Felix secured the culinary equipment scholarship by writing an essay. The scholarship provided him $550 to cover the cost of the chef's toolkit each student must purchase. "Saving $550 is incredible in any situation, but especially if it's going toward your education — then it's life changing to say the least," he says. He later received academic scholarships toward his tuition.
"It's always heartening to receive a scholarship," says Felix. "It makes you want to work harder, knowing that someone out there has invested in your future, in your education. You don't want to let them down."
Outside of his studies, Felix has served on the UVU Student Association as the representative from the Culinary Arts Institute. The institute is part of UVU's College of Technology and Engineering, and Felix was invited to participate in an interview for a new associate dean. "It showed me a different perspective of the college. They really value student input," says Felix. "I had to fill out a report based on the interview, and I felt almost like a part of the hiring process. It gave me even more school pride than I already had."
About that dream of his of becoming a pilot, he says, "Piloting is still there at the back of my mind. I just realized that I also really love cooking. If I ended up in either career, I'd be happy, but I love cooking enough to say I could do this for the rest of my life."