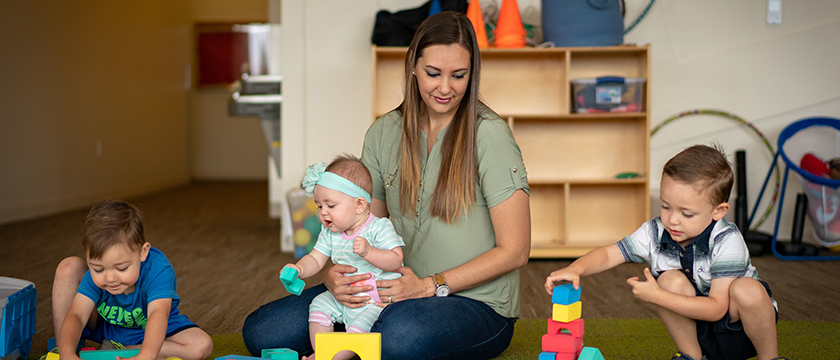 The Jones Family's Home Away from Home
Living in California, Lisa Jones always thought she would have to decide between her education and her family. "Education was always one of those values I knew was important, but so was having a family. The timing in my life was difficult — I'd gotten married, I had one child, and I was kind of stuck education-wise," says Lisa.
When her husband started studying in the Aviation program at UVU, the couple quickly realized they had a unique chance to get an education while not overlooking their family priorities. She says, "At UVU we had an opportunity to bring our son with us. All three of us, including our little guy, George, would pack into the car and get ready for school."
Thanks to private donor support, Lisa has been able to continue her education, modeling the value of education to her children. She now has three children and another on the way. She says, "The Fulton Library is kind of our second home, and my kids would certainly attest to that."
As a political science major, Lisa has had the opportunity to intern with the former congressman Jason Chaffetz and has represented UVU's Center for National Security Studies while participating in the FBI Citizens Academy. With her graduation date approaching soon, she is excited to further her career and invest back into her state and nation. But until that time, you can likely find her at the Wee Care Center or in the Fulton Library's family study room balancing one child on her knee, feeding another with a bottle, and typing a paper with the other hand. "It's the ultimate kind of multitasking," says Lisa, and she wouldn't have it any other way.