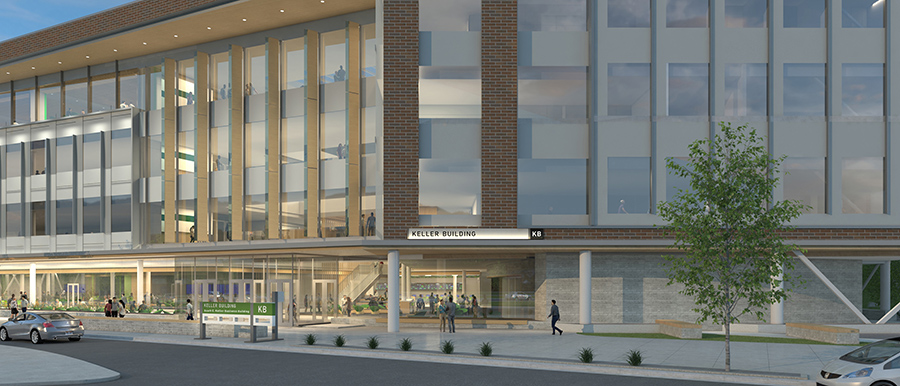 Kellers Give $10 Million for Business Building
Scott and Karen Keller have pledged $10 million to Utah Valley University for a new business building and gateway center for the entire university.
 The Woodbury School of Business has grown rapidly in recent years and is now the largest business school in the state, with more than 5,000 students. Its innovative teaching methods and strong focus on real-world learning experiences make it the business school of choice for more and more students.
 To keep up with growth and to maximize the Woodbury School's innovative, even disruptive model of higher education, UVU will break ground on a new, four-story business building at the south entrance of the Orem campus November 11.
 Connected to the building will be a welcoming Gateway Center for the entire University, which will house UVU's executive administrative offices.
 To recognize the Keller's gift, the new building will be called the Scott C. Keller Building. Scott Keller is president and chief executive officer of Keller Investment Properties, one of the largest private, multifamily (apartment) investment companies in the western U.S.
 "We are honored to contribute some of our resources to assist UVU's wonderful leadership and their pursuit of excellence in providing an environment and opportunity of higher learning on this beautiful, diverse, growing campus," said Scott and Karen Keller. "We are privileged, along with our five children (all of whom have either attended or graduated from UVU), to be associated with such a quality institution. We look forward to our growing posterity to also be a part of it for many years to come."
 Other donors to the project include the Larry H. and Gail Miller Family Foundation, James and Andrea Clarke, Noel and Carrie Vallejo, Nu Skin, The Woodbury family, Roger and Gwen Connors, and Stephen and Bette Gibson.
 Join us November 11 at 1 p.m. as we break ground on the Keller Building.