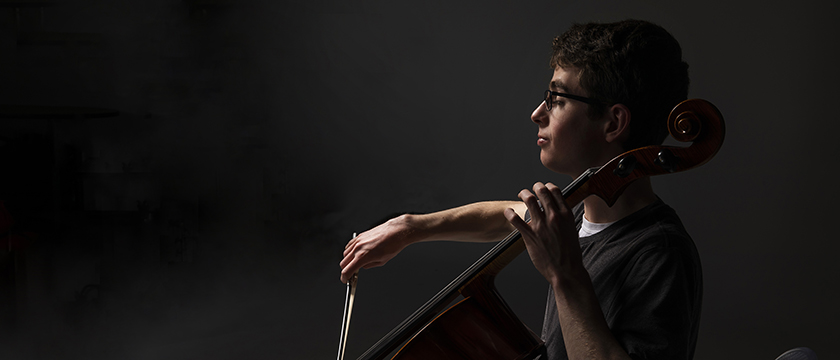 Music Makes Sense
Noah Guzman was kind of a shy kid, and the idea of teaching didn't appeal to him — until he tried it.
A teacher once told Noah you had to be insane to teach, and Noah agreed. Then, when he was a senior in high school, he did an internship with his junior high orchestra teacher. People tried to commiserate with him over having to work with seventh-graders, but he enjoyed it. He also discovered he enjoyed teaching private music lessons.
Noah began piano lessons as a child, at his own request, and decided to take up a second instrument in the seventh grade. After some experimenting, he settled on the cello. "I couldn't play any of the band instruments – I have terrible lung capacity," he says.
An excellent student, Noah wasn't planning on continuing music beyond high school. He was considering agricultural science as a college major. But throughout junior high and high school, music had gradually taken a central place in his life.
"Music was something I thought along the lines of naturally; things in music just made sense to me," he says. Music has also brought him comfort and strength, helping him cope with challenges.
"Once I got into high school, I started to have some bad mental illness attacks," Noah says. "Music wasn't the only thing that got me through, but it was a big part of it." That, together with the discovery that he enjoyed teaching, led to his decision to major in music education.
Getting into a college or university music program is a two-step process: first you need to be accepted by the school, and then by the music department. Noah was accepted by the music programs at Weber State, the University of Utah, and Utah Valley University, but because he qualified for the Presidential Scholarship, he chose UVU.
Now a first-year student, Noah plays the cello in the UVU Symphony Orchestra and two chamber music groups. He hopes to attend graduate school and ultimately teach at a high school. "I would like to be somewhere where I could establish a stronger musical presence and build up a good program," he said. A fan of arts and music in the community, he also hopes to work with community orchestras and music festivals.
Noah is extremely grateful for his scholarship. "I don't think I would be able to do as well as I could in music and academics if I had to have a job as well," he says. "Often people talk about really learning and looking for more than just a degree, and I think that's made so much easier if you have the help of a scholarship to give you more momentum, more excitement."