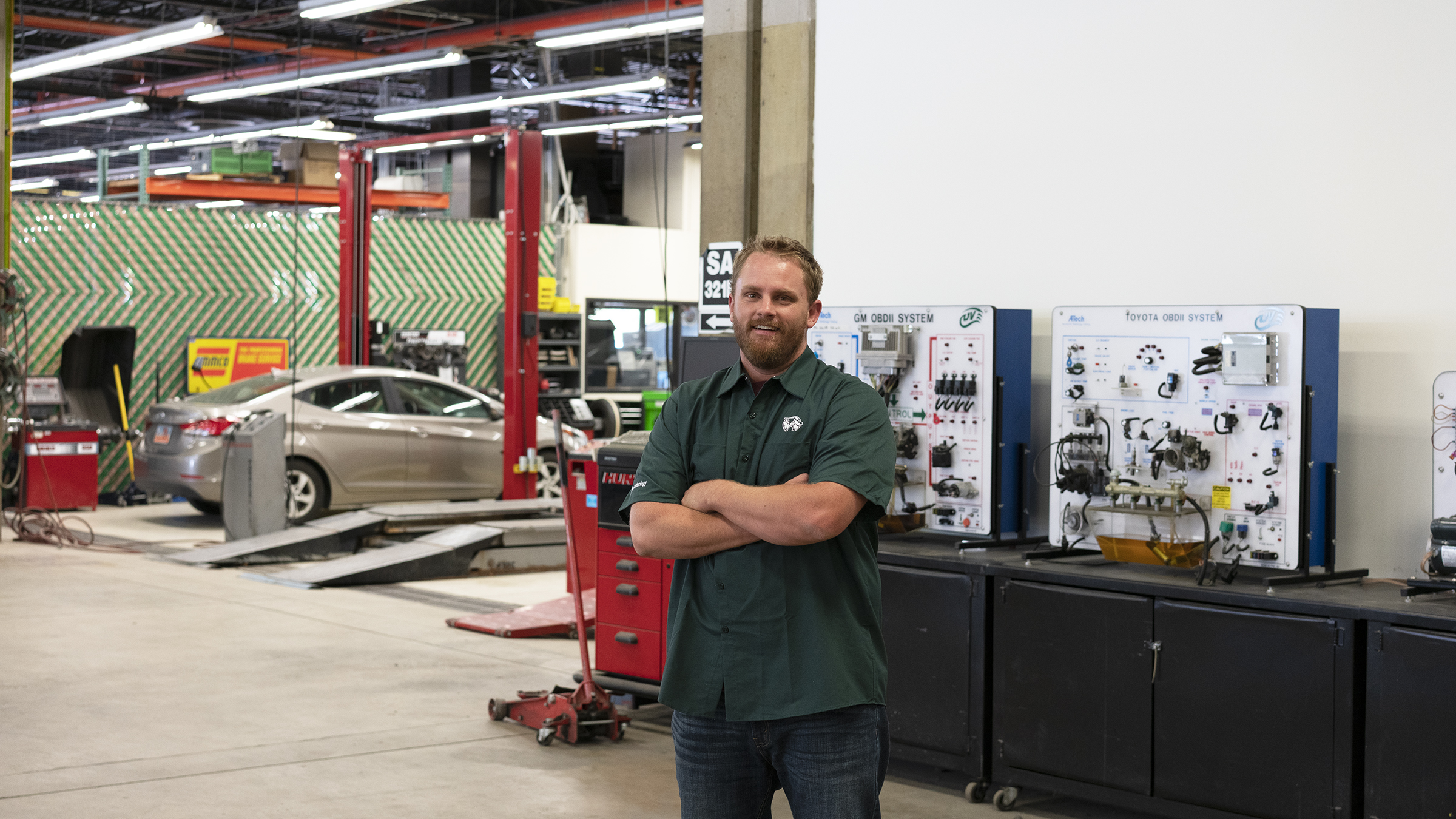 Shifting Into Overdrive
Tyler Robbins loves to solve the problems no one else can. "Today's cars can be stopped by something as simple as a seat warmer failing and causing the transmission to fault. People will sell their cars because they can't figure it out," he says. "I love the challenge of fixing those cars when nobody else can."
Tyler is always thinking about what he can learn that others don't know. That's why, now that he's finished his automotive technology classes, he's continuing on at Utah Valley University to get a bachelor's degree in technology management with an emphasis in automotive technology.
"The automotive industry is getting very technical," says Tyler. "There are a lot of computers, a lot of sensors, and the technology is always changing. You have to adapt or die. I'm thinking about the future."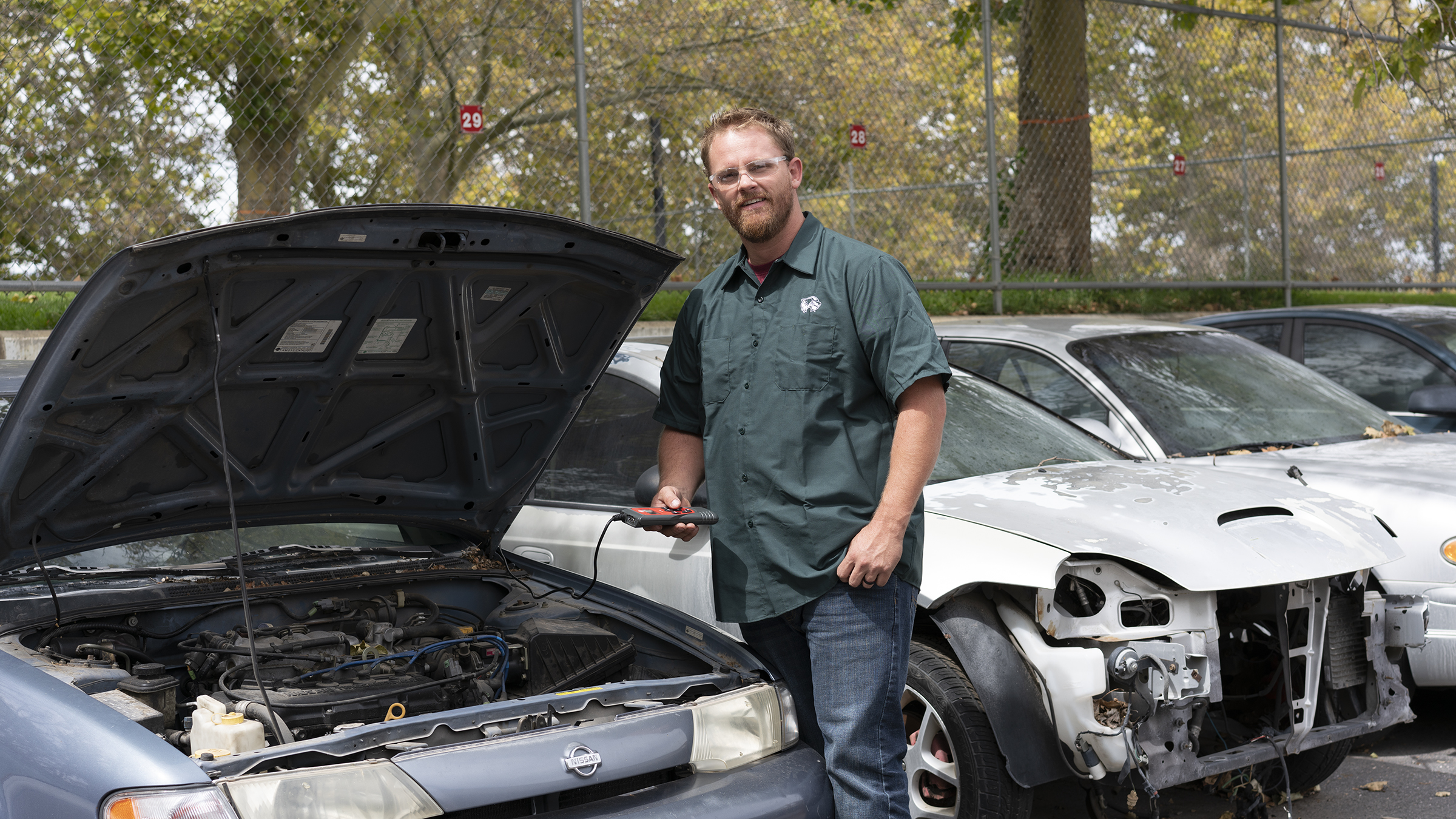 Originally from Milford, Utah, Tyler came to UVU in 2002 just after he finished his religious mission in Uruguay. But he left after just one semester to work in home construction. After ten years of backbreaking labor framing houses, however, he was ready for a change and decided to pursue his interest in auto repair. He chose UVU because it has a good reputation with employers.
Unlike some students, Tyler prefers instructors who challenge him with difficult assignments and push him to figure out the tough problems. He demonstrated the results of his hard work in classes when he took first place at UVU in the school's SkillsUSA automotive competition.
Tyler got interested in fixing cars as a kid, helping out his grandfather. His grandpa and uncle own an automotive company in Las Vegas, and Tyler hopes to follow in their footsteps and own a business one day. He's already passing his love of auto mechanics down to his own two kids, aged 3 and 2. Right now they love to grab a tool and pretend to fix their toy cars, but Tyler hopes that one day they'll be helping him repair real ones.
To support his family, Tyler has a full-time job at Ballard Manufacturing in Springville, Utah, doing maintenance on everything from conveyors to semitrailers to forklifts. Even so, it's difficult to pay for school at the same time. When he learned he'd gotten a scholarship, it made all the difference.
Since 2015 Tyler has been awarded a scholarship each year: the Orville Carl Gunther Family Endowed Scholarship in 2015-2016, the Miles & Mary Morris Automotive Endowed Scholarship in 2016-2017, the Jack & Mary Lois Wheatley Annual Scholarship in 2017-2018, and the General Foundation Scholarship in 2018-2019. With the cost of books, special fees, gas, and the other expenses involved in going to school, the scholarships have made it possible for him to stay in school.
Tyler hopes to graduate next year. In the meantime, he sometimes helps his grandfather and uncle at their automotive company. Recently he surprised them by showing them how to repair something that had them stumped. Incredulous, they wanted to know where he learned how to do something they hadn't figured out in 20 years in the business. "UVU," said Tyler.