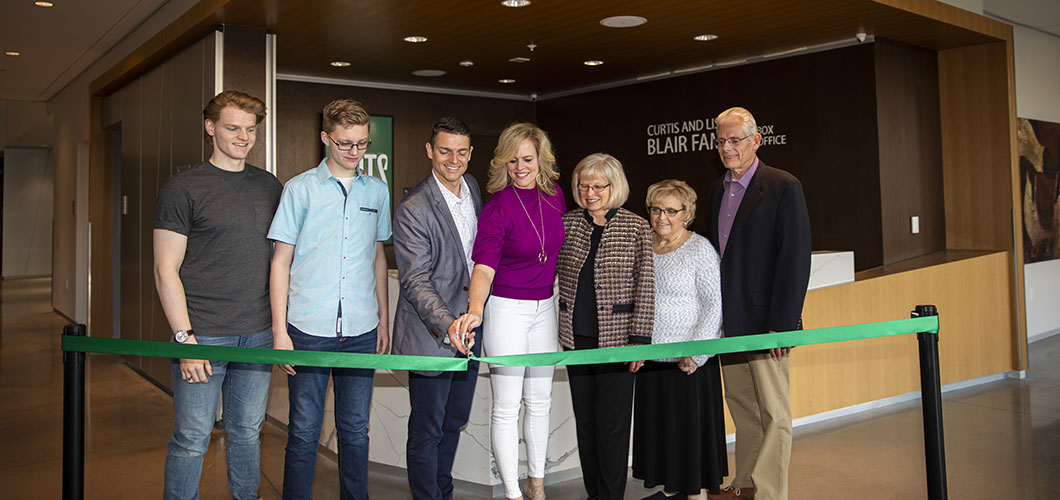 The Noorda Center for the Performing Arts Holds Ribbon-Cutting for the Curtis and Lisa Blair Box Office
Friends and lovers of the arts celebrated a great addition to The Noorda
On February 13, 2020, a group of arts enthusiasts celebrated the unveiling of the Curtis and Lisa Blair Box Office in the Noorda Center for the Performing Arts. The Blair family made a generous contribution to build the beautiful ticket counter and support the completion of the state-of-the-art facility.
"I don't know if anyone else has been here more than these two," Stephen Pullen, dean and artistic director of the School of the Arts, said of Curtis and Lisa Blair. "They love the arts, and they know that everything that happens in this building contributes to our academic mission. Thanks in part to their support, we are poised to take off to be one of the greatest training grounds in the country." 
Building a cultural center in Utah County was very important to the Blairs. They hope the box office will be the first welcome people receive when attending events and shows at The Noorda.
"We wanted to do what we could," said Lisa Blair. "We feel like we're getting way more back than what we gave. We've become part of a larger family in this cultural center."