How the UVU Student Emergency Fund Saved My Senior Year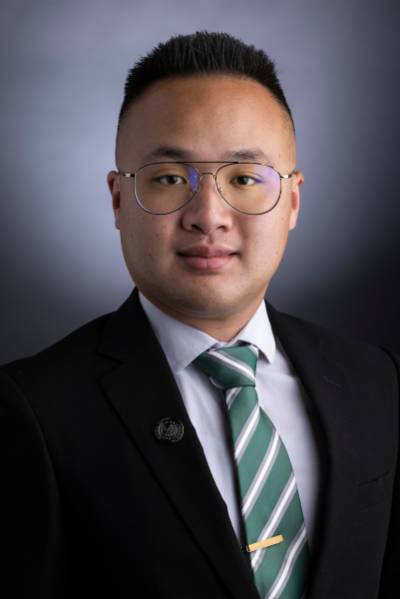 It was a day of firsts – the first day of classes at Utah Valley University (UVU) and the first day in my new role as a UVU presidential intern. The morning was busy, and I was riding my motorcycle to campus, enjoying the fresh August air, and the roar of my engine.
The sun was shining and I felt hopeful. I started reflecting on my journey to UVU. I am orginally from Taiwan and I have been in the states since I was 15 as a foreign exchange student. Aviation sparked my interest when I was serving in the Taiwan army. UVU was the perfect fit for me because it allowed me to double major in aviation management and strategic communication and public relations. I thought about how I would soon have my degree and all the opportunities it would offer me.
And then, out of nowhere, I was knocked off my bike. I slid, face down on the pavement, for five feet. When I managed to turn to my side, I tried to figure out what had happened. Kind pedestrians helped me up and moved me off the road. I pieced it together; a car had plowed into me. A bystander said it cut across three lanes of traffic. Someone called 911. I felt pain. Something was also wrong with my ankle.
When the ambulance arrived, I decided to defer the services of the ER. I was really worried about the notorious medical costs here in the United States. I still wanted to go to work, so two women brought me to UVU.
When I first arrived at the bursar office for work everyone was wondering why I was there. My boss said you don't need to think about work, take it easy, and go home. I still asked for assignments to do. I didn't think I was badly injured at first, but soon I realized I couldn't focus. I couldn't complete the assignments, and I started to cry. But I didn't want to give up on the day. I went to my new internship and the tasks there were simpler; I had to pass out candies with my new boss, Mark Arstein, vice president of institutional advancement. I was so happy to make it through my first day.
The next day, I knew something still wasn't right. In meetings I couldn't talk for more than 15 minutes, and I had a constant headache with extreme sensitivity to lights. The ankle pain was making it so that I couldn't walk properly. I finally decided to get medical care.
My roommate took me to urgent care where I was checked out by a physician's assistant. I had a concussion, and my ankle was sprained. Luckily, I was wearing my helmet and gloves, which protected the most impacted part of my body. But it still hurt.
He told me to rest, but I kept on going to work. I couldn't stop thinking about how I would pay the bills. Would I be able to afford medical care and tuition the next semester? Then I remembered seeing emails about the UVU student emergency fund from the International Student Council. The fund helps students with emergencies by granting funding in $50 to $500 increments. I went onto the website and applied for a small grant.
Within two days, Sariah Collard, the crisis therapist and victims' navigator at UVU, reached out to me to request more information. Two days later the emergency funds were approved by the department. It paid the urgent care bill and brought me a great sense of relief.
The UVU emergency fund has benefited many UVU students and will continue to help UVU students in crisis situations. There are many students who, like me, face hard times. Fifty-one percent of students have said they have faced food insecurity during the semester. Eleven percent of students say they are at immediate risk of losing their housing. Money from the student emergency fund can be used for food, emergency housing, or unplanned medical expenses.
I am very grateful to donors who have given to the student emergency fund. Thanks to your gift, I was able to receive medical care, pay my bill, heal, and continue my schooling. Your donation to the UVU emergency fund will benefit current and future students like me.